French Open 2016: Play cancelled as bad weather hits Roland Garros without a match taking place
It is the first time an entire day has been called off for 16 years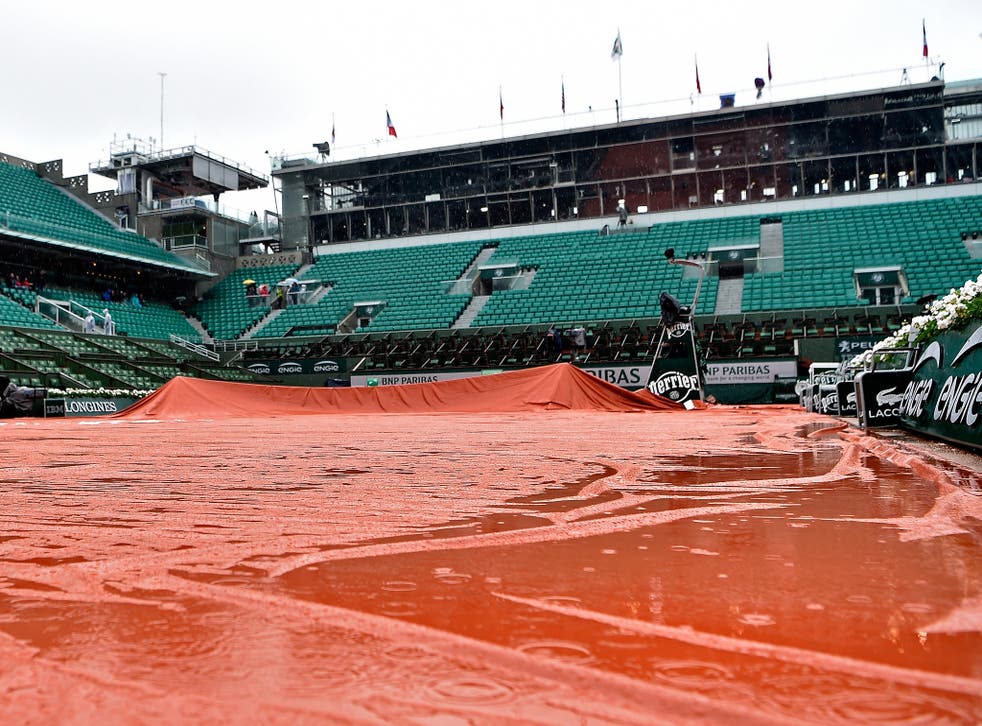 The weather forecast had suggested that the second Monday of the French Open would be badly disrupted by rain and so it proved. After a rain-drenched morning and with no prospect of a respite in the afternoon, tournament organisers called play off for the day just after 1.30pm local time. It is the first time for 16 years that a whole day's play at the tournament has been cancelled.
The weather forecast for the rest of the week is not good, but at least the tournament is largely on-schedule, at least in terms of the singles matches. All the fourth-round matches in the bottom half of the men's draw have been played, though two fourth-round matches in the bottom half of the women's singles have to be completed.
The Agnieszka Radwanska vs Tsvetana Pironkova and Simona Halep vs Sam Stosur matches were both suspended because of the bad weather on Sunday.
With the US Open installing a roof over Arthur Ashe Stadium this summer, the French Open is now the only Grand Slam tournament which does not have the capacity to play matches in bad weather.
The French Tennis Federation has plans to build a roof over its main show court, but there have been repeated delays in the governing body's plans to modernise Roland Garros, which is the smallest of the four Grand Slam venues.
Local residents and environmentalists have objected to the federation's proposals, which originally envisaged the work being finished by 2018. However Guy Forget, the French Open's tournament director, now says that 2020 is a more realistic date.
Join our new commenting forum
Join thought-provoking conversations, follow other Independent readers and see their replies