Harrison and Murray share the burden of expectation
British No 1's first opponent is United States' fiery new hope of finally ending a men's Grand Slam drought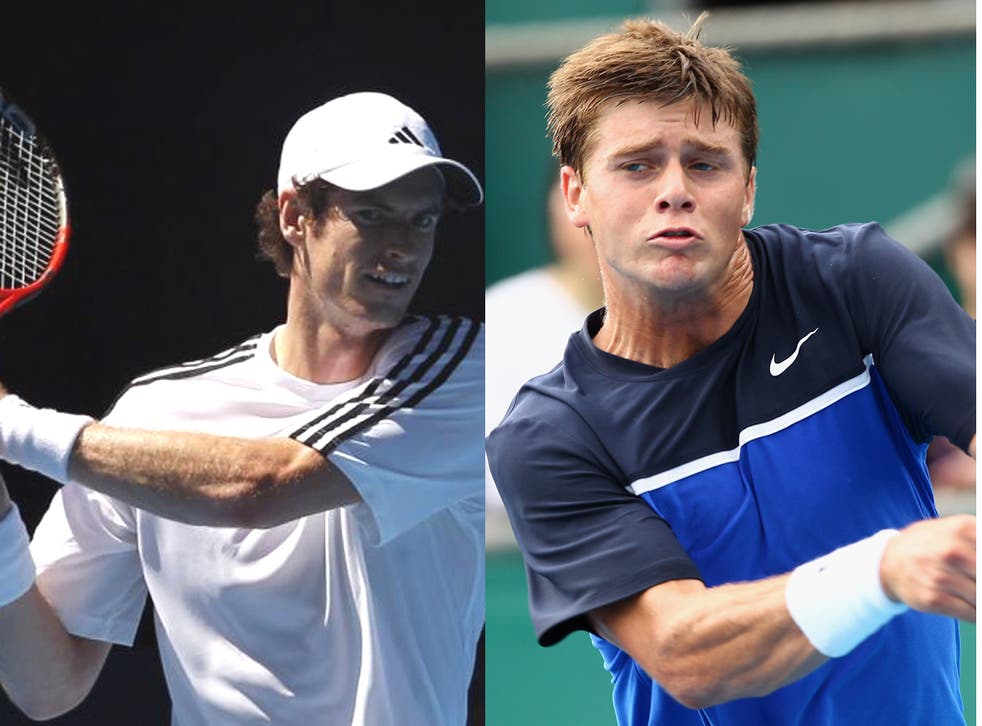 His talent is clear but he is regularly criticised for his fiery temperament. He comes from a country desperate to end its long wait for a Grand Slam champion. He has just appointed a new coach. Sounds familiar? Ryan Harrison has much in common with Andy Murray and tomorrow the brightest hope in American tennis will take on Britain's best player in three-quarters of a century in the first round of the Australian Open.
Murray knows all about the weight of national expectation – Fred Perry in 1936 was the last British man to win a Grand Slam singles title – and Harrison is becoming accustomed to similar pressures. America's wait for a champion is considerably shorter but the nine years since Andy Roddick won the US Open is the longest Grand Slam drought in American history.
Harrison, who, at 19 is one of only two teenagers in the world's top 100 – the other is Australian Bernard Tomic – has been hailed as his country's best prospect since his breakthrough year in 2010, when he climbed 249 places in the world rankings and beat Ivan Ljubicic in the first round of the US Open.
The world No 77 made further progress last year, reaching successive semi-finals in Atlanta and Los Angeles and taking David Ferrer to five sets at Wimbledon.
"I enjoy having all the expectations on me," Harrison insisted yesterday as he looked ahead to facing Murray. "It's cool for me. To see my name mentioned with some of the senior names is pretty exciting. You can see it as a pressure which will break you down, worrying that you have to do this or that. That will mess you up. I try to see it as a privilege and say: 'OK, I've done something right to get into this position.'
"People are saying that I am a hopeful and have the chance of winning a Slam. I don't want to be a hopeful, though. There is as much a physical gap as there is a mental gap between the top four and the rest. You can see how they keep reaching the semis in Slams consistently in the past few years. There is a difference.
"Some guys go into matches against the best players probably without a full belief they can win, so that is something I will do differently. I have my game, I believe in it and, if I do things the right way, I can win."
Off the court, Harrison comes across as a bright and level-headed young man. On it, though, he can be a fully paid-up, card-carrying member of the brat pack. A serial racket-thrower, he was fined five times at Grand Slam tournaments last year for misdemeanours ranging from racket abuse to audible obscenities and unsportsmanlike behaviour. His most spectacular offence was in the French Open qualifiers, when he hurled his racket into a courtside tree. Back in his home country, he threw one racket out of the stadium and into the food court at Cincinnati and another into the car park at Winston-Salem.
Roddick, who has become a friend and mentor, admits Harrison "goes a little mental sometimes", and another senior American, Mardy Fish, says: "He's got a lot energy, a lot of good energy. You know he wants to win if he's breaking rackets like that. I think that's a good sign."
Harrison conceded he "had some moments where it has got out of hand at times", but added: "One of the big things this year is to learn how to channel that into positive emotions as much as possible. So one of the big things I am trying to do is get a lot more positive early in matches. I will never be a guy who just goes side to side and doesn't say anything.
"For me, I have got to channel the energy in a correct way. When I am playing well, I am energetic and I have just got to make sure it is positive and not negative emotions."
Murray, who has been trying to follow much the same philosophy, believes that any Harrison tantrums can only be to his advantage.
"I'll try and make him lose his temper early," Murray said. "It's something that helps if you know your opponent can get down on himself, and it affects his game. When you see them getting like that, you want to try to hit the gas and keep going. Hopefully, I'll get off to a good start."
How might Murray get under his opponent's skin? "That's really how my game's kind of worked the last five or six years, so I'll just use a lot of variation, make it difficult for him," the world No 4 said.
"I saw him play quite a lot last year. He's obviously a good player. He's got a big serve, big forehand, can be a little bit erratic. He has a similar game style to Roddick. I think he plays like a lot of the young Americans. He's quick, he's a good athlete, so it's going to be a tough match but I'm going to make it as tough as I can for him, especially at the start."
Just as Murray will be playing in front of a new coach, Ivan Lendl, Harrison will be making his first Grand Slam appearance since recruiting Grant Doyle. Harrison has always been keen to learn, but he is clearly a challenge to coaches. He has had an intense and fiery tennis relationship with his father, Pat, a former director at John Newcombe's Texas academy who now works at Nick Bollettieri's academy in Florida.
Bollettieri, who believes Harrison has started to appreciate the value of controlling his emotions, thinks the teenager needs to have a good first set if he is to give Murray any sort of test.
"I don't believe that he can beat Andy from the baseline," Bollettieri said. "He's going to have to take charge, hit his big forehand, have a good serving day, come in some and force Andy to pass. Andy is just too damned good from the back of the court. If he doesn't have a big first set, Ryan might start to break down a little bit."
Join our new commenting forum
Join thought-provoking conversations, follow other Independent readers and see their replies