Incredible Rafael Nadal ready to storm the history books
Victory in London's ATP World Tour Finals would reinforce his status as game's greatest player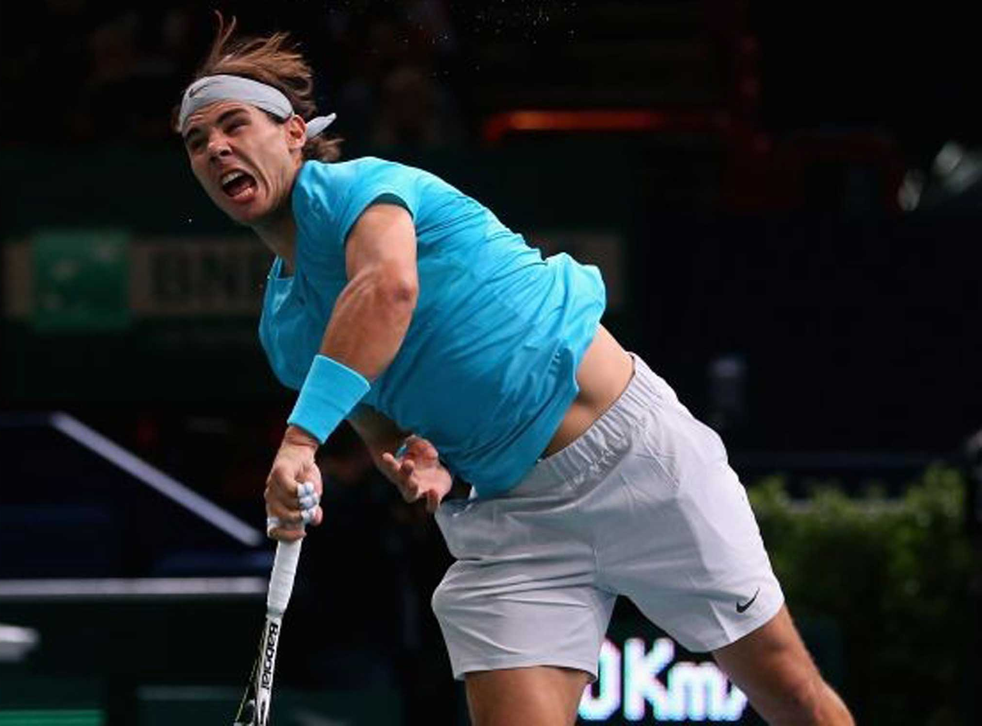 The awards season is not yet in full swing but in tennis the presentations will begin this week. The O2 Arena in London, where the Barclays ATP World Tour Finals begin tomorrow, is where the men's game applauds its heroes, with the greatest honour going to the year-ending world No 1.
After his astonishing comeback from injury, Rafael Nadal is set to have his name on the trophy for the third time, though the 27-year-old Spaniard's achievements are such that even greater acclaim could soon be beckoning. In the eyes of many, the Majorcan is on the brink of becoming the greatest player of all time.
Rod Laver's feats in the 1960s, when the Australian won two pure Grand Slams (all four major titles in the same year), put paid to most greatest-of-all-time debates for the best part of four decades. It was only when Roger Federer started accumulating Grand Slam titles like a Swiss banker hoarding gold bars that Laver's place on the pedestal was questioned.
With a record 17 Grand Slam titles to his name, Federer is now widely regarded as the greatest, even though Laver supporters point to the fact that the "Rockhampton Rocket" would no doubt have added to his tally of 11 had he not missed 21 Grand Slam tournaments at the peak of his career after turning professional. When asked about the subject last month, Laver himself generously nominated Federer as the greatest.
Andre Agassi, however, thinks the debate is no longer so straightforward. The American, who along with Federer, Nadal and Laver is one of only seven players who have won all four Grand Slam titles at some stage of their careers, believes you cannot ignore Nadal.
At 27, Nadal is five years younger than Federer but has already won 13 Grand Slam titles. He also has the edge in head-to-head encounters with all his main rivals. The world No 54, Nikolay Davydenko, who has won six of his 11 meetings with Nadal, is, oddly enough, the only current player who has faced the Spaniard regularly and has the better record.
"I do think without Rafa winning [even] one more major, you could make the argument that he's the best of all time," Agassi said. "He does have a winning record over Fed, although a lot of those wins come on clay. He has beaten Federer on other occasions on other surfaces as well."
Agassi, who was speaking at the launch of the PowerShares Series veterans' circuit, added: "It's an amazing time in men's tennis to be looking at two guys in the same generation that have a legitimate claim to that title. That's also forgetting about the fact that [Novak] Djokovic is one win away from entering not necessarily this all-time conversation, but certainly accomplishing a win at every Slam.
"So now you've got three guys potentially in one generation who have done something that only five guys have done over five decades. I think it's a golden age in our sport. I think we're better off for it. I hope everybody appreciates what it is we're watching."
Where Federer has a clear edge over Nadal is indoors. As he competes in the year-end finals for the 12th year in a row, the Swiss will be seeking to win the title for a record seventh time.
Having finished runner-up to Djokovic 12 months ago, Federer needs a good week at the O2 to avoid falling further down the rankings. Currently world No 6, he could be overtaken by Stanislas Wawrinka, who has never been ranked above his fellow Swiss, Tomas Berdych and Richard Gasquet.
Although Nadal proved long ago that he is more than a clay-court specialist – as well as his eight French Opens he has won two Wimbledons, two US Opens and one Australian Open – the Spaniard admits that he is not at his best indoors. "I never like it a lot but that doesn't mean that I cannot play well," he said.
Nadal rarely likes to talk about the wider picture, preferring always to focus on the task in hand, and this year in particular he has been happy simply to be playing. Until he began his comeback in February after a seven-month absence with knee trouble there were serious doubts as to whether he would ever compete at the top again. He has since enjoyed one of the most remarkable seasons in history, winning 10 of the 13 finals he has reached.
"My goal is not to be No 1," Nadal said in Paris last week. "My goal is to be healthy at the finish of the season. What makes me happy is going on court every day with a feeling that I am healthy, with the feeling that I am playing well, and feeling that I can lose and I can win against everybody.
"That happened for most of the tournaments this year, so the season is done for me. I did much more than I thought I would. If I am able to finish No 1, great. If not, it doesn't change the fact that the season has been one of the best of my career."
The big eight at the O2
Group A
Rafael Nadal (Spain, aged 27)
Has made a sensational comeback from injury, winning 10 titles this year, but rarely prospers indoors.
David Ferrer (Spain, aged 31)
Dogged competitor currently at career-high No 3 in world rankings. Fifth appearance at year-end finals.
Tomas Berdych (Czech Republic, aged 27)
Making fourth successive appearance at the O2. Reached semi-finals two years ago.
Stanislas Wawrinka (Switzerland, aged 28)
Perennial Swiss No 2 who has made year-end finals for first time after best year of his career.
Group B
Novak Djokovic (Serbia, aged 26)
Recently replaced as world No 1 by Nadal but is in outstanding form. Defending champion.
Roger Federer (Switzerland, aged 32)
Fading force who only just qualified, but with six titles from 11 previous appearances he cannot be ruled out.
Juan Martin del Potro (Argentina, aged 25)
Playing his best tennis since year-long absence with wrist injury following 2009 US Open triumph.
Richard Gasquet (France, aged 27)
Supremely talented under-achiever. Only previous appearance in year-end finals was in 2007.
Join our new commenting forum
Join thought-provoking conversations, follow other Independent readers and see their replies