Johanna Konta readies for new challenges ahead as she looks to put year of success, and tragedy, behind her
Konta is set to confirm Wim Fissette as her new coach after parting company with Esteban Carril. The Briton talks to the Independent about life ahead, as well as the tragic death of her mind coach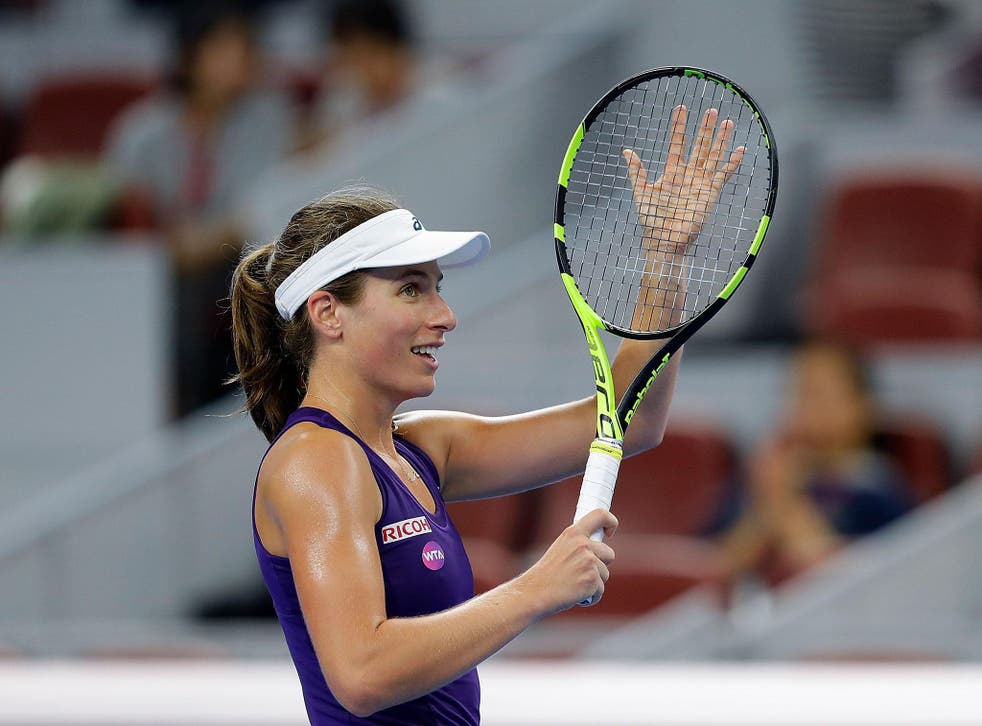 Wim Fissette, who has worked in the past with world No 1s and Grand Slam champions, is set to be appointed as Johanna Konta's new coach. Having parted company with Esteban Carril last month, the 25-year-old Briton has been doing her pre-season training with Fissette at the National Tennis Centre at Roehampton. She is expected to make the arrangement permanent within the next few days.
Konta's split with Carril had come as a surprise, the Spaniard having taken her from No 150 to No 10 in the world rankings in their two and a half years together. It followed the shocking death of her mind coach, Juan Coto, who had played such a big part in her rise up the world rankings.
Fissette, a 36-year-old Belgian, enjoyed great success working with Kim Clijsters, who won the US Open and Australian Open. He has also worked with Victoria Azarenka, Simona Halep, Sara Errani and Sabine Lisicki.
Speaking during a break from her pre-season training, which she said was going extremely well, Konta talked about the attraction of working with Fissette.
"Firstly it's about availability and then it's about – for me, and I guess for every player – the connection with the coach," she said. "Like with any relationship, it's how you work together, the chemistry on court, so it was about finding that. He was the first coach I trialled and things are going well.
"I guess he's been on the Tour for quite some time, so I'm definitely looking forward to being a sponge and absorbing as much of his experience and knowledge through the years. He's been with Kim and some of the players I'm currently playing against. Again, it's early days. I think there's only so much that you can feel out in the training block, and then the year starts. That's when you really feel how you get along."
Asked what she was looking for in a coach, Konta said: "I am a firm believer - and this applies to every single team member - that I'm looking for a partner. I like working together harmoniously. I like being involved in my own development, having my input. It's basically about a partnership more than anything."
Konta said her parting from Carril had been "sudden, but not in an abrupt way". She insisted the split had been mutual.
"It was the best decision for both of us moving forward," she said. "I can definitely see from the outside how it can seem a bizarre change, or abrupt even. But when you're in the relationship, when you're in that day-to-day process, things are a lot clearer.
"I think we definitely did an incredible amount of good work over the last two and a half years. I think the experiences and the memories that we created, that will never change.
"But like with every relationship, I think there comes a point where changes need to be made. For both of us to keep evolving and keep getting better, it was definitely the right time. It gave me the opportunity to go into my pre-season with a new set-up so that I can then start my next season already in the swing of things.
"Esteban and I are both firm believers in continuous personal growth. And whatever accommodates that the most, those are the steps and the decisions we make towards that."
Coto's death at the age of just 47 came as a huge shock to Konta, who at some stage in the future expects to bring in someone else to help with her mental approach.
"I know that Juan would be supportive of me continuously improving that area because it's more than just tennis, it's about my life," Konta said. "He's still very much a part of everything that I do, everything that I will continue to do in this sport and this career, and most likely beyond that as well. He has gifted me with an incredible amount of tools and habits that I still to this day am looking to improve, every single day."
Given all that has happened recently Konta admitted that she was tired emotionally. Having played all the way through to the end of the 2016 season, she also had only two weeks' break before resuming her training.
However, she insisted: "It's a good tired. I'm giving my best, doing the best that I can to be as physically robust and emotionally robust as I can for next year. I look to maximise every inch of myself. I look to get the most out of myself in everything I do and in every aspect of this career, which is tennis right now. I enjoy trying to get that every day."
Konta will fly with Fissette to Nice next week to train at Patrick Mouratoglou's new academy. After Christmas back home she will head for China, where she will begin the new season at the Shenzhen Open in the first week of January. She then plays in Sydney before moving on to Melbourne for the Australian Open, which starts in just over four weeks' time.
In February Konta hopes to play in the Fed Cup in Anne Keothavong's first outing as Britain's captain in succession to Judy Murray.
"I will always do my best to play [in the Fed Cup]," Konta said. "I enjoy playing. It is only ever under extreme circumstances that I would not play. Since I have been eligible and been selected to play, I have only ever missed one, so I will definitely be looking to play.
"Having a new captain sounds exciting. I have spoken to Annie a couple of times. I think she will do a great job and we will have some fun."
Join our new commenting forum
Join thought-provoking conversations, follow other Independent readers and see their replies