Judy Murray, Ivan Lendl, Kim Sears: the vital trio following Andy every step of the way to the Wimbledon Men's Final 2013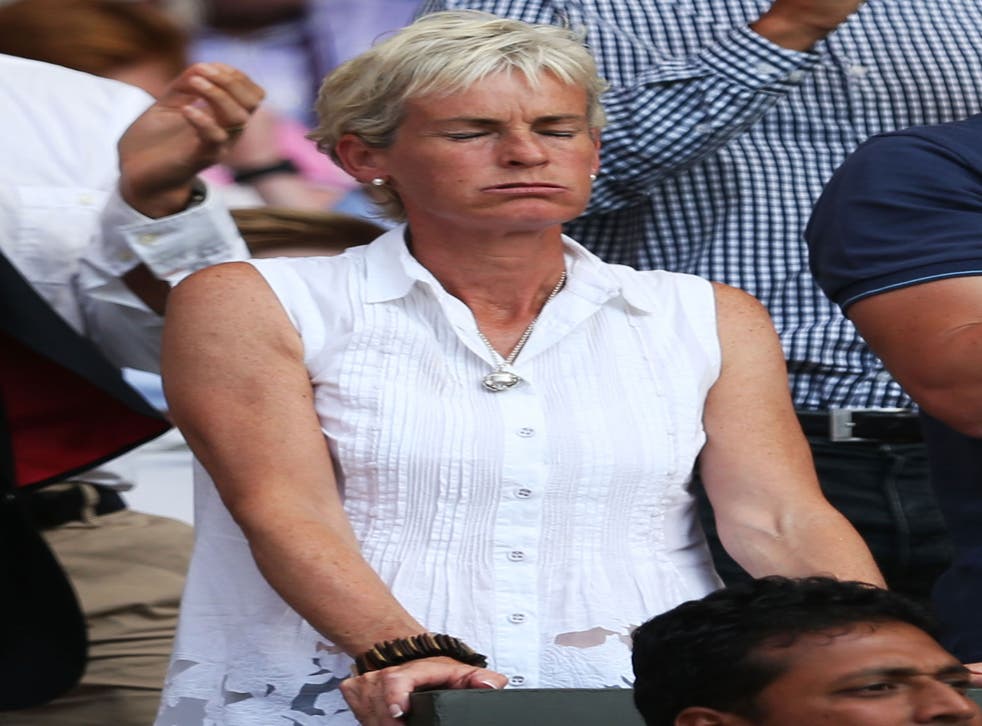 They are the three most important people in Andy Murray's tennis life: his coach, his girlfriend, and of course his mum (even though he did forget to hug her).
Without their very different forms of support it's questionable whether the Scot would finally have broken the 77-year hoodoo over British men competing at Wimbledon. They are always there, at every Wimbledon match.
KIM SEARS
There was no doubt who was the queen of Centre Court on Sunday after another fist-pumping show of support from Andy Murray's girlfriend.
The aspiring artist was second in line for a hug from the Wimbledon champion after he triumphantly clambered into the box. She had sat shaking in hope with her hands clasped across her mouth as the Scot closed out the nerve-shredding match.
Ms Sears, described by Murray's mother as "the best thing to happen to Andy", placed her hands on her head in astonishment after he took the title that has eluded him for so long.
As he arrived in the player's box, she threw her arms around her boyfriend in sheer joy, the nervous look finally wiped from her face.
The 25-year-old has travelled the globe with Team Murray and has been a constant source of motivation and inspiration since the couple started dating back in 2006.
They met on the tennis circuit in South Africa while Kim, aged 17, was travelling with her tennis coach father Nigel, who was at the time head of the women's section of the Lawn Tennis Association. They split briefly in 2009 but reunited six months later with Murray stating he found it difficult coping with pressure without her.
Ms Sears grew up in Barcombe, east Sussex, and went to the independent Burgess Hill School for Girls where boarding fees are £25,000 a term.
Murray reportedly once helped her with an A-level art project when she was at school by posing for one of her paintings. Since graduating from Sussex University, she has started a career as an artist and specialises in animal portraiture.
The stage is now set for a wedding proposal following rumours before the tournament that the couple would tie the knot after Wimbledon.
IVAN LENDL
As the 15,000 spectators crammed into Centre Court collectively held their breath, jumped with delight, bit their fists or gasped and cheered, one man was so still that one viewer, TV presenter Gary Lineker no less, thought he was a cardboard cut-out.
Murray's coach Ivan Lendl sat and stared unblinking, as still as stone – or the unyielding tennis machine he once was. Before Lendl, now 53, came along Murray seemed to be following the path of many of Britain's other great tennis hopes – undoubted talent and promise but never won Wimbledon.
Murray, considered one of the best serve-returners in the game, was dubbed the most talented player never to win the SW19 tournament.
One of Lendl's great attributes from Murray's point of view is that he had been there and done it before.
Born in what was Czechoslovakia but taking US citizenship, the former world number one competed in 19 Grand Slam finals between 1981 and 1991. He won eight of them – although never lifted the Wimbledon trophy despite contesting the final twice.
Crucially for Murray, Lendl lost his first four Grand Slam finals. This helped Murray believe Lendl had found the key to finally stepping up to that last highest level.
Lendl became Murray's coach in 2011. It was his first coaching job after barely picking up a racquet in the 19 years since he was forced to retire due to a back injury.
The two were introduced by tennis coach Darren Cahilll and met for lunch in Florida. Lendl was initially dubious. His reputation was also at stake. But at the same time, he recognised Murray's problem – that, despite his talent, when he was up against it in a high pressure game with Federer or Djokovic opposite him, his body language – and his lungs – would scream defeat. Murray needed some of the famous Lendl ice to cool his tantrums and petulance.
Murray warmed to Lendl not only because of his frosty determination, but because he wasn't a "career" coach. Lendl told Murray that he "didn't give a flip". If Murray wasn't happy Lendl would just go back to playing golf.
The Czech added steel and nerves to Murray's game, giving the Scot not only the belief that he could be a champion, but the cool ruthlessness a champion needs.
"Andy was already a great player," Darren Cahill, has said. "But he needed that extra bit of belief when you step on the court against guys like [Roger] Federer, [Rafa] Nadal, and Djokovic."
After last year's Wimbledon loss meant his first four Grand Slam finals had ended in defeat – matching Lendl – Murray finally broke through with his US Open win last year. Now he has added the most elusive, and lucrative, title to his CV.
JUDY MURRAY
Murray had many to hug and thank when he leapt onto the players box moments after winning. He hugged various members of his team including Lendl and Sears. Just one person was overlooked: his mother.
That won't have worried Judy Murray, who remains instrumental in her son's success ever since she first introduced Andy to the game on a kitchen table using cereal packets, tin lids and a table tennis ball.
Since then the 53-year-old's resolute focus, often manifested in a defiant courtside air punch during critical points, has been as much a contribution to his game as it has fuelled claims she is too overbearing. In 2011 Boris Becker implied that he would have to cut the apron strings if he was to mature into a player capable of winning Grand Slams.
"I think that anybody who knows me knows that I'm not a pushy mum," she told The Independent on Sunday last year. "And I think if you ask the boys – and they have been asked – they would say exactly the same, so I think a lot of the maybe criticisms that are levelled tend to be levelled from people who I've never met and just form an opinion from whatever they see."
There is no doubt where the sporting lineage runs. Born in 1959, Judy's father, Roy Erskine, was a professional footballer for Hibernian and a keen tennis player.
It was something instilled in her and she rose to become Scotland's national coach cultivating both her sons' passion for tennis at a time when, beyond Tim Henman and Greg Rusedski, there seemed little British prospect of ever producing a Wimbledon champion.
Judy remains a popular figure in the game; forthright and tough, but also warm and charismatic, with a sense of humour that earns her more 60,000 Twitter followers. Her ex-husband is Willie Murray, from whom Judy was divorced in 2005, after many years of separation.
Yesterday she said: "This is what he has talked about winning since he was a little boy, it was a dream that has become a reality now for him."
But it wasn't just Andy fulfilling a long-term dream.
The rise of a champion
15 May 1987 Born in Dunblane, Perthshire, Scotland, to Willie and Judy Murray.
1989 Picks up his first tennis racket, aged two, playing against his brother Jamie, now one of Britain's leading doubles players.
1996 Survives the Dunblane Massacre in which 16 children and their teacher are killed at his primary school.
1999 Wins Florida's Orange Bowl championship, his first major win, at the age of 12.
2002 Debuts at junior Wimbledon – the youngest player at it.
2004 Becomes the world junior number one after winning the junior category of the US Open.
2005 Breaks into the senior top 100, making 64th place by the end of the year. In October, he beats Tim Henman in Basel.
February 2006 Wins first ATP tour title, defeating Andy Roddick in the semi-final and Lleyton Hewitt in the final, breaking into the top 20.
2008 Reaches the world top four and wins his first Masters tournament before making his first Grand Slam final, the US Open. Beaten with an emphatic three-set loss to Roger Federer.
August 2009 Rises to number two, the highest position ever held by a British player. Reaches Wimbledon semi-finals for the first time, a feat he repeats in 2010 and 2011.
2010 Makes his second Grand Slam final, the Australian Open. Again loses in three to Federer.
2011 Reaches third Grand Slam final, again in Australia. Loses to Novak Djokovic and appoints Ivan Lendl as his new coach.
August 2012 Reaches first Wimbledon final, but loses to Federer. Beats Federer in the Olympics singles final.
November 2012 Ends Britain's 77-year wait for a male Grand Slam singles champion, beating Novak Djokovic in the US Open.
2013 Ends Britain's 77-year wait for a men's champion at Wimbledon.
Join our new commenting forum
Join thought-provoking conversations, follow other Independent readers and see their replies