The Last Word: Why British tennis needs to be served with fish and chips
Remove Murray from the picture and we are left counting out our players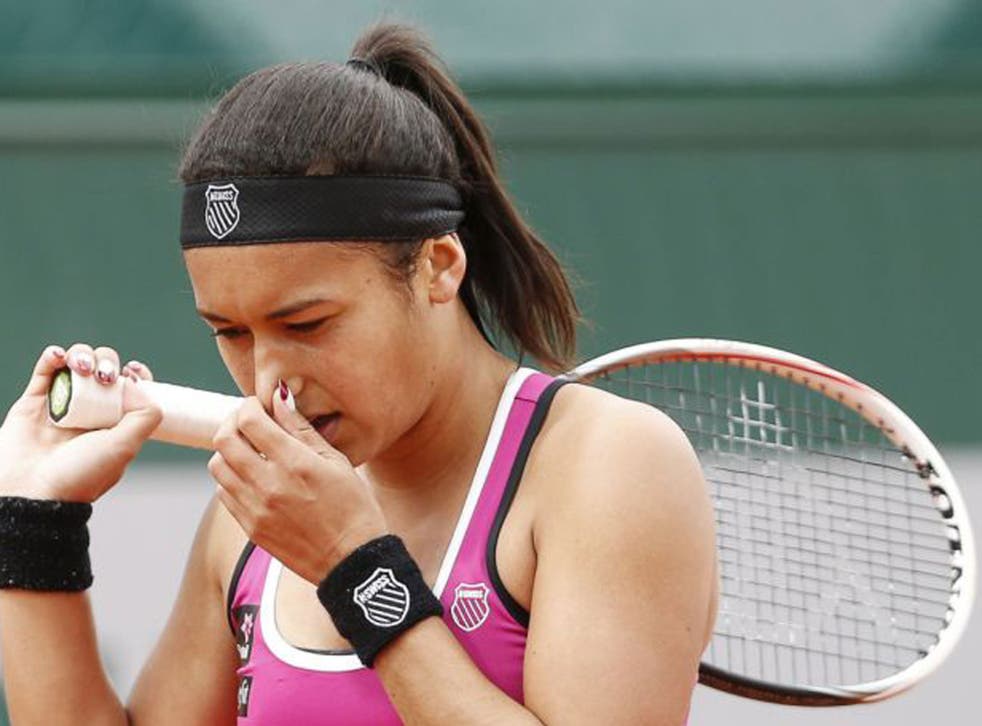 Tim Henman was speaking before Laura Robson lined up against Caroline Wozniacki on Monday afternoon. He did not need to wait for the result to begin the annual lament over the state of British tennis. Our second representative at the French Open, Heather Watson, lasted until Wednesday, courtesy of the rain delays. So that was that. Britannia well and truly ruled.
Granted this was clay, a surface that remains alien to the sport in this country, and our most accomplished player withdrew through injury, but how different will it be at Wimbledon, which begins in three weeks? Remove Andy Murray from the picture and we are left watching the old Brit-ometer counting out our players as they leave the show during the opening stanza.
Robson and Watson are not to blame for the failure of British tennis. It is a miracle they have made it as far as they have, given the competitive environment from which they emerged. The failure is systematic. The tennis structure in Britain does not produce champions. A £39m National Tennis Centre was introduced at Roehampton to address this issue, creaming off elite youngsters and, theoretically at least, hardening them into steely pros. Beneath that there is a series of financial incentives and support offered to clubs via the LTA to provide court time to kids and a string of national competitions to drive engagement.
The progress at junior level of Liam Broady, who penetrated the national consciousness reaching the junior Wimbledon final two years ago and Oliver Golding, who went one better with victory in the juniors at the US Open later that year, pricked our ears, but even this may be another false dawn. It is what happens next that matters, and where it all falls down. Our juniors, historically, have not trained on.
Last Monday this newspaper called for a golf-for-all tsar to take the game into neighbourhoods where the sport has little traction. The same might be argued for tennis. Henman points to an urgent need for the game to get among those children who engage in sport at eight, nine and 10, but are not exposed to tennis in sufficient numbers.
"The answer is you have to get the best athletes playing the game at a young age. You have to get the ones who are in the first XI football, first XV rugby and first XI cricket playing tennis. We don't do that. We lose the best athletes, the ones with the great hand-eye co-ordination, to other sports. The reality is we are getting the leftovers and in the vast majority of cases they are not good enough. It doesn't matter what facilities, what coaching you give them."
The stellar success of Broady and Golding at the junior Slams can be misleading, according to Henman. "Are they playing against the best juniors? No, they are not because the best juniors are playing Futures tournaments and some of the Challenger events. We get too caught up in theses junior world rankings. They are meaningless. It is not about being the best junior at 14 and 15, it is about being the best pro. I wasn't very good at that age because I was too small but I had a very clear picture in my mind of how I was going to develop and where I wanted to be.
"There is too much emphasis on this thing called transition. There is no transition. On 31 December you are a junior. The next day on 1 January you are not. It is still the same game. And you have to have the game to progress. The reason why past juniors have not progressed is because their games have not been good enough."
Henman made it to the world top-five, he contested Grand Slam semis, including the French. They named a hill after him at Wimbledon, but he achieved despite the system not because of it. Murray took himself off to Spain to develop his game, an expression of the same motivation and drive to which Henman alludes, that which comes from within. It is this internal fire the sport needs to identify through the systematic plunder of other sports at an early age.
Tennis does not need another LTA suit to show the way, it needs a chief executive on the ground, leading a team of tennis officers into local education authorities, hammering the link between curriculum and the existing club structure. It needs to get kids playing against each other in school teams, driving each other forward through meaningful, visceral competition. Tennis can no longer be about cucumber sandwiches and Pimm's, it needs to be served with fish and chips and a mug of tea.
Here's Henman again. "We have good facilities and money to invest. We do those things, but how do Serbia produce all those players? They don't have a big tournament. Their country has been at war for years. The answer lies with the individual. The individual has to have that responsibility, desire and hunger. We have too many players pointing the finger at the LTA. We didn't get this, we didn't get that. It is not about that. It is about how badly do you want it."
Join our new commenting forum
Join thought-provoking conversations, follow other Independent readers and see their replies