Li Na's honesty earns locals' backing for Azarenka showdown
Paul Newman
Saturday 26 January 2013 00:00 Comments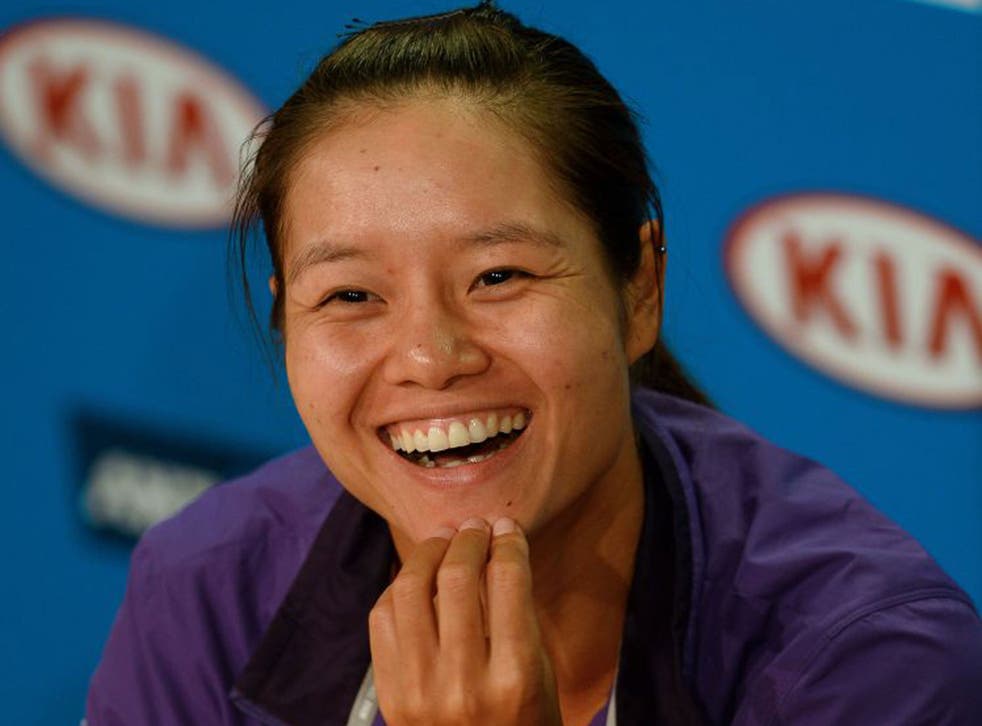 The Australian Open bills itself as "the Grand Slam of Asia-Pacific", but that is not the only reason why the crowds here love Li Na. The 30-year-old Chinese, who takes on Victoria Azarenka in tomorrow's women's final, always seems to come alive at the year's opening Grand Slam event. Whether she is talking about her husband's snoring, her refusal to eat anywhere other than Chinese restaurants or her pleas to her coach not to push her so hard in the gym, Li's endearing smile and sense of humour have become a feature of this tournament.
Given the jeers that rang around Rod Laver Arena following Azarenka's controversial medical time-out during her semi-final against Sloane Stephens on Thursday, it is a safe bet that the support will be firmly on the underdog's side when she takes on the world No 1 and defending champion.
It was here three years ago that the wider public first became aware that there was much more to Li than her athleticism and consistently powerful groundstrokes. It was while en route to her first semi-final here – she lost to Serena Williams – that Li began her regular post-match updates on her relationship with her husband, Jiang Shan.
Since then we have heard how she how she forgot their wedding anniversary (she thought it was two days later), how he keeps control of her credit card (he dangles it in front of her nose before a match to motivate her) and how she got him to stop snoring ("I say, 'If you put on more weight, you're divorced', so he changed.")
Li met Jiang, a former Davis Cup player, when she was 12. It was while she was at university, in 2002, that he persuaded her to return to the sport after she had retired because she was disillusioned by the Chinese authorities' insistence that she concentrate on doubles because they said it represented her best chance of Olympic success. In those days Chinese players had to remain within the country's tennis programme and were even forced to give 65 per cent of their earnings to the national association.
Jiang has been her hitting partner and her coach but has always been prepared to step aside when she wanted outside help. He was replaced by the Dane Michael Mortensen before her French Open triumph in 2011, when Li became the first Asian player ever to win a singles Grand Slam title, and by the Argentine Carlos Rodriguez, Justine Henin's former coach, last summer.
For all her jokes, it is clear that Li is devoted to Jiang. "If I retire, I will choose to be a housewife," she said this week. "I think in love, two people have to make sacrifices. Jiang Shan has never placed any demands on me and has always travelled with me around the world and followed me on the tour. So I hope that after I retire I can sacrifice my life to take care of him and raise a family."
When she does retire, Li and her husband can be assured of a life of luxury. Tennis has brought her great wealth, particularly since Max Eisenbud, who helped to turn Maria Sharapova into the world's highest-earning sportswoman, became her agent. Since Eisenbud started signing up a host of sponsors keen to exploit the Chinese market, Li has jumped to second in the annual list of highest earners in women's sport compiled by Forbes magazine. Li earned $18m (£11.4m) in the year to April 2012, an increase of $10m on the previous year and $5m more than Serena Williams.
Li, who has not dropped a set en route to the final, will be playing in her second final here following her defeat to Kim Clijsters in 2011. Azarenka (above), meanwhile, will be aiming to defend both her title and her world No 1 ranking. If Azarenka loses, Williams will take over at the head of the list. When it comes to the popularity rankings at Melbourne Park, however, Li's place at the top is assured.
Register for free to continue reading
Registration is a free and easy way to support our truly independent journalism
By registering, you will also enjoy limited access to Premium articles, exclusive newsletters, commenting, and virtual events with our leading journalists
Already have an account? sign in
Join our new commenting forum
Join thought-provoking conversations, follow other Independent readers and see their replies