Madrid Masters 2015: Andy Murray faces Rafael Nadal test in quest for second clay-court title
The confidence Murray gained from his triumph in Munich last week has been evident in his subsequent performances on his most challenging surface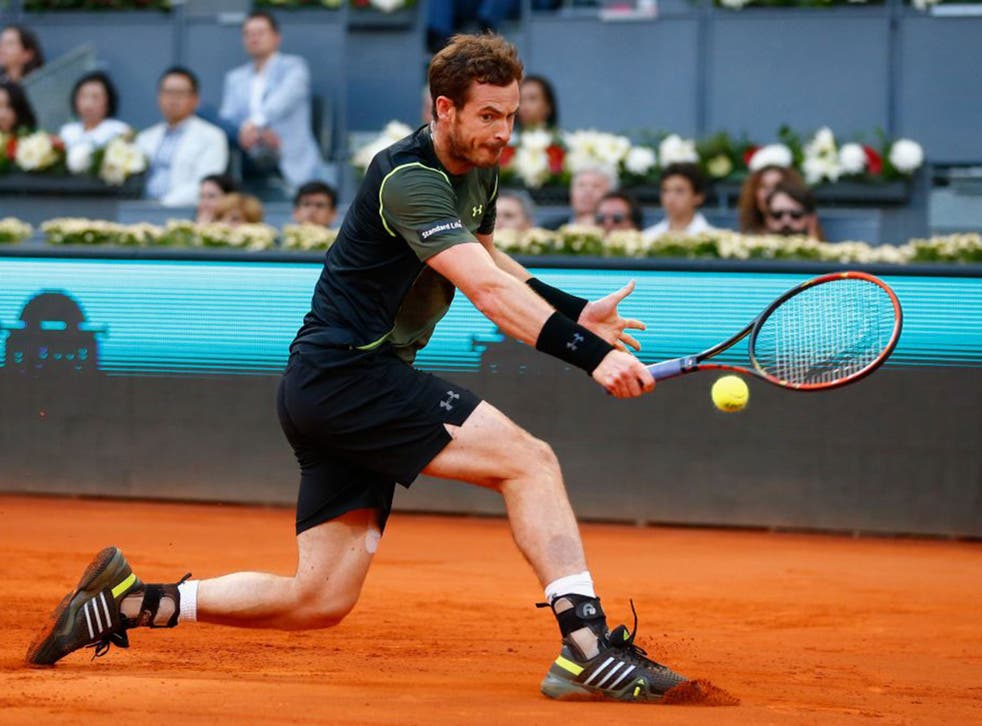 Andy Murray played on the tour for 10 years before winning his first clay-court title. Now, just six days after finally breaking his duck by winning the tournament in Munich, the world No 3 is only one win away from claiming his second trophy on his most challenging surface.
Murray's 6-3 6-4 victory over Kei Nishikori in the semi-finals of the Madrid Masters was one of his best performances on clay and leaves him with the ultimate test this evening.
In his first Masters series final on clay Murray will face the nine-times French Open champion, Rafael Nadal, who enjoyed his best win of the year when he beat Tomas Berdych 7-6 6-1.
With the French Open starting in a fortnight's time Murray has quickly established himself as one of the favourites to win at Roland Garros. But he has had a gruelling run in the last fortnight and has suggested he might miss this week's Rome Masters in order to ensure he arrives in Paris in the best possible shape.
The confidence Murray gained from his triumph in Munich last Monday has been evident in his subsequent performances. Nishikori, who crushed David Ferrer in the quarter-finals, has been in sparkling form of late, but the world No 5 was on the back foot from the start as Murray quickly took control.
Murray served well and his returns were even better. When Nishikori failed to put his first serve in court Murray regularly pounced on the second, forcing the Japanese on to the defensive.
The Scot frequently bamboozled Nishikori with the variety and quality of his game and played some delightful drop shots in particular.
In the first set Murray made the crucial break when Nishikori served at 3-3. A winning drop shot set up break point and a damaging return completed the job. Murray took the set with another break of serve as Nishikori looked increasingly uncomfortable in the face of his opponent's splendid returns.
Nishikori, nevertheless, drew first blood in the second set, breaking in the third game, only for Murray to reply in kind. When the 25-year-old Japanese served at 4-5 he buckled again under the pressure of Murray's returns, making two successive forehand errors to enable the Scot to complete his victory after an hour and 37 minutes.
Murray agreed it was one of his best results on clay. "It's a good confidence-booster for me," he said. "I've got another great test tomorrow. I'm aware it's going to be incredibly difficult. I think playing against Nadal on clay in Spain is a big test.
"The crowd is incredibly pumped for him when he gets on the court. I have to be there mentally and play a smart match. You obviously need to play aggressive tennis but it's important not to go for too much."
Nadal has been struggling for his best form ever since winning last year's French Open but looked something like his old self in his victory. Murray has never beaten Nadal on clay but has pushed the Spaniard hard in the past. Nadal said he would have to play "as well as I did today or even better" to win his third successive Madrid title.
Petra Kvitova won the women's tournament for the second time when she beat Svetlana Kuznetsova 6-1 6-2 in a one-sided final. With the latter hindered by a thigh injury that led to her taking a medical time-out after the first set, Kvitova raced to victory in just over an hour.
Join our new commenting forum
Join thought-provoking conversations, follow other Independent readers and see their replies