Maria Sharapova: Morality comes poor second in race for performance gains
The Last Word: After her drug admission, Maria Sharapova was soon talking about antique coffee tables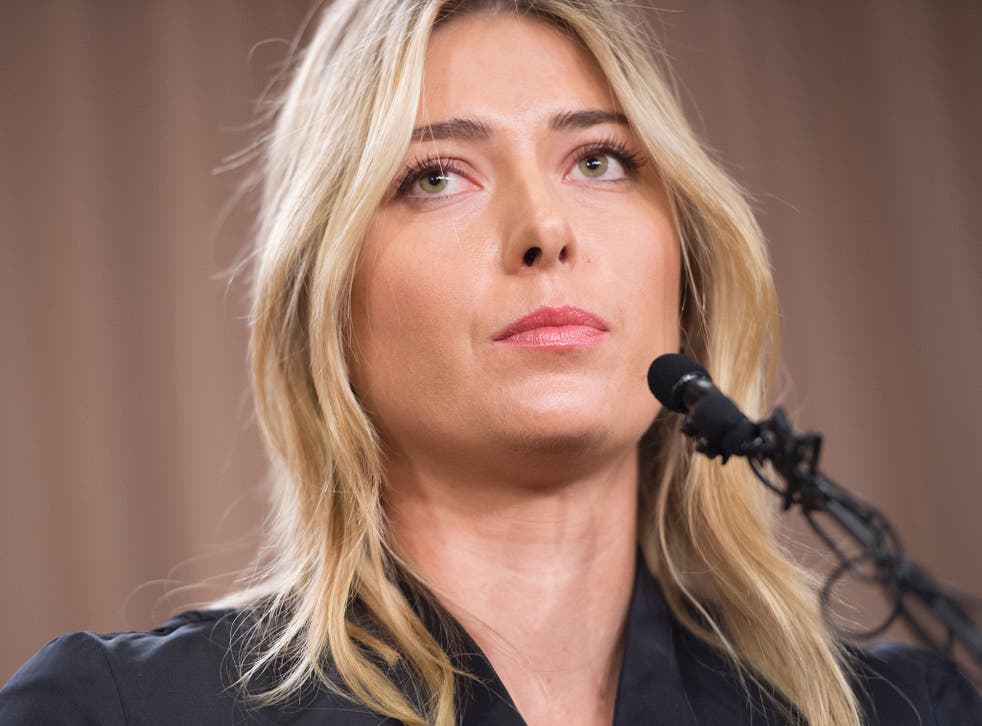 Say what you like about Maria Sharapova, she is a salesman's dream. She hasn't lost the knack of making stock fly off the shelves, which has made her £175million from the endorsement of luxury goods and a personalised product range.
There were only 870 Wikipedia page views for Meldonium, the drug with which she will remain synonymous, in the two days before her admission of a positive test at the Australian Open. There were 1.57 million in the subsequent 48 hours.
The impact was seismic, and supports the old adage that bad news for some can be good news in disguise for others. It was suddenly virtually impossible for wannabe imitators to get ahead of the game, because online suppliers of the drug sold out with unprecedented speed.
Performance enhancement is big business, whether it serves professional sport or the somewhat sad generation of egocentric amateurs who find satisfaction in unlikely sporting achievement, whatever its ethical basis.
The warning signs are clear. Wada, the global anti-doping agency, confirmed on Friday there have been 99 positive tests for meldonium, which is also known as mildronate, since it was added to its banned list on 1 January. That figure is sure to swell, since further cases are in the system.
Websites serving the market were reduced to offering the unwise or the unwary two other supposedly similar substances, which did not stand more than superficial scrutiny. Each was developed in Russia, and sold at $49.99 (£35) for a box of 20 or 25 capsules, the same price as meldonium.
Metaprot is supposed to stimulate brain function, enhance performance, increase physical endurance and elongate attention spans. It is not intended to treat any specific illness or medical condition, and has not be endorsed or evaluated by the US Food and Drug Administration.
It was tested on Soviet cosmonauts, and, following a covert trial at the 1980 Olympic Games, was used in the Soviet military. It was supplied to rescue workers in Chernobyl and, in the following decade, used by a "limited contingent" of special forces in Afghanistan and other theatres of war.
Ladasten, developed in the Eighties, is promoted as a drug which makes the user "alert, focused and energised, yet calm and tranquil". It is also marketed as bromantan or bromantane, and is on the banned list. Five athletes, four Russians and a lithuanian, tested positive for it at the 1996 Olympic Games.
It is unique because it acts as both a stimulant and a relaxant. Users are supposed to feel "energetic, motivated and euphoric". It has been tested on rats, and promises "no crash, no jitters". The sales pitch is unsubtle: "Who knows more about performance enhancement than the Russians?"
The perils are obvious, yet the prospect of improvement arouses obsessive curiosity. Those on the margins seek information and peer reviews on message boards. One typical post speaks of "fishing expeditions" to find the most effective drug.
The forums provide an insight into a strange, furtive world in which drugs are purchased in powder form, to be mixed with specially supplied bacteriostatic water and injected. In a warning straight from an Only Fools and Horses script, buyers are made aware of fake sites selling tap water.
The best official channel for athletes to check the status of substances is Global DRO, a website operated by anti-doping agencies in the UK, US, Canada and Japan. As of yesterday morning, the five most popular searches were for information on meldonium, cocaine, ibuprofen, cannabis and paracetamol.
The site uses data verified by leading pharmacists and bills itself as "The Real World Prohibited List". It admits it cannot offer guidance on supplements, a grey area in the pursuit of marginal gains, but Sharapova's claims that relevant information is "too hard to find" is puzzling, to say the least.
When cases such as hers hit the headlines, it is easier for athletes to remain silent, to submit to sophistry and self-interest. Given the febrile nature of the drug debate, Andy Murray deserves the highest praise for choosing to speak out for the clean competitor.
He placed casual cynicism and habitual hypocrisy into context by highlighting the amorality of unnecessarily taking prescription drugs for their performance advantages. Such views will not go down well with Sharapova's apologists, or Head, the racquet sponsor she shares with Murray.
The company risked huge reputational damage by agreeing to extend the Russian's contract and making risible demands of the anti-doping movement from a commercially expedient position. When the maker of tennis equipment lectures experts on medical issues we are truly in a surreal parallel universe.
Sharapova is using Facebook, where she has 15 million followers, to communicate with the outside world. She has denied being warned five times about the consequences of taking Meldonium, which she claims was used in response to recurring illness, low magnesium levels, an irregular heartbeat and a family history of diabetes.
Extraordinarily, many empathise with burblings which would put Mills & Boon to shame. She had barely left the lectern which acted as her confessional when she told of her search for a new antique coffee table, and her joy at a collage of "beautiful messages and hashtags" sent by well-wishers.
The Womens Tennis Association have responded to greater scrutiny in a revealingly crass manner, distributing to players at this week's Indian Wells tournament a pre-emptive list of proposed answers to timely but inconvenient questions.
It all adds to the perception that sport cannot be trusted to run itself. The carousel turns and the circus performs. The focus switches from tennis back to athletics, where Sebastian Coe continues to disappoint with his arm's-length approach to whistleblowers.
He insists the IAAF have told Russia there is still "significant work" to be done to address doping concerns, but has delayed a decision on their participation in this summer's Olympics until May. Most athletes seem more engaged by a petition circulated by Paula Radcliffe, calling for cheats to repay tainted prize money. Cash, it seems, is king. Medals and morality are optional extras. What a depressing, utterly predictable state of affairs.
Join our new commenting forum
Join thought-provoking conversations, follow other Independent readers and see their replies