As it happened
ended
1457421236
Maria Sharapova announcement: Tennis star reveals failed drugs test in shock press conference for taking meldonium
The Russian delivered the shocking revelation in a press conference at a hotel in Los Angeles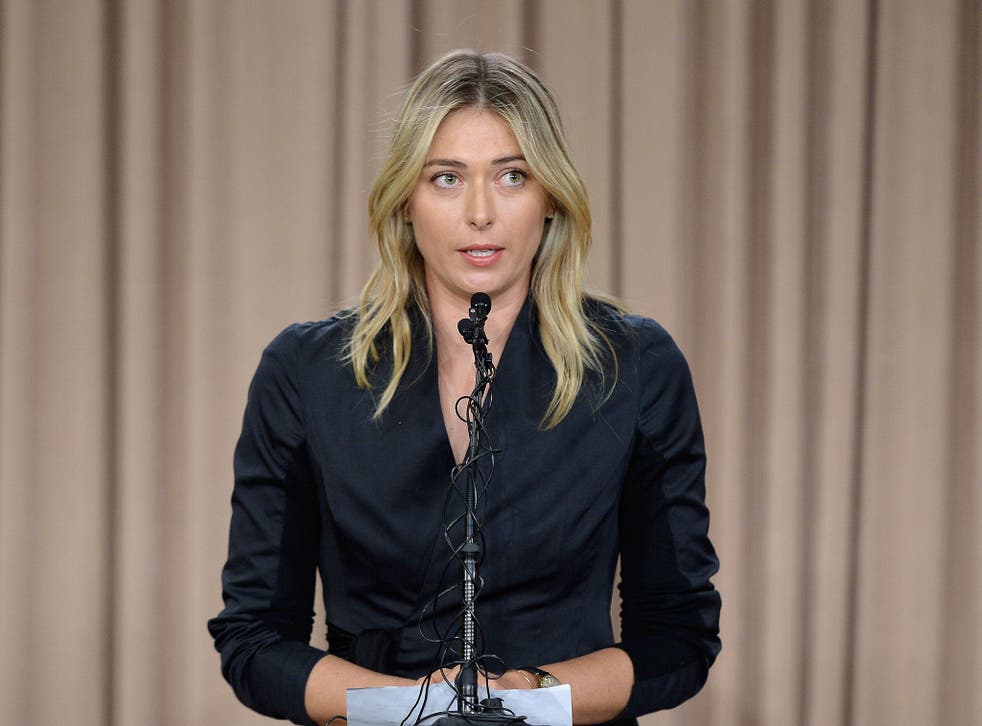 Maria Sharapova held a press conference this evening to deliver a "major announcement" and reveal that she failed a regulation drug test at the Australian Open earlier this year after testing positive for Meldoniun, a substance that was banned on 1 January 2016 that she admits to taking unaware it had been outlawed.
Sharapova accepts "full responsibility" for taking banned substance meldonium
Russian has taken drug since 2006 but it was only banned on 1 January 2016
Sharapova didn't check updated Wada banned substances list
Positive test came on same day as her Australian Open quarter-final loss to Serena Williams
Follow the latest news from the press conference below...
Read more...
Maria Sharapova retirement speculation: Her 21 career-defining moments
Maria Sharapova retirement rumours as tennis star calls for press conference to make 'major announcement'
Heather Watson defeats Kirsten Flipkens in Abierto Monterrey Afirme final to clinch third WTA Tour singles title
Davis Cup 2016: 'Man of steel' Andy Murray scales new heights with marathon GB victory
1457377479
I pray to God maria sharapova doesn't say she's retiring. I'd rather she tell us she's pregnant than say she's retiring ????????????
There is a rumour that Maria Sharapova is going to retire...Plz Maria dont' do that ; otherwise it will be a very sad day for your fans :'(
so.... is maria sharapova retiring or not
Jack de Menezes
7 March 2016 19:04
1457380653
The countdown is nearly over, and the the clock on Sharapova's official website is into its final three minutes. Let's hope she's on time...some of us have dinner to make!
Jack de Menezes
7 March 2016 19:57
1457380832
8 o'clock strikes, the video begins, but where's Maria?
Jack de Menezes
7 March 2016 20:00
1457380939
Where is she? Two minutes quickly tick by with all eyes on the empty podium. There's not sponsorship or branding, which suggests it won't be a business announcement...
Jack de Menezes
7 March 2016 20:02
1457381140
The microphone works - a woman just took to the podium to run a mic check and it definitely wasn't Maria Sharapova. Tick tock...
Jack de Menezes
7 March 2016 20:05
1457381266
Maria Sharapova has failed a drug test at the Australian Open!
Jack de Menezes
7 March 2016 20:07
1457383026
Anyone know the name of the medication?Mae Wilbornat 8:14 PM
What drug is she referring to?kpalley1946at 8:17 PM
The banned substance that Maria Sharapova has tested positive for is called Meldonium, a a blood flow drug that was added to World anti-doping list at the start of this year. It is used medically to improve blood flow, improves exercise capacity in patients with chronic heart failure and can also give an advantage to healthy athletes.
Jack de Menezes
7 March 2016 20:37
1457383368
Here's what Sharapova had to say in her prepared statement before taking questions:
"I received a letter from the ITF that I failed a drugs test at the Australian Open," said Sharapova. "I take full responsibility for it.

"For the past 10 years I have been given a medicine called mildronate by my family doctor and a few days ago after I received the ITF letter I found out that it also has another name of meldonium which I did not know.

"It is very important for you to understand that for 10 years this medicine was not on Wada's banned list and I had legally been taking the medicine for the past 10 years.

"But on January 1st the rules had changed and meldonium became a prohibited substance which I had not known."
Jack de Menezes
7 March 2016 20:42
1457383655
While the expectation was that Sharapova would retire, she is hoping to do the opposite. In what was a stunning and shock revelation, Sharapova admitted that she hopes to be able to continue her career after any ban that she receives, and she even managed to joke at the end of her statement that she knew everyone thought she was going to retire.
Maria Sharapova's "major announcement" was that she has failed a drug test 
Jack de Menezes
7 March 2016 20:47
Join our new commenting forum
Join thought-provoking conversations, follow other Independent readers and see their replies