After her dark decade away from tennis, Mirjana Lucic-Baroni returns to Wimbledon with a point to prove
After fleeing her home in 1999 to escape an abusive father, the Croatian spent the next decade missing from tennis. Speaking to The Independent, she opens up on her remarkable comeback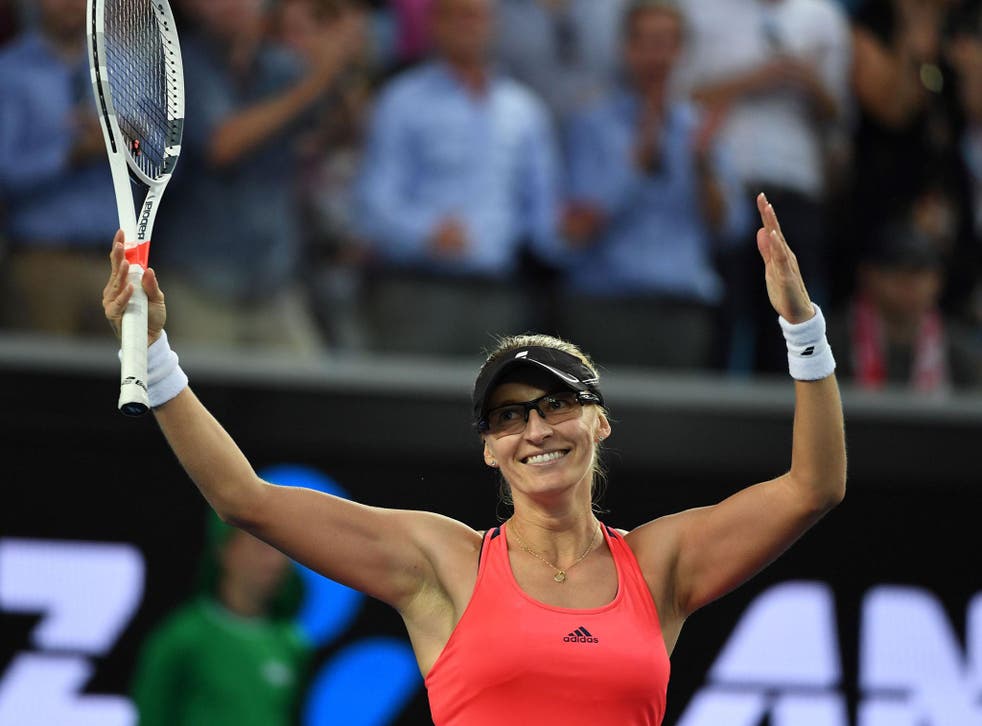 Roger Federer and Rafael Nadal have made this the year of the comeback, but even the feats of the Swiss and the Spaniard would be trumped if a 35-year-old from Croatia has her way at Wimbledon next month. Mirjana Lucic-Baroni's story is one of the most remarkable in the history of tennis. Might a final extraordinary chapter be on the point of being written?
Lucic-Baroni made her Wimbledon debut in 1998. Of the 128 women who competed in singles in that tournament, only Lucic-Baroni and Venus Williams will be in the field again when the tournament starts on Monday.
A hugely talented teenager, Lucic-Baroni (or Lucic as she then was) reached the Wimbledon semi-finals in 1999, only to go missing from tennis for the best part of a decade after fleeing her homeland for the United States to escape her abusive father, who had also been her coach.
In 2010, she finally returned to Grand Slam competition. Her results were modest at first, but the signs that she was becoming a major force again were confirmed when she made the semi-finals at this year's Australian Open, after which she broke into the world's top 20 for the first time in her life.
Lucic-Baroni is far too wise to talk about winning at the All England Club, but in this most open of Wimbledons it is by no means fanciful to see her as a contender when play begins next week. She loves grass, works ferociously on her fitness and has a big game that can trouble the very best.
"I'm still here and I feel like I can still hold my head pretty high," Lucic-Baroni told The Independent. "I feel like I'm still competing at a pretty high level. And you never know. I'm still a dangerous player and I'm not done yet."
Lucic-Baroni has vivid memories of her early appearances at Wimbledon. In her debut year she lost 6-3, 6-0 in the second round to a promising young American by the name of Serena Williams.
"I'd been very ill with chickenpox and I'd only been able to start training again a week before Wimbledon," Lucic-Baroni recalled. "I really didn't want to go but my father wanted me to play. I remember winning a really long first-round match and feeling dead afterwards. I remember hanging with Serena at 3-3, but then I was nothing. I didn't win another game. I was completely beat."
Twelve months later Lucic-Baroni reached the semi-finals before losing in three sets to Steffi Graf, her childhood idol. "Being in the semi-finals at Wimbledon against Steffi, you couldn't write a better script," she said. "I had spent my childhood watching her on TV and dreaming of playing at Wimbledon. As a 17-year-old girl it was incredible, a beautiful memory that I will always have."
By that time, however, Lucic-Baroni had already started a new life in Florida with her mother, two brothers and two sisters after fleeing Croatia to escape her father following years of alleged physical and mental abuse. During their early years in the United States the family were in dire financial straits and she was unable to travel to tournaments.
When she began her comeback nine years ago Lucic-Baroni did so at the very lowest level of professional tournaments. "Nobody really knew me any more and it was very difficult, playing on the very last court, sometimes playing two matches a day, without umpires," she recalled.
However, she won her first title for 17 years in 2014 and at the Australian Open this January beat Agnieszka Radwanska and Karolina Pliskova, world No 3 and No 5 respectively, before losing to Serena Williams in her first Grand Slam semi-final since 1998.
"It wasn't that it validated everything I had been doing for years, but this is what you play for, what you strive for – big results at Grand Slams," Lucic-Baroni said as she looked back on her Melbourne run.
"To come back from nothing, to come back with no wild cards, playing in qualies at Challengers, it really shows you who you are in the end and your character, because it is nearly impossible. At that moment I felt that all my hard work and my passion for sport was all worth it."
Lucic-Baroni admitted that in the early days of her comeback she had sometimes wanted success too much. "I'm still as intense and I still want it really bad, but maybe I handle it a bit better now," she said.
"The first time around it was a piece of cake. It was normal. It was easy. But when I was away for a long time you miss that many years and you're coming back and nobody remembers you any more. You want to just prove [yourself to] everybody.
"I'm 100 per cent sure that I lost my best years, but I try not to dwell too much on that. It took me years to come back from zero, from nothing, from no wild cards, no help at all. That was really hard. It took much longer to come back to a high level than I had been expecting. But it is what it is."
If she had not "lost her best years", did Lucic-Baroni believe she would have been a singles Grand Slam champion by now? "I always knew that I would win a Grand Slam," she said. "The way my career started, I think it would have happened. It's difficult to say for sure, but I think so. That was the plan. That was the goal I was working towards.
"But sometimes you can't control things that happen and for me unfortunately I had a couple of really difficult problems. It's difficult to say what might have been. But luckily now, after many years, I've come to peace with the fact that it didn't happen."
There is still time, nevertheless, and there is nowhere Lucic-Baroni would like to win more than at her favourite Grand Slam tournament. "For me Wimbledon comes above everything else," she said. "As a child you watch it. I watched Steffi win it so many times. She was my favourite player to watch. I always dreamed: 'Wow, it would be so amazing to lift that beautiful trophy one day.'
"You arrive at the site and you feel those butterflies in your stomach. It's still the same today. I still giggle like a little kid when I arrive at the site. It's really beautiful and it's so exciting to be there. No matter how many times I've been there it's always the same."
Lucic-Baroni insisted she would not be going to Wimbledon with thoughts of winning the title but said: "I would be lying if I said I was just going to go there and see what happens. For sure I'm motivated, I'm playing well. I feel good. But it's really important for me to keep my feet on the ground and stay level-headed, not think about making big results, but just think about whoever I play in the first round and do my best there."
After all her troubles, Lucic-Baroni now leads a happy and settled life in Florida with her husband, Daniele Baroni, a restaurateur. However, she has no plans for retirement.
She loves her job and her physical trainer calls her "The Beast" because of her capacity for hard work. "I've always been a hard worker," she said. "I can push really, really hard. If he has me do a certain amount, I'll always do one more."
She added: "I never thought that I would be playing at 35, but it's so much fun. I love the sport. It's a hard sport, it's a hard life, but I truly love it. So as long as I'm playing well I'm going to stick around for a bit."
Join our new commenting forum
Join thought-provoking conversations, follow other Independent readers and see their replies