Novak Djokovic diet: How I became the best
Diet, fitness, marriage – the favourite to win a fourth straight World Tour Finals on changing his life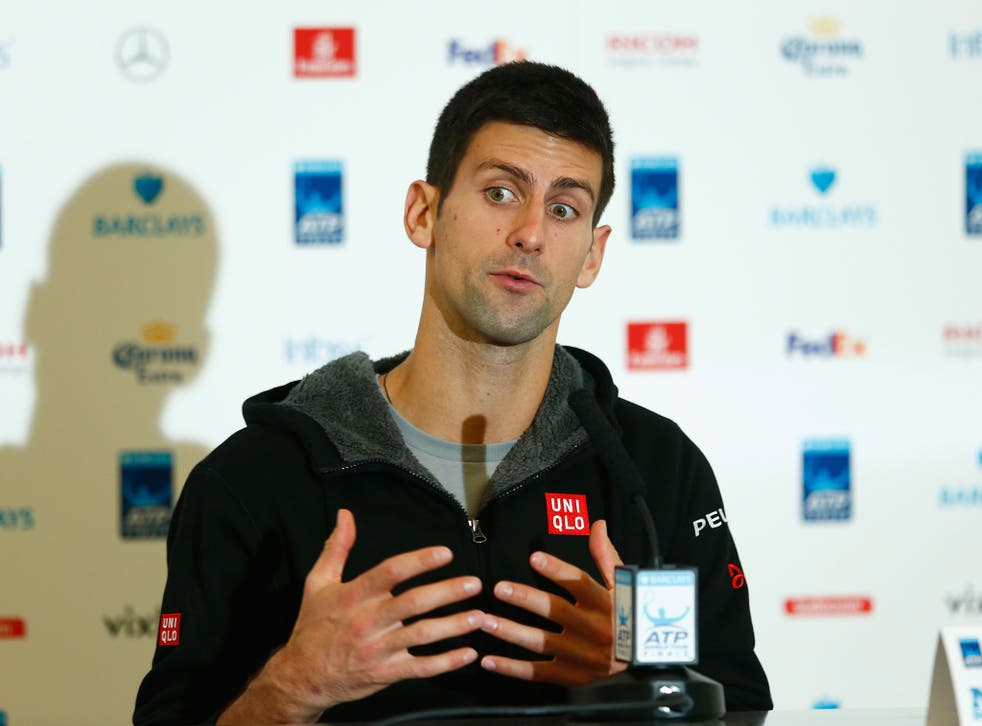 The strong man of tennis? You would never have guessed it seven years ago, when Novak Djokovic was mocked for his regular mid-match retirements and his problems with injury and illness.
Andy Roddick, asked at the 2008 US Open which ankle Djokovic had injured in his previous match, replied: "Isn't it both of them? And a back and a hip? And a cramp, bird flu, anthrax, SARS, a common cough and cold." By the time he retired with heat exhaustion in his Australian Open quarter-final the following year, Djokovic had thrown in the towel four times in his 17 Grand Slam appearances.
Today, that vulnerable young man of his late teens and early twenties is barely recognisable. At 28, Djokovic is the supreme athlete of men's tennis, a competitor whose fitness seems to be as permanently reliable as his form. He has not retired in a match for more than four years.
Just consider the world No 1's record this year. Since his first appearance in January, Djokovic has played in 14 tournaments. He has reached the final in every one of them, winning 10 titles and losing to only three opponents: Roger Federer in Dubai and Cincinnati; Stan Wawrinka, whose victory in the French Open final stopped the Serb becoming the first man for 46 years to win all four Grand Slam titles in the same year; and Andy Murray in Montreal. Djokovic considers this year to be better even than his annus mirabilis of 2011, when he did not lose a match until June.
At this time of year in particular, Djokovic has become all but unbeatable. Since 2011 he has lost only two matches in the period between the US Open and the end of the season. He has won his past six indoor tournaments and is currently on a 22-match unbeaten run.
Considering that he has not lost on British soil since Murray beat him in the 2013 Wimbledon final, it is no wonder that Djokovic is clear favourite to win the Barclays ATP World Tour Finals in London for the fourth year in a row. He gets the singles competition under way today at the O2 Arena against Kei Nishikori.
Djokovic says his consistent success is down to a range of factors, from his gluten-free diet to a training regime in which flexibility is a high priority, from careful scheduling to a happy home life.
"I've realised that a very holistic approach to life and tennis in general helps me a lot and gives me the best results," Djokovic said during a break from training at the O2 Arena last week. "I feel like I've found the formula that works for me and I'm trying to stick with it. There is not a single thing that I can add that I can call a secret of success or secret elixir or potion that I'm drinking. It's everything together."
The identification five years ago of an intolerance to gluten, a protein found in wheat and other bread grains, has perhaps been the biggest factor in Djokovic's physical transformation. Since switching to a gluten-free and largely dairy-free diet, he has felt stronger and healthier.
His extraordinary flexibility has also been vital. Watching Djokovic warm up before a practice session is an education in itself as he stretches his body into seemingly impossible positions. On hard courts he slides into shots as if playing on clay, an action that would surely leave lesser mortals with dislocated ankles.
For all his linguistic excellence – you cannot imagine many other players whose mother tongue is not English coming out with the word "elixir" – Djokovic has always appeared reluctant to go into details about his training regime, in which two key men feature. Miljan Amanovic is his long-serving physiotherapist, while the most remarkable changes in Djokovic's durability have come since he appointed Gebhard Phil-Gritsch as his fitness trainer six years ago.
Phil-Gritsch, an imposing, shaven-headed figure who watches most of Djokovic's matches alongside his coach, Boris Becker, first made his name working with Thomas Muster, a former world No 1 whose fitness and powers of endurance were legendary.
Asked how much his fitness programme had changed under Phil-Gritsch, Djokovic replied only in generalities. "Early in my career I did go through some physical difficulties and issues, but I've been through a process of evolution," he said. "I've developed and emphasised certain training routines on the tennis court, and my fitness regime as well has changed – not drastically, but we've found an optimal training situation and programme that works for us."
Most of the work is done in private. "I'm not going to go too much into what I'm doing because you obviously want to keep some things for yourself and for your team," Djokovic said. "Generally, most of the work that is done is done before I start a tournament."
The Serb's game has also improved significantly. Becker has helped him with his volleys and net play, while his return of serve – always a big strength – has become a great attacking weapon. "Before, I was trying to block the serve and get it back in play, whereas now I am actually trying to take charge of the return from the first ball and return it deep into the court so that I can dictate the rally after that," Djokovic said. "I'm more aggressive on the returns. I'm not just chipping the ball back."
That aggression is evident throughout Djokovic's game. "Specifically, this year what I've done very well is I haven't waited for other players to take the initiative," he said. "I've taken the initiative first, so I think the quality of my first shots has been better this year."
One key to Djokovic's consistency is his scheduling. "I basically never play three weeks in a row," he said. "I always try to play two weeks and then have a week off. For tournaments it's always important to make a proper schedule and think in advance where you have to peak."
Like most of the leading men, Djokovic never competes in the week before a Grand Slam event. Since 2010 he has not played any tournaments between the French Open and Wimbledon. His lack of grass-court competition hardly seems to have bothered him, given that he has won the All England Club title three times in the past five years.
Finally, Djokovic believes that marriage (to his long-term girlfriend, Jelena Ristic, last summer) and fatherhood (their son, Stefan, is 12 months old) have helped his tennis. "I think I have a nice balance and serenity in my private life that reflects on my professional life, and vice versa," he said.
The Serb's rivals might be alarmed to hear that he thinks his best is yet to come. "I still believe there are shots in my game that can be better," Djokovic said. "That's one of the things that keeps me going."

Join our new commenting forum
Join thought-provoking conversations, follow other Independent readers and see their replies