Djokovic slammed for saying men should be paid more than women
Navratilova leads criticism after Serb backs tournament chief's view that 'lady players are very lucky'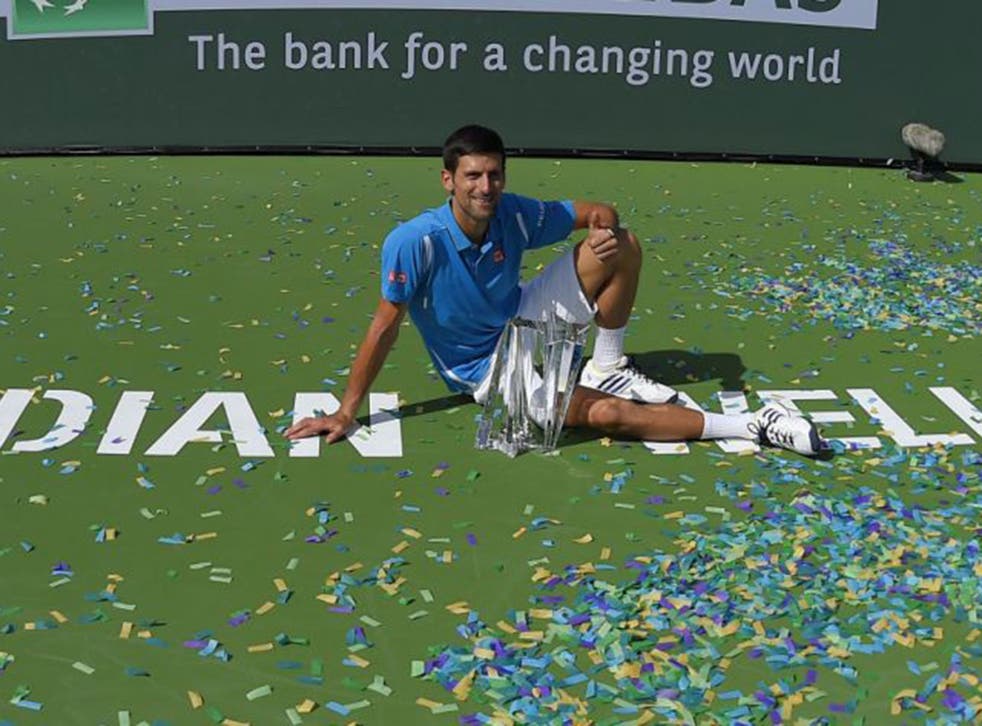 Novak Djokovic has a reputation among the media for being a smart politician who usually steers clear of controversy, but the world No 1 is facing mounting criticism for his outspoken comments about prize-money.
Speaking in the wake of claims by the tournament director at Indian Wells that women's tennis was "riding on the coat-tails" of the men's game and that the leading female players were "very, very lucky" to be competing in the current era, Djokovic said that men should be paid more than women because the public were more interested in their matches.
Martina Navratilova, a long-time campaigner for women's rights, responded: "Novak Djokovic, as much as I love him, clearly doesn't understand why, when women and men play in combined tournaments, they must be paid equally. I thought we settled that issue years ago."
Men and women have been paid equal prize-money at all four Grand Slam tournaments since 2007. Equal rewards are also on offer at most of the "combined" events where men and women compete alongside each other, such as the tournaments at Indian Wells and Miami, where competition begins today.
However, elsewhere on the men's and women's tours – which are run separately by the Association of Tennis Professionals and Women's Tennis Association respectively – prize-money differs widely.
The men are generally paid significantly more than the women, which is largely a reflection of television viewing figures. Last year the men's tour was watched by a total global TV audience of 973 million, including 102 million for the year-end finale at the O2, while the women's tour attracted 395 million viewers, including 32 million for the finale in Singapore.
Djokovic said women deserved "respect and admiration" for what they had achieved in terms of prize-money but added: "I think that our men's tennis world, ATP world, should fight for more because the stats are showing that we have much more spectators on the men's tennis matches. I think that's one of the reasons why maybe we should get awarded more."
The Indian Wells champion had been asked for his views after comments by Raymond Moore, the tournament director. Moore, who later apologised, said: "If I was a lady player, I'd go down every night on my knees and thank God that Roger Federer and Rafa Nadal were born, because they have carried this sport."
Serena Williams, who lost to Victoria Azarenka in the women's final at Indian Wells, said the women's game was hugely popular and that Moore's comments were offensive. "We, as women, have come a long way," she said. "We shouldn't have to drop to our knees at any point."
Ruth Holdaway, the chief executive of Women in Sport, told the BBC that the comments by Moore and Djokovic were "deeply offensive" and added: "Djokovic is wrong. Female athletes should not be valued less than their male counterparts."
Navratilova, who said that women might not want to play at Indian Wells in the future if Moore remained as director, said: "We have made it this far on our own, without help from male players, and will continue to do so in the future."
Australian Open: Andy Murray vs Novak Djokovic in pictures

Show all 12
Katrina Adams, the president of the United States Tennis Association, said there was no place in the sport for "antiquated, sexist or uninformed ideologies" and added: "The comments made yesterday in no way reflect the beliefs of the vast majority of those in the tennis world."
Chris Kermode, the executive chairman and president of the ATP, said in a statement that Moore's comments were "disparaging and made in poor taste".
He did not comment on Djokovic's opinions, but noted that on the men's tour prize-money was "in accordance with the revenues that are generated from men's professional tennis" and added: "The ATP also respects the right of tournaments to make their own decisions relating to prize-money for women's tennis, which is run as a separate tour."
The prize-money at single-sex tournaments tells its own story. Last year, for example, Belinda Bencic won $124,000 (about £86,000) as the champion at Eastbourne in the main women's pre-Wimbledon event, while Andy Murray took home about £300,000 for his victory in the equivalent men's tournament at Queen's Club.
Meanwhile, some male players believe that women should not receive equal prize-money at Grand Slams because they play over the best of three sets. Men play best-of-five-set matches at Slams and in the Davis Cup.
Join our new commenting forum
Join thought-provoking conversations, follow other Independent readers and see their replies