Pete Sampras on Andy Murray, Rafa Nadal challenging Roger Federer's record and the new kids on the block
Exclusive interview: The American great tells The Independent that he expects Murray to hit back after his injury woes and believes Nadal could overhaul Federer's Grand Slam tally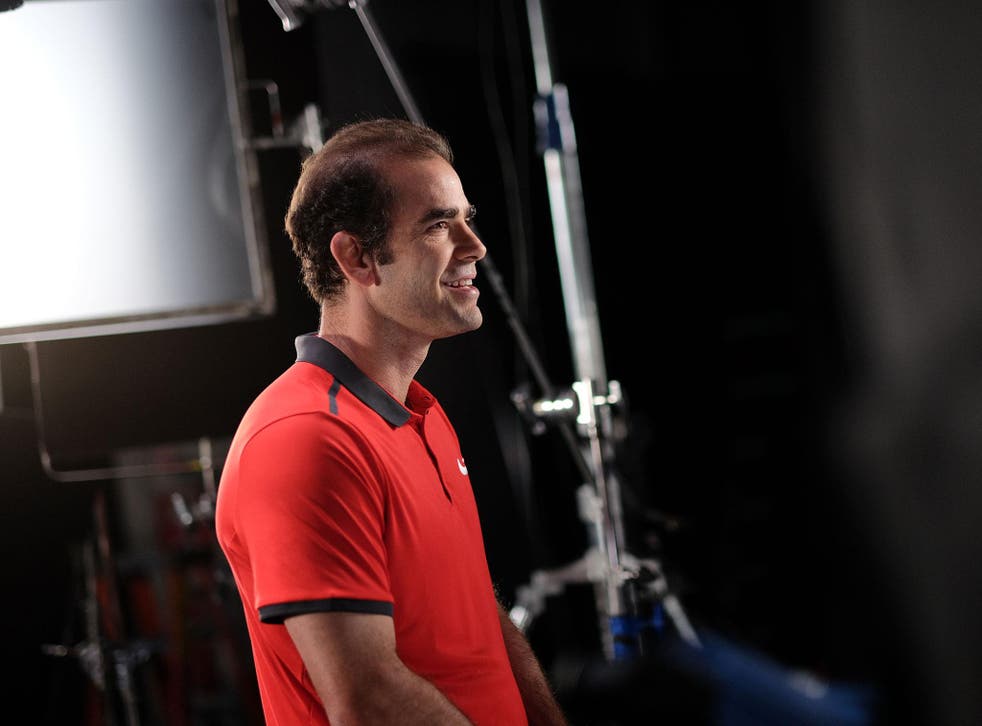 Andy Murray "will compete for majors" again if he can remain fit once he recovers from his persistent hip injury, according to the 14-time Grand Slam champion Pete Sampras.
The American great also fully expects Novak Djokovic to join Murray in challenging the Rafael Nadal-Roger Federer duopoly after he returns from a long-standing elbow complaint.
Djokovic announced in July that he would miss the rest of 2017 due to the injury, while Murray said he was "most likely" to do likewise after withdrawing from the US Open earlier this month.
While Murray and Djokovic have toiled this year, Nadal and Federer belied their ages to enjoy a 50-50 split of the majors – despite both enduring protracted spells on the sidelines in 2016.
Nadal, 31, claimed his 16th Grand Slam at the US Open last weekend, and Sampras believes the Spaniard "has a pretty good shot" of surpassing Federer's record of 19 majors if he matches the 36-year-old's stunning longevity.
But Murray and Djokovic will be "chomping at the bit" to end their fellow 'Big Four' members' dominance, according to the former World No.1.
"Oh yeah, I think if you take that much time off, they're going to be very eager and determined [to succeed]," the 46-year-old told The Independent in an exclusive interview. "I'm sure Novak and Andy are going to be right in the mix next year and compete for majors."
Murray began 2017 in exultant mood after deposing Djokovic to become world No 1 for the first time last November.
Yet he then won only one trophy – in Dubai in March – as the exertions of an annus mirabilis, in which he claimed his second Wimbledon and Olympic crowns, appeared to catch up with him.
But Sampras confidently predicts the three-time major champion can recapture his former glories, insisting: "Can he be the same force as he was before? Without a doubt.
"I don't see anything stopping Andy from a tennis-playing standpoint. He's one of the best in the world.
"It's just a matter of playing well at the right time. The only thing that can hold him back is injuries, because he does rely so much on his movement. Once you can't move and grind out the matches like he can, it's tough for him. It's tough for anybody.
"But as soon as Andy gets back playing, he will compete for all the majors and be right in the thick of things. I just hope he recovers and gets back to being 100 per cent."
Currently, however, the main story dominating men's tennis is who will prevail in Nadal and Federer's epic joust for supremacy.
"Can Rafa beat Roger's record? Basically it's up to Rafa and how much he wants to play and how much he loves the game," said Sampras, who sits third on the men's all-time Grand Slam winners' list behind Nadal and Federer. "If he said: 'Hey guys, I'm gonna play until I'm at least 35', I'd say he's got a pretty good shot at doing it.
"If you do the maths, he's going to have many chances to win majors and he has the heart and mind to continue winning them. He will always be a favourite at the French and while Wimbledon will be a stress, at the other two [Slams] he's always going to be in the top-two favourites. It really is entirely is up to him if he wants to play into his mid-30s like Roger."
Sampras maintains Federer's own raging competitive fires are not diminishing, despite the world No 2 being well below par at Flushing Meadows.
The Swiss lost in the quarter-finals after struggling with a back injury – and so was denied a feverishly anticipated first US Open meeting with Nadal in the last four.
But Sampras added: "There's the age gap [between him and Nadal]. Five years is quite a bit in tennis. It just depends on how much longer Roger wants to go on, if he's enjoying it and how his body holds up.
"I just think it's great for the sport to see the [revival] of their rivalry. It's quite remarkable."
While he continues to marvel at tennis's established stars, Sampras is also hugely impressed by a trio of young pretenders: Alexander Zverev, Denis Shapovalov and Dominic Thiem.
He reserves particular praise for the 18-year-old Canadian, Shapovalov, who beat Nadal in Montreal last month.
"I really like his attitude. He's got a lot of energy out there, has a big game and has got all the shots."
He insists Shapovalov and the 20-year-old German Zverev will become the top-two players in the world – but only once the old order retire.
As for his own future, he reiterated his long-stated conviction that he will not follow other past masters such as Murray's mentor Ivan Lendl into coaching.
Helping out someone "here and there" in his native Los Angeles would appeal to Sampras; he would be "flattered" to be approached by someone like the Australian maverick Nick Kyrgios, another young talent he greatly admires.
But travelling regularly as a coach "is not something I am passionate about" given his supreme devotion to his family.
Sampras's own passion for playing the game he graced between 1988 and 2002 may have waned, but he has summoned up the motivation to return to the court this weekend.
He joins James Blake, Venus Williams and Martina Hingis at The Greenbrier Champions Tennis Classic exhibition in West Virginia.
"I might be a bit rusty, but I've been hitting the ball pretty well."
Join our new commenting forum
Join thought-provoking conversations, follow other Independent readers and see their replies