Rafael Nadal avoids a shock against autograph-hunting German Peter Gojowczyk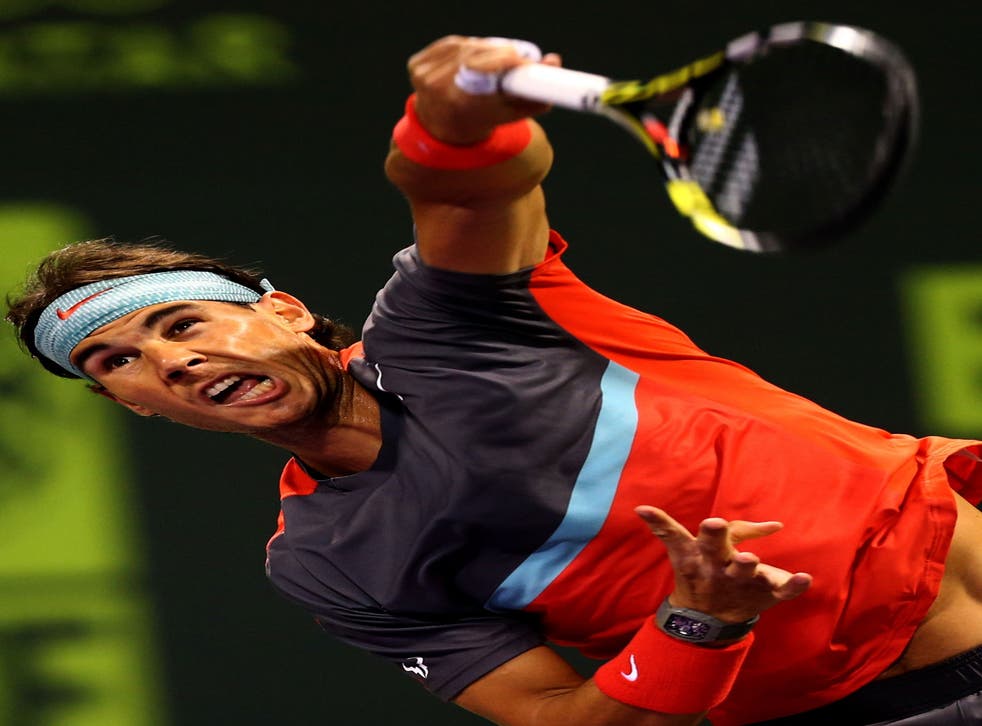 When Peter Gojowczyk, the world No 162, won 12 of the first 13 points of his Qatar ExxonMobile Open semi-final against Rafael Nadal here last night nervous statisticians were probably starting to thumb through their record books, wondering when the Spaniard had last lost to an opponent more lowly-ranked than the 24-year-old German.
The answer was October 2006, when Nadal was beaten by Joachim Johansson, then the world No 690, in an indoor tournament in Stockholm. Unfortunately for Gojowczyk, however, his place in history will have to wait. Nadal, recovering from the shock of going 0-3 down in the face of the German's opening onslaught, recovered to win 4-6, 6-2, 6-3 and reach the 86th final of his career, although he played well below his best.
Gael Monfils, who crushed Florian Mayer 6-3, 6-2, will have the task of trying to prevent Nadal from claiming the 61st title of his career this evening. The Frenchman has beaten the Spaniard only twice in 10 meetings, but both of those victories were on this court, in the 2009 quarter-finals and 2012 semi-finals. It will be the world No 31's third appearance in the final here following his defeats to Roger Federer in 2006 and to Jo-Wilfried Tsonga in 2012.
Gojowczyk, who is the German No 12, had to win three matches in qualifying just to reach the main draw here. When he played in a Grand Slam tournament for only the second time in his life at the US Open last summer he actually asked Nadal for his autograph.
The German made a stunning start, his crunching ground strokes keeping Nadal on the back foot. Even after Nadal had levelled at 3-3 the world No 1's problems were not over. When he served at 4-5 and deuce, a double fault and a mishit forehand handed Gojowczyk the first set.
However, no current player holds his nerve like the Spaniard, who promptly won the first four games of the second set. Having been forced on the defensive by Gojowczyk's power at the start, the Spaniard worked his way back into the match by playing a more attacking game.
Gojowczyk recovered a break of serve at the start of the decider, but Nadal broke again to lead 2-1 and eventually secured victory with his sixth break of the match. On cracking a winning forehand into the corner the Spaniard punched the air in delight.
Nadal admitted afterwards that he had not played well but added: "The positive thing is that I am in the final in the first week of the season without arriving here with big preparation. Without playing my best, I was able to find a solution. It's true that I finished the match playing better than I started. That's always a positive thing. It means that mentally I was prepared to find solutions."
Join our new commenting forum
Join thought-provoking conversations, follow other Independent readers and see their replies