Rafael Nadal learns to control pain in fighting back to No 1 again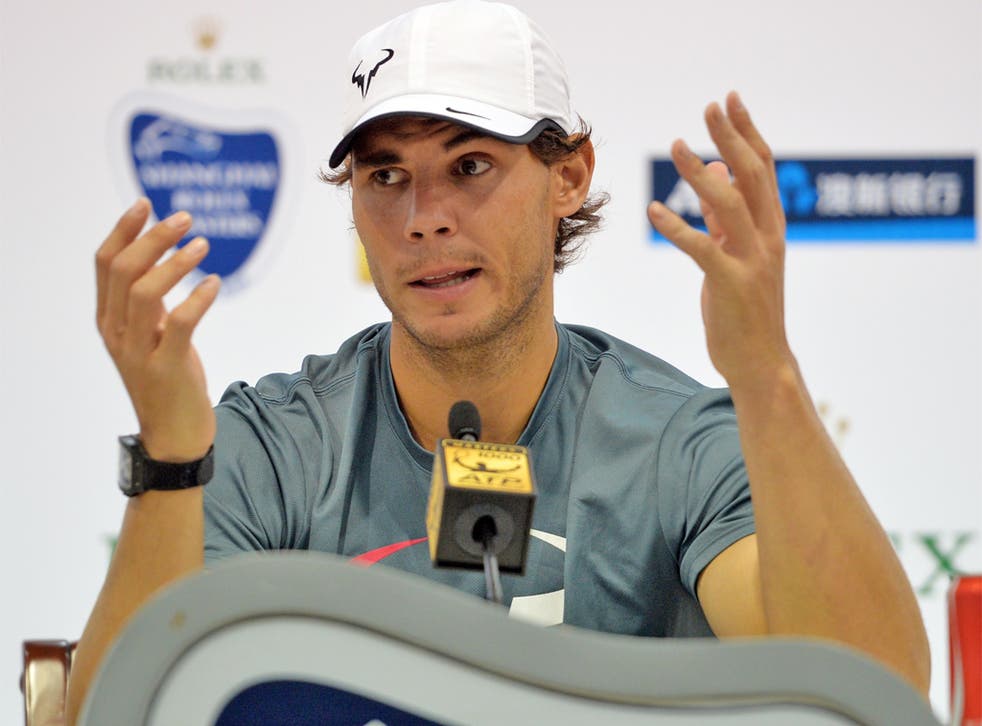 Rafael Nadal is back on top of the world rankings after a remarkable comeback but the 27-year-old Spaniard revealed that he is still having to deal with discomfort in his troublesome left knee. "I have pain a lot of days," Nadal admitted on the eve of his opening match against Alexandr Dolgopolov at the Shanghai Rolex Masters.
Nadal, who returned to the top of the rankings on Monday, had hoped that platelet-rich plasma (PRP) therapy – commonly known as "blood-spinning" – would help cure the tendinitis problem that kept him off the court for seven months until he returned in February. The treatment, which involves taking blood and reinjecting it into tendons around the knee, worked well for Nadal during a previous lay-off four years ago.
"I recovered 100 per cent from that injury after a very short period of PRP treatment," Nadal said. "With the injury I have now, I tried [the same treatment] a lot of times and it really didn't help me a lot.
"The knee is not 100 per cent perfect, but even if I have pain a lot of days, it is not limiting my movements. That's the most important thing. Even if I have pain, I am able to control it. In the past I was not able to control that pain, so I couldn't play. I would like to improve a little bit more, but for the moment, I am happy because I am able to play."
The combination of Nadal's physical style and his problematic knees has led to frequent suggestions that he might not have a long career, but the Spaniard rejected that idea.
"It seems like a lot of people have said that I will not be able to play for a long time, but I'm here again at 27 years old – almost 27 and a half – and I really hope to have the chance to be here for a lot more years," he said with a smile. "The [2016] Olympics in Brazil is a real goal for me."
If Nadal wins here or in Paris in three weeks' time he will set a record of six Masters Series titles in the same year. "To win five is amazing already," Nadal said. "These are very difficult tournaments to win. From the first round you have fantastic opponents ahead of you. Sometimes in Grand Slams you can be a little bit more lucky and you can have a slightly more open draw.
"I consider the Masters 1000s some of the toughest tournaments to play because if you are not playing well from the beginning it is very difficult to go through. In the past this part of the season has been hard for me, but I am confident that I can keep playing well."
Nadal, Novak Djokovic, Andy Murray and David Ferrer have already qualified for the eight-man field at next month's Barclays ATP World Tour Finals at the O2 Arena. There has been speculation that the Swiss Roger Federer, currently seventh in the "Race for London", might struggle to make the season-ending finale, but Nadal said he was sure the Swiss would play. Murray's likely absence following back surgery will improve Federer's chances, as has Vasek Pospisil's first-round victory over Richard Gasquet, who is one place out of the field for London.
Nadal said he thought Murray had made the right decision to have surgery following the US Open. "It seems like Andy is in good shape," he said. "He had the surgery and he will be improving. I think he's feeling better every day."
Laura Robson followed the defending champion Heather Watson out of the Japan Open in the first round, losing in straight sets 6-4, 6-4 to Kimiko Date-Krumm.
Join our new commenting forum
Join thought-provoking conversations, follow other Independent readers and see their replies