Raymond Moore resigns as BNP Paribas Open tournament boss after women's tennis comments
Moore had said female player should 'go down every night (on their knees) and thank God that Roger Federer and Rafa Nadal were born'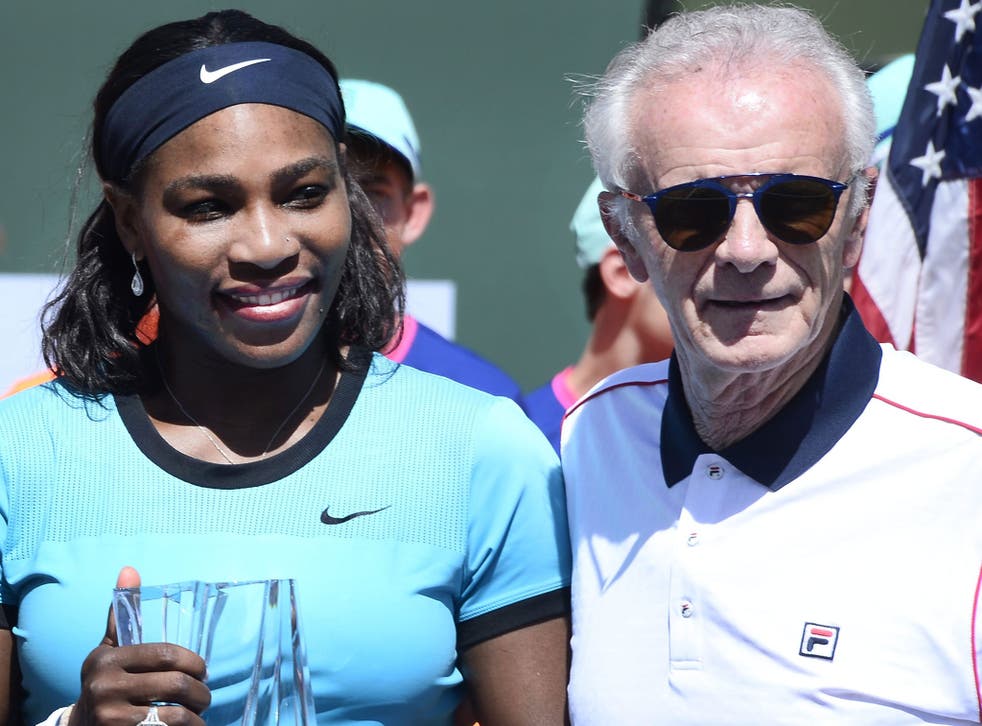 Raymond Moore has resigned as BNP Paribas Open tournament director after his comments that women's tennis "rides on the coattails" of the men's game.
Moore said ahead of Sunday's women's final at Indian Wells that female players should "go down every night on (their) knees and thank God that Roger Federer and Rafa Nadal were born".
Indian Wells owner Larry Ellison said in a statement on the tournament website: "Earlier today I had the opportunity to speak with Raymond Moore. Ray let me know that he has decided to step down from his roles as CEO and tournament director effective immediately. I fully understand his decision."
Moore had already apologised publicly for comments which received widespread criticism, including from Indian Wells finalist Serena Williams, who said: "Obviously I don't think any woman should be down on their knees thanking anybody like that."
Ellison, in announcing Moore's departure, took time to praise Williams and Billie Jean King among others for their role in the sport's progress towards gender equality.
He said: "Nearly half a century ago, Billie Jean King began her historic campaign for the equal treatment of women in tennis. What followed is an ongoing, multi-generational, progressive movement to treat women and men in sports equally.
"Thanks to the leadership of Billie Jean, Martina Navratilova, Venus Williams, Serena Williams and so many other great women athletes, an important measure of success has already been achieved. I'm proud to say that it is now a decade-long tradition at our tournament at Indian Wells, and all the major tennis tournaments, to pay equal prize money to both the women and the men.
"I would like to personally thank all the great women athletes who fought so hard for so many years in the pursuit of equal prize money in professional tennis. And I'd like to congratulate them on their success.
"All of us here at the BNP Paribas Open promise to continue working with everyone to make tennis a better sport for everybody."
Novak Djokovic claimed male players should receive more prize money than women but 18-time grand slam winner Navratilova said the men's world number one "clearly doesn't understand".
Navratilova also said she would not be surprised if women players boycotted Indian Wells in future after Moore said on Sunday: "In my next lifetime when I come back I want to be someone in the WTA, because they ride on the coattails of the men. They don't make any decisions and they are lucky. They are very, very lucky.
"If I was a lady player, I'd go down every night on my knees and thank God that Roger Federer and Rafa Nadal were born, because they have carried this sport. They really have."
Moore also described players such as Eugenie Bouchard and Garbine Muguruza as "physically attractive and competitively attractive".
He released a statement later in the day in which he said: "I am truly sorry for those remarks and apologise to all the players and the WTA as a whole.
"We had a women's final that reflects the strength of the players, especially Serena and Victoria (Azarenka, who beat Williams 6-4 6-4) and the entire WTA. Again, I am truly sorry for my remarks."
That was not enough to appease Williams, though.
"Last year the women's final at the US Open sold out well before the men," she said after her loss to Azarenka.
"I'm sorry, did Roger play in that final, or Rafa, or any man play in a final that was sold out before the men's final? I think not.
"There's only one way to interpret that. Get on your knees, which is offensive enough, and thank a man, which is not... we, as women, have come a long way.
"We shouldn't have to drop to our knees at any point."
PA
Join our new commenting forum
Join thought-provoking conversations, follow other Independent readers and see their replies