Rosol admits he went into a trance to trounce Nadal
Czech world No 100 has as little idea as anyone how he beat the great Spaniard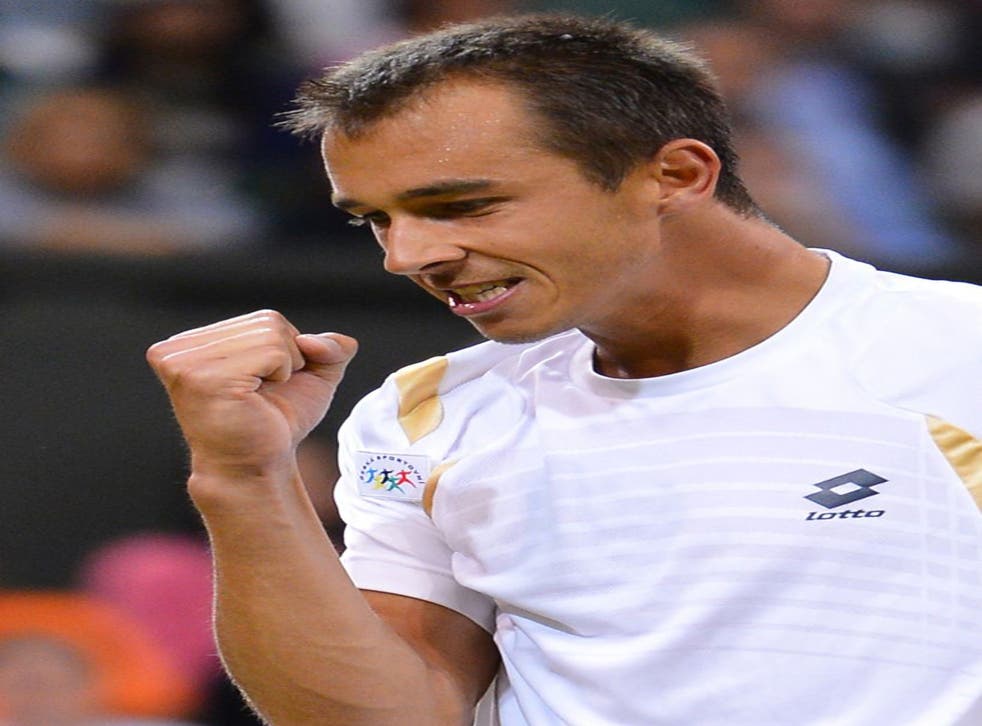 Andy who? Forget Murray, the most talked-about man at Wimbledon yesterday was a 26-year-old Czech with a love of ice hockey and tattoos. Lukas Rosol, ranked 100 in the world, came blinking into the practice courts at Aorangi Park as if stuck in a dream, not quite sure if the night before was a fiction.
A clue was in the number of people stopping to say hello, including the man from the BBC, who led an impressively early media assault on the nobody who beat the great Rafa Nadal. Rosol was preparing for his doubles match alongside equally anonymous Mikhail Kukushkin, and there was much to ask, starting with: Who are you?
It is a question often put, even at home, where he reached 'B' status as a celebrity by virtue of his marriage, now over, to a long-jumper and heptathlete with model looks, Denisa Rosolova. He also shares a name with a star of ice hockey, a sport which carries far more weight than racket and ball in the Czech Republic and which proved handy when trying to get into a nightclub in his native Brno.
Apart from the astonishing level of tennis reached against Nadal, which took him as much by surprise as his opponent, the striking feature associated with Rosol was the inky tribute on his left calf to a Maori warrior. The depiction of a scene from a haka stretches almost from knee to ankle. There is another grand design on his shoulder, this of a serpent. The nod to killers of the species is clear. For the moment he is one.
Nadal was undone by the freakish alignment of 130mph-plus serves and 90mph groundstrokes, all delivered with the accuracy of a laser beam. Asked how he managed to bring this preternatural form to Centre Court against a player with 11 grand slams in his locker, Rosol rummaged through the bric-a-brac cluttering his brain and came up with… well, voodoo.
"I was just like somewhere else. I believe in myself and knew that I could make it. I didn't want to show Rafa what was inside me. I was so concentrated and in a trance a little bit. I don't know how I won it. It just happened."
Rosol was no more scientific when assessing his chances against Philipp Kohlschreiber today. "I think if I beat Rafa I can beat anyone. It is just tennis and everyone is human. This is sport. Everybody can lose and everybody can win. We're just people."
Rosol slept like a baby after his win, which means he was wide awake at 3am reworking in his mind every second. "I had no trouble getting to sleep but when I woke I could not fall asleep again. I rang my mum. She was watching and cheering for me. I hope I can play like this again. Hopefully it will give me a big advantage. They will see that I beat Nadal."
Rosol revealed that the vanquished hero wished him well in the locker room. "He said good luck, and that I played well. I said thank you." Like the rest of us, Nadal was probably shaking his head, wondering how a stranger to Grand Slams, who in four Challenger events this year had progressed no further than one semi-final, could find the game to take him down.
There is always the Euro 2012 final tomorrow and the prospect of a Spanish victory over Italy to serve as restorative balm. Or is there? "What do you think of the football?" Nadal asked an acquaintance earlier in the week. "I think Spain have been lucky," came the reply. "So do I," confessed Nadal. An omen perhaps?
Join our new commenting forum
Join thought-provoking conversations, follow other Independent readers and see their replies