Serena Williams: I was the runt, but tough upbringing made me the world-beater I am now
The American beat Maria Sharapova in the French Open final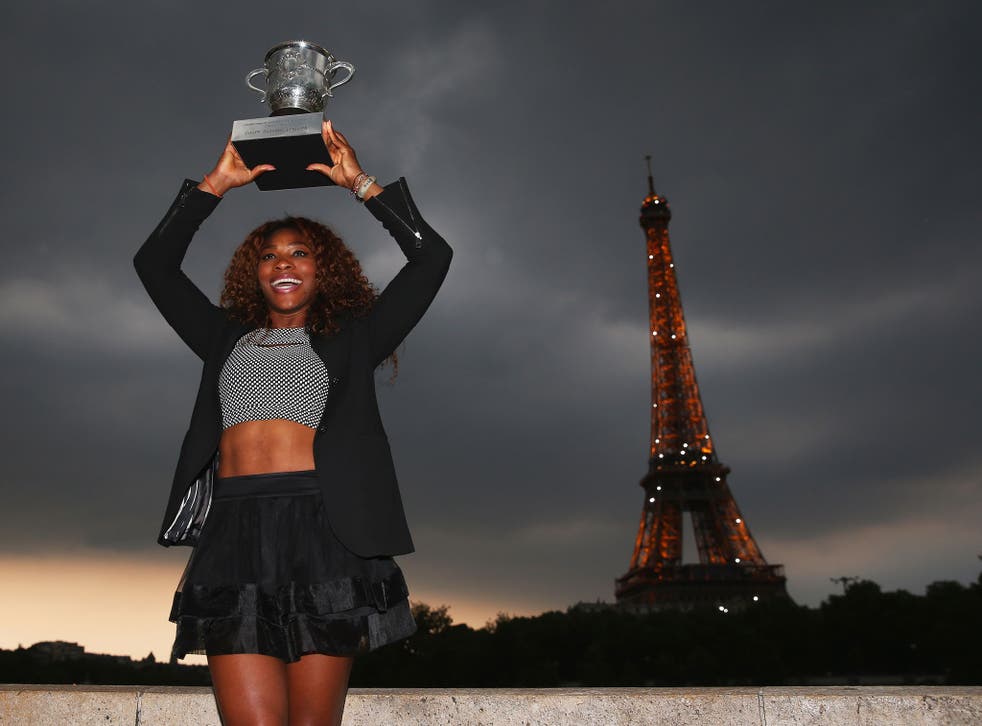 Hours after overpowering Maria Sharapova in the French Open final on Saturday, Serena Williams recalled a very different time. She remembered her childhood days back in Compton, the crime-ridden neighbourhood to the south of Los Angeles where she had learnt her tennis on public courts littered with drug addicts' syringes to the background noise of gunfire from drive-by shootings. The youngest of five sisters, Williams had to fight for herself in those days, even on the court.
As she recently told her coach, Patrick Mouratoglou, it was that upbringing which forged not only her competitive spirit but also her ingenuity on the court. The focus can often be on Williams' serve and ball-striking power, but what impressed most about her 6-4, 6-4 victory over Sharapova was the variety in her game. The Russian, pummelling the ball from the baseline, was made to look one-dimensional as Williams brought together athleticism, power and artistry to claim her first title in Paris since she beat her sister Venus in the final 11 years ago.
"I was talking to my mum about this, with Patrick, because he said I had unbelievable hands," Williams said. "I was like: 'Well, I have great hands, I have great drop shots and angles and slices.' He never knew. I said: 'It was because when I was younger, I was so small. I was like the runt. I didn't have power, so I had to learn how to play other ways.'
"I think that also taught me how to be mentally tough because Venus used to win her matches really fast and I would be out there grinding, hitting lobs and fighting and grinding and grinding. In the end I think that really developed me as a player, to learn how to win. Then when I did get bigger and stronger, it just helped me to win more easily.
"The reason I've won Grand Slams is because I've wanted it so bad. There were moments when I maybe wasn't the fittest but I wanted it more than anyone else in the tournament. So I think it's fair to say that throughout my whole career at different stages I've really wanted it more than any other human being on the planet."
Already the oldest player in history to hold the world No 1 ranking, 31-year-old Williams is now the oldest woman in the Open era to win at Roland Garros, yet she says she has never felt fitter or more motivated. Her current unbeaten run of 31 matches is the longest of her career. Since going out in the first round here last year she has lost just three times, winning 11 of the 14 tournaments she has played. This was her 16th Grand Slam title, which puts her fourth on the all-time list, behind Steffi Graf (22), Martina Navratilova (18) and Chris Evert (18). The records of Navratilova and Evert are clearly within reach, though Williams insisted that she continues to take one tournament at a time.
"When I had 15 Grand Slam titles I said it was so close, yet it's still so far," she said. "Now I have 16 and I'm closer to 18 but still it's so far, because who knows when I'm going to win another two? That's a lot. It's not easy. I think the competition's getting really tough and every one I win, I'm just learning to really savour that moment. Who knows what will happen? I live for the moment."
Did Williams ever think about her place in history? "No. Because I think if I did, I would retire. I would be like: 'I've done enough. Why am I playing? Do I really need another title?' For me it's just about not thinking about that at all and just playing. I know that I'm good at one thing in life. I might not be good at anything else, but I am good at playing tennis – and I'm going to keep doing it."
Mouratoglou believes overhauling Graf's record is quite possible. "I think for Serena nothing is out of reach – if she wants something it's very difficult to stop her," he said. "Since she keeps this motivation for the game, she is able to win many more [Grand Slam titles], for sure. Physically, I think she's even better than those last years because she's really well prepared, because she's so motivated. So I think she is able to, but you have to go step by step."
The next challenge for Williams is Wimbledon, which begins in a fortnight's time. She returns to the United States today but plans to be back on the practice court tomorrow, although she will not play on grass until she arrives at the All England Club next week. "I'm going to get started straight away because I feel like I have a title to defend," she said. "I want to win that title again. I want to break some more records."
Having claimed her fifth Wimbledon crown last year in the immediate aftermath of her earliest exit from a Grand Slam tournament, Williams will be the strongest of favourites to win again.
"Last year I was really frayed," she recalled. "The brain was fried and I was thinking: 'Gosh, the last match I played I lost.' So this year will be different, though I'm not going in overconfident because anything can happen. I could play a great player, or a player who plays great on that day. I won't be overconfident, but I won't be underconfident either. I'll just find a balance in between."
High court women's slam list
* Serena Williams' second French Open title moved the American on to 16 Grand Slam victories in the Open era, fourth in the all-time list and six behind leader Steffi Graf.
22 S Graf (Ger; right) 18 C Evert (US), M Navratilova (US) 16 S Williams (US) 9 M Seles (Yug/US) 8 B J King (US) 7 E Goolagong (Aus), J Henin (Bel), V Williams (US) 4 K Clijsters (Bel), H Mandlikova (Cz Rep), A S Vicario (Sp), M Sharapova (Rus)
3 J Capriati (US), L Davenport (US), V Wade (GB)
Join our new commenting forum
Join thought-provoking conversations, follow other Independent readers and see their replies