Sharapova savours her 'sweetest triumph' as reward for comeback
New world No1 could have quit in 2008 but made a painful recovery from shoulder surgery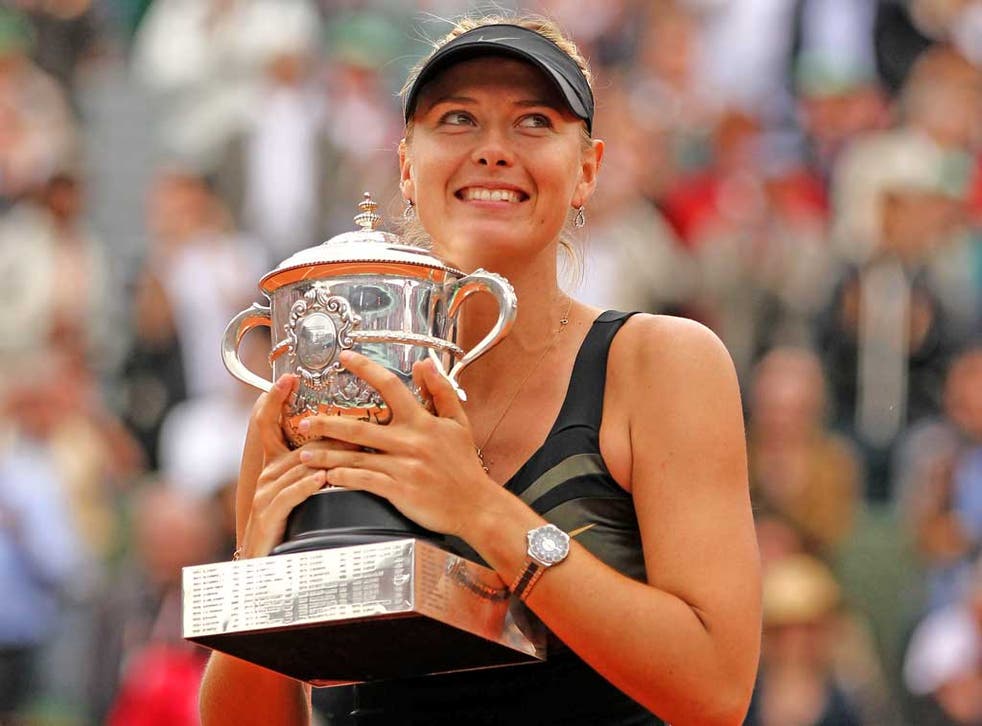 For eight years Maria Sharapova's most treasured tennis memory had been her first Grand Slam title, captured as a 17-year-old on the Centre Court at Wimbledon in 2004. That changed here on Saturday. "I never thought that something would be sweeter than the first one I won," Sharapova said after beating Sara Errani 6-3, 6-2 in the French Open final. "But the second I fell to my knees today, I just felt something extremely special."
Sharapova's victory secured her first title at Roland Garros, elevated her to a place in history alongside nine other women who have won all four Grand Slams, and underlined her return to the top of the world rankings. More than that, however, the win completed a long and often painful journey following the shoulder surgery the 25-year-old underwent four years ago.
Sitting in a small room beneath Court Philippe Chatrier just hours after her triumph here, Sharapova explained how that journey had begun after she had struggled to beat Marta Domachowska, a journeywoman Pole, in a tournament in Montreal in the summer of 2008.
"I was having a few problems with the shoulder about four months before the surgery," Sharapova recalled. "Everyone was just telling me: 'You have inflammation, tendonitis.' But nothing was really going away, despite so much treatment and anti-inflammatories. Then I came to a point where I was in Canada and I had so much pain that after the match, I said: 'There's something wrong. I don't know if anybody can find it, but this is not inflammation'."
An initial MRI scan had failed to pick up the problem but a second revealed two tears in her right shoulder. Sharapova was soon undergoing surgery and did not play another singles match for nearly 10 months.
After a failed comeback playing doubles in Indian Wells, a bruised bone was diagnosed. "Bone bruises take a long time to heal and it was a pretty big one," she said. "It was stop and go, stop and go. Everyone had great expectations and they would say: 'OK, in a week or two, you'll be able serve and have no pain.' I would go and serve and be clenching my teeth."
Already the world's highest-earning sportswoman, Sharapova had no need to return to competition but retained her passion for a sport she had been playing since the age of four. "I love competing," she said. "There's nothing in the world that gives you that adrenalin feel, just being in the moment of a match. There's nothing that I've done in my life that has given me that experience, being on the court. It takes a lot to get to that moment, a feeling, whether it's pressure or nerves, or excitement, it's a combination of those things, but that feeling, and getting through it and winning, beating your opponent, as an athlete I think it's different to other careers.
"It's not like you're a great actress and you can be so good but nobody goes and watches your matches, or you can be the greatest model in the world but if somebody doesn't put you on the cover of a magazine, you're never going to be famous. This sport, it's all in your own hands and that's what I love about it. You control your own wins and losses."
It was because she had to go through so much – the rehabilitation, the restructuring of her service action, the difficult losses as she struggled in the early months of her recovery – that Saturday's victory was one to treasure even above her Wimbledon triumph.
"I think the first one I won was the feeling of joy from no expectations and not really understanding how this came so early," Sharapova said. "Whereas I felt like I really deserve this one because I've worked so hard and I went through so many tough days to get here. I never, never put my head down. I was grumpy and I had my tough days and I would yell at people and say: 'You're promising one thing and it's not happening.' I'd certainly have my doubts, but I kept going – and I didn't let anyone tell me otherwise."
Sharapova said she owed her drive to her parents, who decided when their only child was nine that Yuri, her father, would take her from their home on Russia's Black Sea coast to train in Florida. They spent the next two years apart from Yelena, Maria's mother.
"My parents had a normal life in Russia and they could have easily kept living a normal life, working and raising a child in Russia," Sharapova said as she recalled her parents' sacrifices. "I heard endless conversations between my parents when I was going to sleep about how we would survive, how we would continue. All of them were about trying to make me better.
"Of course, my father takes responsibility for my whole career, but he was extremely smart. He knew that he wasn't a tennis expert and he took me to all the different people who could make me better, somebody on movement, somebody on the serve, somebody on the strokes.
"One day – we were in Florida – I went in his room and he said: 'One day we are going to go to California.' I was like: 'No we're not. I was watching the news the other day and the crime rate there is horrible. I do not want to go to California.' And he said: 'We're going.' I didn't even know why we were going and then two weeks later we were on a plane to see Robert Lansdorp."
Lansdorp became the most significant coach in Sharapova's development as a player. Another major influence was Michael Joyce, who emailed her on Saturday in the wake of her triumph. Sharapova read out his message: "I know how tough the last few years have been. It would have been very easy to hang 'em up and enjoy life, but you kept persevering and pushing yourself through all the doubts. There was never a doubt in my mind that you would be on the podium again. You deserve every ounce of happiness this title brings."
Sharapova's slams
Wimbledon 2004
Wins first Grand Slam at 17.
US Open 2006
Defeats Justine Henin-Hardenne in straight sets in the final.
Australian Open 2008
Becomes the first Russian woman to win the tournament.
French Open 2012
Completes full set of Grand Slams.
Join our new commenting forum
Join thought-provoking conversations, follow other Independent readers and see their replies