US Open 2014: Andy Murray beats Jo-Wilfried Tsonga in straight sets
British number one goes on at Flushing Meadows with 7-5 7-5 6-4 victory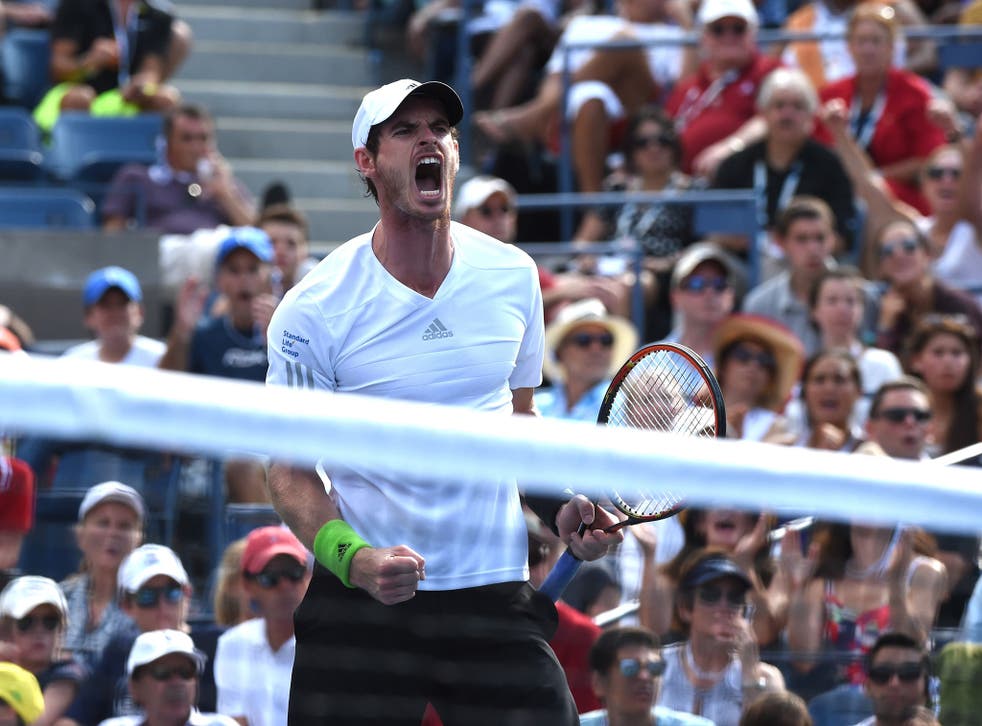 Andy Murray always insisted that his repeated recent failures to beat the top players was not a major concern and the Scot's confidence in his ability was rewarded with a resounding win in the US Open here last night. Murray's 7-5, 7-5, 6-4 victory over Jo-Wilfried Tsonga, which sends him into a quarter-final showdown with Novak Djokovic, was his first over a top 10 opponent since he won Wimbledon 14 months ago.
Murray's form has fluctuated since that never-to-be-forgotten day at the All England Club, which was the last time he won a title, but this was a performance which showcased many of his best qualities. He hit the ball consistently from the back of the court, served well and found a good balance between defence and attack.
The Scot, who has now reached the quarter-finals or better of his last 15 Grand Slam tournaments, made only two significant lapses of concentration, when he dropped serve at the start of both the second and third sets, but quickly recovered on both occasions. Instead it was Tsonga whose mental strength came into question as the world No 10 lost all three sets by dropping his serve.
One of the most encouraging aspects of the win for Murray was the fact that he came through a match played in very testing conditions. On another hot and humid day the temperature reached 30C, but there was never any indication that Murray would suffer a repeat of the cramping which so nearly cost him victory on another stifling day against Robin Haase last week.
"It was extremely tough conditions today, very humid and windy," Murray said afterwards. "The first two sets were tough - mentally draining - and I'm just glad I got through."
Murray, whose defeat to Tsonga in last month's Toronto Masters was his first in nine meetings with the 29-year-old Frenchman, did not drop a point on his serve until the fifth game. Tsonga looked reasonably secure on his own serve in the opening stages but at 5-6 he played a loose game as Murray forced two set points, converting the second of them with a volley winner after a thumping backhand return.
Tsonga drew first blood in the second set, breaking in the third game when Murray put a lame attempt at a drop shot in the net. Some splendid aggressive play by Murray saw the Scot break back for 4-4 and he went on to take the set in similar fashion to the first. On break point at 5-6, Murray hit a big forehand return which forced Tsonga into an error.
Murray was furious with himself when he dropped serve in the opening game of the third set, but the damage was soon repaired when he broke back for 2-2. At 4-5 Tsonga hit two successive double faults, went 0-40 down, saved the first match point with a smash but put a backhand long on the second. "My opponent was just better than me on the court," he admitted afterwards.
Djokovic has won 12 of his 20 matches with Murray, but the Scot has won two of their most significant meetings. He beat the Serb in five sets here two years ago to claim his first Grand Slam title and again in straight sets in last summer's Wimbledon final.
"Novak and I have had some long matches here in the past," Murray said. "We had a long one a few years ago [in the final] and I have great memories of that. If I play well I have a chance."
Djokovic and the quarter-finals here go together like fashion and Fifth Avenue. The world No 1's 6-1, 7-5, 6-4 victory over Germany's Philipp Kohlschreiber took him into the last eight for the eighth year in a row. The two-times Wimbledon champion has also made the quarter-finals of 22 Grand Slam tournaments in succession.
Last month's hard-court Masters Series events, in which Djokovic won only two matches, are becoming a distant memory, though the one aspect of this fortnight which he can have trouble dealing with is the oppressive weather. The Serb seemed to find yesterday's conditions especially draining.
Kohlschreiber's only chance came when he had a set point with Djokovic serving at 4-5 in the second set, but the world No1 struck a superb forehand cross-court winner as his opponent attacked the net. Djokovic milked the applause and urged the crowd to turn up the volume. They duly obliged.
Join our new commenting forum
Join thought-provoking conversations, follow other Independent readers and see their replies