US Open: Former bad-boy Dan Evans is starting to make a name for himself - but for all the right reasons
Evans, who will next meet Stan Wawrinka on Saturday, became the third British man to reach the third round this week, along with Andy Murray and Kyle Edmund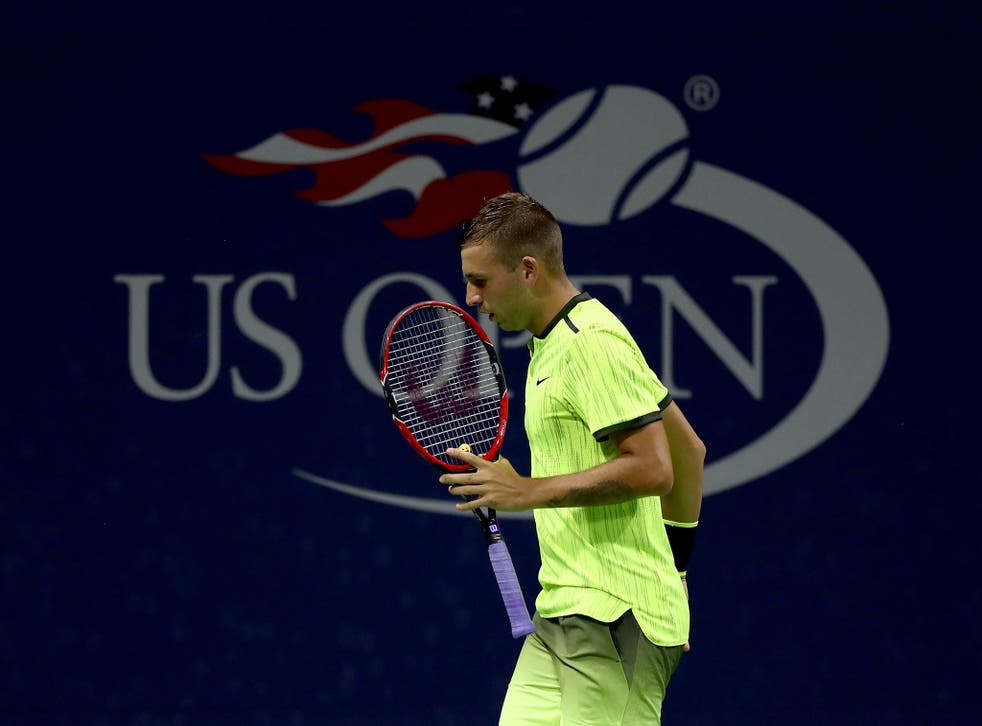 It might be hard to imagine Dan Evans, the one-time bad boy of British tennis, picking up an award at the Association of Tennis Professionals' end-of-season extravaganza at the O2 Arena in London, but at the rate he is going the 26-year-old Brummie might need to start dusting down his best suit.
The "Most Improved Player of the Year" award, which is voted for by the players, was won in 2015 by Korea's Hyeon Chung, who rose from No 173 in the world rankings at the start of the year to No 52 at the end of it. Evans began this year at No 183 and after his latest victory – a stunning 6-4, 6-4, 5-7, 6-2 win over Alexander Zverev here in the second round of the US Open – is projected to climb to a career-high No 52.
Evans, who will next meet Stan Wawrinka on Saturday, became the third British man to reach the third round this week, along with Andy Murray and Kyle Edmund. It is the best British showing here since Roger Taylor, Paul Hutchins and Peter Curtis made the third round in 1968, when the tournament was played on grass at Forest Hills, and the best at any Grand Slam event since Tim Henman, Greg Rusedski and Danny Sapsford reached the last 32 at Wimbledon in 1999.
Evans considered his victory over Zverev, the most exciting teenager in the men's game, to be the best of his career. While the 19-year-old German argued over line calls, smashed his racket after dropping serve and repeatedly lost his focus on Court 4, where the constant movement of fans can be very distracting, Evans was a model of concentration.
The success of the world No 64 and Edmund, the world No 84, leaves Leon Smith, Britain's Davis Cup captain, with a tricky choice of second singles player behind Murray for the semi-final against Argentina in Glasgow in a fortnight's time. Evans may be best suited by the playing surface, but it would be harsh to drop Edmund, who was the hero of the quarter-final victory away to Serbia in July.
Fourteen months ago Evans was struggling with a long-term knee injury and was ranked No 763 in the world as his progress faltered once again after the latest false dawn in a career that had all too often been marked by controversy. In his younger days Evans twice had his funding stopped by the Lawn Tennis Association because of his off-court behaviour and lack of commitment – on the first occasion he was spotted partying at 3am on the day of a junior doubles match at Wimbledon – and as recently as three years ago he admitted he was "pretty bad at my job" because he did not train hard enough.
Since last summer, however, a renewed commitment has seen Evans realise the potential that was always there. He broke into the world's top 100 for the first time in April, enjoyed his best run at Wimbledon before losing to Roger Federer in the third round and has won three titles this year on the Challenger circuit.
Evans said: "I do sometimes look back and think: 'It's been pretty good, hasn't it?' Then at other times I look forward and think: 'Come on, you can get inside the top 50.' When you start winning the right matches in these tournaments your ranking points really go up."
Asked if he would have settled for his current world ranking at the start of the year, Evans said: "I would have taken your hand off. It's been a pretty interesting year and I'm happy with how it's been. If someone said I wasn't playing for the rest of the year, I'd be happy with that ranking. Luckily I'm still going and still have a few tournaments to go after this one."
For all his dedication, Evans remains his own man. He pulled out of the Davis Cup trip to Belgrade at short notice, withdrew from John Lloyd's World Team Tennis squad this summer – which Britain's former Davis Cup captain described as "a very poor show" – and turned down the chance to play at the Olympics, which he described as "a pointless exercise" because there were no ranking points on offer and he did not think he could win a medal.
Earlier in the year Evans had gritted his teeth through a trip to Asia, where he won one Challenger and reached the final of another. "I didn't really like it there, but I sort of kept busy by winning matches," he said. "The tournament in Busan was awful. It was the middle of nowhere. I didn't like it, but I made the final."
Evans retains his cheeky chappie sense of humour. Asked about the glaring luminous outfit which his kit manufacturers have decked him out in here, he admitted: "Some people pull it off better than others, I guess. It wouldn't look bad on a building site."
On occasions times have been so tough for Evans that he rarely competed abroad because it was too expensive, but in the last two months he has earned the equivalent of more than £220,000, which includes the $140,000 (about £105,000) which he has won here so far.
As for his meeting with Wawrinka, Evans said with a smile: "Hopefully that will not be on Court 4. It's going to be good fun. It's a bit like Wimbledon. I had a good win [against Alexandr Dolgopolov] and then played Federer. It will be on a good court. I'll look forward to it. I've never hit with him, never played against him, but he's a big step up in class."
Murray, meanwhile, will take on Paolo Lorenzi, who is enjoying the best run of his career. The 34-year-old Italian, who beat Gilles Simon in a five-set marathon that took nearly five hours, had won only two of the 21 Grand Slam matches he had played before the start of this week. Edmund was due to meet John Isner in the third round late on Friday evening.
Join our new commenting forum
Join thought-provoking conversations, follow other Independent readers and see their replies