Johanna Konta: 'I was very keen to move on from bizarre John Humphrys interview'
Humphrys' interview, in which he questioned the Briton's nationality on the 'Today' programme, drew a sharp backlash from the public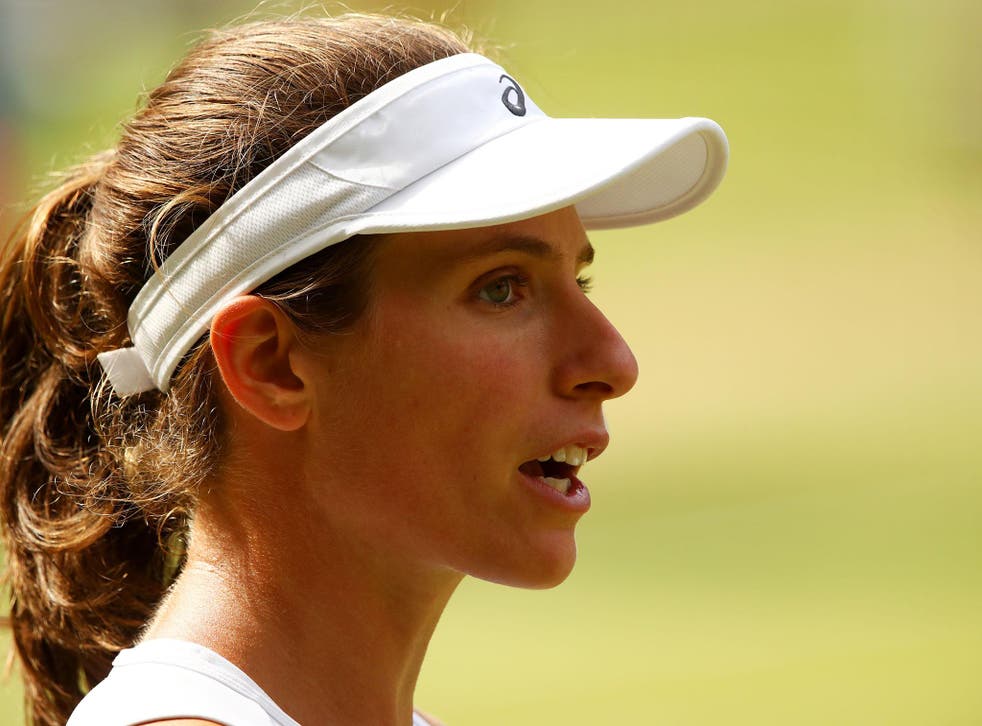 Johanna Konta has grown used to the increasing media interest in her following her rapid rise to the top but the 26-year-old Briton admits that she was "keen to move on" from her controversial interview last month with the BBC's John Humphrys.
The veteran broadcaster interviewed Konta on the "Today" programme on Radio 4 just days after she had become the first British player to reach the semi-finals at Wimbledon since 1978. However, Humphrys' aggressive approach clearly surprised Konta and prompted many listeners to complain.
Humphrys asked her: "We talk about you as being British, but you were born in Hungary, Australian citizenship, and I seem to remember that the Australian High Commissioner, when you won the quarter-final, said: 'Great to see an Aussie win'. And we were saying: 'Great to see a Brit win.' So what are you?"
Konta laughed but then responded: "I was actually born in Australia to Hungarian parents, but I've lived almost half my life here now. I'm a British citizen and I'm incredibly proud to represent Great Britain. I've also represented Great Britain in the Olympics so I'm definitely a British athlete."
The world No 7, who is preparing for the start of the US Open on Monday, was asked here about the interview and said: "He maybe forgot I wasn't a politician. He maybe never really interviewed an athlete. I think I basically didn't answer like a politician does to him.
"The interviewed ended and I looked across to Vicky [Brook, my agent] and thought: 'That was a bit bizarre.' It was a little bit of a strong interview. Going through this career with all the experiences, it won't be the last strong interview I will have."
Asked if anyone from the BBC had apologised to her afterwards, Konta said: "I think a few people did come up to me to apologise because it did go down an angle that probably was not intended, but it happened. I was very keen to move on as well. It was literally my first interview of the day. It was 7am and I had a lot to still get through in the day, so I was keen to move on from it."
Konta is one of eight women who could finish the US Open as world No 1. Welcoming the fact that the top of the women's game is so open at the moment, Konta said: "I think it's a great thing. From the very first rounds of tournaments there are great matches.
"I think that was showcased at Wimbledon. In the women's draw, every round there were incredible battles. I think that's quite exciting, knowing that when you go to watch an event, from the get-go, it will be exciting. You don't have to wait until the semis."
Twelve months ago Konta came through a second-round match here against Tsvetana Pironkova despite collapsing in the heat at the end of the second set. The Briton thinks she has learned from that experience.
"I wasn't the only one who struggled that day or that week," she said. "It was incredibly humid and hot, so when you're putting your body under that physical strain, at some point, things like that will happen.
"I do think that as time is going, I am getting better and more knowledgeable in how I hydrate and how I make my drinks and how I eat and things like that. So, I think that with time, with wisdom, I am getting better, though I do think there are a certain amount of things that are out of your control as well."
Join our new commenting forum
Join thought-provoking conversations, follow other Independent readers and see their replies