Kevin Anderson ready to drop 'gentle giant' label as he eyes US Open victory in final against Rafael Nadal
After overcoming injury in 2016, the South African is both physically and mentally ready for the challenge poised by a player he describes as one of the game's true greats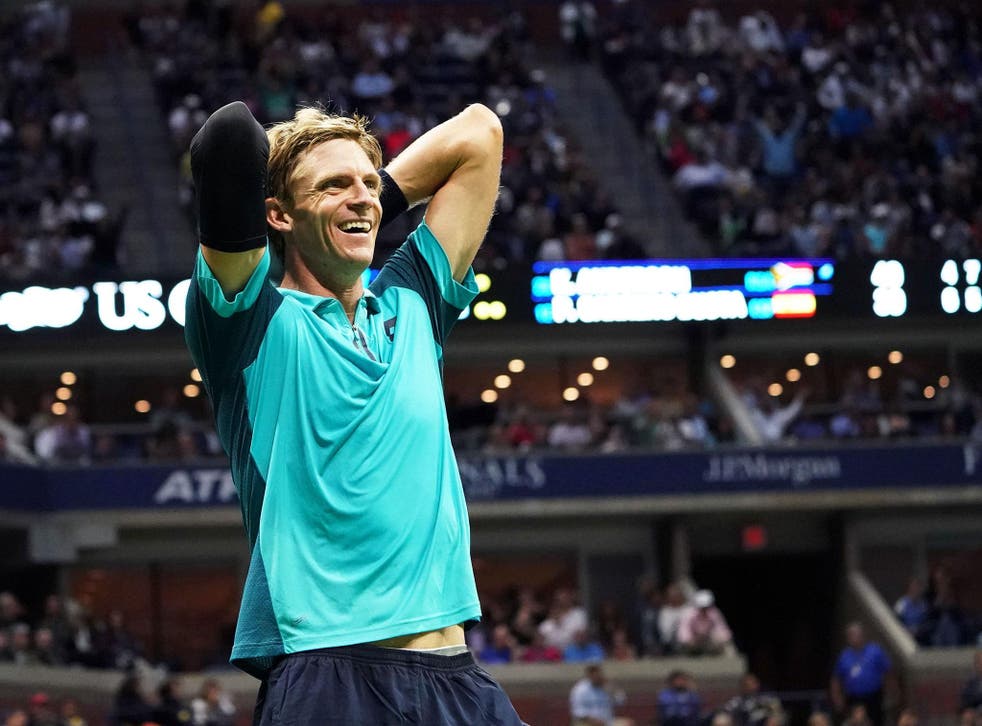 Kevin Anderson used to be one of the gentle giants of tennis. The 6ft 8in South African, who will play in his first Grand Slam final here on Sunday when he takes on Rafael Nadal, is a laid-back individual who for years rarely showed his emotions on court.
Anderson has not turned overnight into a foul-mouthed racket-smasher, but believes he can inspire himself with some good old-fashioned fist-pumping. After winning big points or hitting particularly pleasing winners, the world No 32 regularly clenches his fists and pumps out his celebrations. It is all part of a deliberate strategy, the South African having worked hard on the mental side of his game.
"When you've played a good point you acknowledge that it also has a lot of positive effects," Anderson said. "It increases your confidence level. At first it took me a little bit of a while, but as I have been playing more and more matches, it feels more and more comfortable.
"I'm not too aware of it right now. I feel like I'm putting more out there and I feel like it allows me to play better tennis. It's something I am definitely going to look to continue."
He added: "I think everybody, at this level, there is a huge component that's just on the mental side. If you watch guys practising, everybody looks amazing. When you're getting out there, it's really just a couple of points here and there. The more mental strength you have, the better.
"If you look at some of the best players that we have seen over the years and that I have been playing with, mentally they are the best competitors. It's something I have worked hard on.
"My coaches and my whole team are constantly pushing me in that regard. I feel like I have always been a great competitor. For me some of the challenges have been to trust my ability a little bit more. I have always been very critical about myself. I feel like I'm just being a bit more patient with myself. I feel like that's been a big change I have implemented in the last few months."
Anderson's progress this year has been on the physical level as much as the mental side. Having reached a career-high position of No 10 in the world rankings in 2015, he struggled with a hip injury for much of 2016 and by January of this year had dropped to No 80. He has had other physical issues, too, which have forced him to pull out of tournaments.
The hip injury was diagnosed as a labrum tear. "After speaking to a lot of people who had similar issues, surgery is always a last resort," Anderson said. "I was fortunate enough to be acquainted with some very good physios who thought I could beat it without getting surgery.
"It took a lot of work - several hours a day over almost two months. Even after that I did another couple months of rehab. Having surgery just becomes a whole different ball game. It's something I was fortunate to avoid."
Anderson said that 2016 had been a difficult year, punctuated by "a lot of stopping and starting". He explained: "There were a couple of injuries that definitely forced me away from the tour, but there were a few that were constantly nagging injuries and constantly not allowing me to play the tennis I needed to be playing. One sort of led to another.
"Towards the end of the year, my hip really played up and that was probably the most severe injury. It seemed like surgery was maybe even on the table. I was fortunate to have escaped that whole thing. It was tough not being able to go down to Australia at the beginning of the year.
"Even starting this year I felt I was in very good shape. I had worked very hard. I was hitting the ball great but just wasn't really finding that form out on the match court.
"But I feel like in the last while things have definitely turned around. I think it started on the clay court, getting more matches under my belt. I just feel like I have been constantly taking steps in the right direction."
Part of his mental approach has involved taking one match at a time. Anderson said that he had been vaguely aware that the bottom half of the draw here had opened up but said he tried never to look beyond his next opponent.
"I didn't think too far ahead," he said. "I felt deep inside that I always had a chance, but you have to put that at bay and focus on each match. That's what I have done. Here I am, almost two weeks later in the final, so that's obviously a great feeling. I have been really focused on trying to take care of my business, my side of the court. I feel like it's been working well for me."
Anderson is the lowest ranked player to reach the men's final here since the rankings were launched in 1973 and will attempt to become the lowest ranked men's Grand Slam champion since Gaston Gaudio, the world No 44, won the French Open in 2004. He is the lowest ranked man to reach any Grand Slam final since Tsonga was runner-up at the 2008 Australian Open.
He is also the first South African to reach the final here since Cliff Drysdale lost to Manuel Santana in 1965 and the first to play in a Grand Slam final anywhere since Kevin Curren lost to Mats Wilander at the Australian Open in 1984.
Anderson know the size of the task he faces against Nadal, who has won 15 Grand Slam titles already and played in 22 finals. The world No 1 and the three other members of the "Big Four" – Roger Federer, Novak Djokovic and Andy Murray – have won 45 of the last 50 Grand Slam titles.
"We are accustomed to the few guys doing well, showing exceptional consistency," Anderson said. "It's tough beating those guys because they have had so much experience at this level. But even with them out, there have still been a lot of challenges I've had to face throughout this week. I've faced some of the best tennis players in the world."
Anderson has won just one set in his four previous meetings with Nadal. "I think Nadal is one of the greatest competitors in sports," he said. "He's an amazing fighter. He really controls the court well the few times I have played him. I really need to be dominant and control proceedings as much as possible, because if you let him do it, it's very difficult.
"I'm going to treat it like each match I have throughout these two weeks. At least that's what I'm going to try to do. I'm sure there will be different emotions that I have experienced when I walk out on to the court on Sunday. But it will be very important for me as quickly as possible to really try, as much as I can, to block that out."
He added: "I'm looking forward to the opportunity. I have worked really hard to get here."
Register for free to continue reading
Registration is a free and easy way to support our truly independent journalism
By registering, you will also enjoy limited access to Premium articles, exclusive newsletters, commenting, and virtual events with our leading journalists
Already have an account? sign in
Register for free to continue reading
Registration is a free and easy way to support our truly independent journalism
By registering, you will also enjoy limited access to Premium articles, exclusive newsletters, commenting, and virtual events with our leading journalists
Already have an account? sign in
Join our new commenting forum
Join thought-provoking conversations, follow other Independent readers and see their replies