The Independent's journalism is supported by our readers. When you purchase through links on our site, we may earn commission.
Wimbledon 2013: Marion Bartoli finds self-belief to beat Sabine Lisicki on the greatest stage
Frenchwoman wins major at 47th attempt as 'smiling assassin'  Lisicki dissolves in tears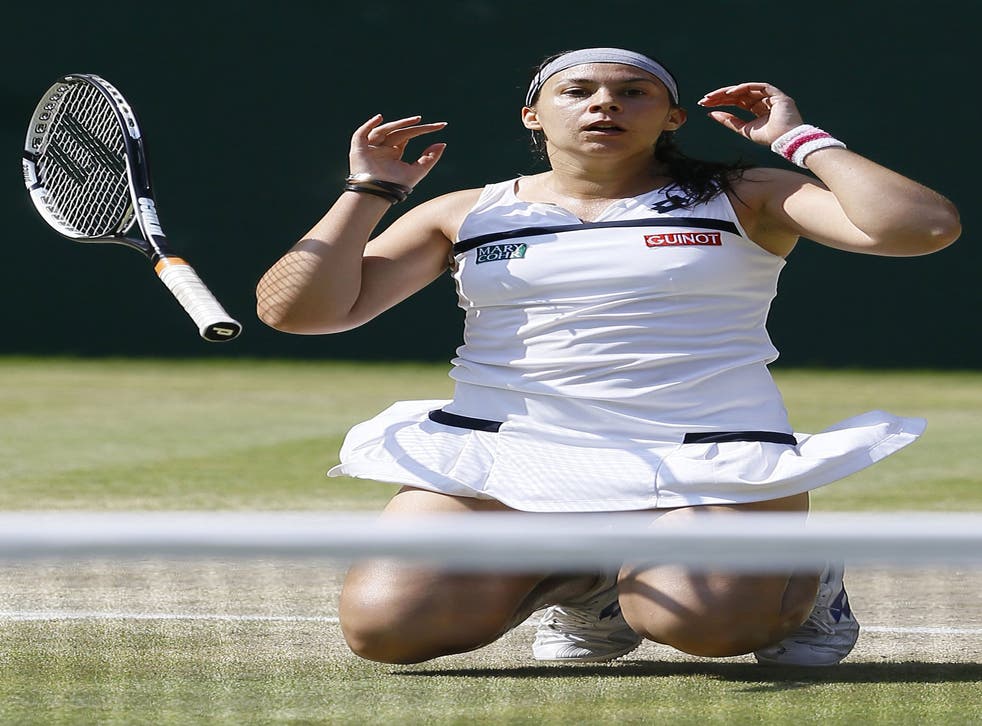 As Sabine Lisicki wept at the other end of the court, her Wimbledon dream dissolving into a nightmare of mistimed shots and uncharacteristic errors, Marion Bartoli knew exactly how she felt.
Six years ago the Frenchwoman was in the same situation, freezing in the warm sunshine on the biggest day of her life as she played her first Grand Slam final on the greatest stage of them all.
Even the scores were almost identical. In the 2007 Wimbledon final, the then 22-year-old Bartoli was beaten 6-4, 6-1 by Venus Williams; this time 23-year-old Lisicki went down 6-1, 6-4.
"I felt so sorry for her," Bartoli said on Saturday evening as she reflected on her triumph. "I felt like I wanted to take her in my arms because it was hard to see her like that. To cry on court in a Wimbledon final you must feel so lonely and I just wanted to hug her and say, 'It's OK, it's just a tennis match'.
"The hug we had at the end of the match was extremely nice, extremely sweet. It was just perfect. It showed all those human values of sportsmanship, values that both of us carry on the court. I think it shows also in our attitude to each other, the respect we showed each other."
Has there ever been a more endearing and remarkable Wimbledon champion than Bartoli?
The story of a young girl brought up in la France profonde, playing on a tiny court with almost no run-off behind the baseline, is an extraordinary tale of the devotion of both the player and her father, who gave up his job as a doctor to learn how to be a tennis coach with the aim of taking his daughter to the very top.
Their methods, ranging from Walter Bartoli's Heath Robinson-style training contraptions to Marion's curious pre-serving routines on court, were long regarded with disdain by the French tennis establishment, despite the fact that for years she has been the country's leading contender for women's honours.
Her greatest triumph, meanwhile, has come during one of the most turbulent years of her life. Earlier this year, Bartoli took the difficult decision to seek outside coaching help, though it hardly seemed to improve her tennis. Until last week the world No 15 had not gone beyond the quarter- finals in any tournament this year. Nevertheless, the split with her father, who remains a major factor in her tennis life, enabled Bartoli to start working with Amélie Mauresmo, France's Fed Cup captain. If anyone could help Bartoli succeed here it was surely her fellow countrywoman, a former Wimbledon champion.
"Amélie helped me on the court to deal with my emotions," Bartoli said. "She really settled me down and gave me this confident look, that I could believe in myself. It helped me a lot.
"We had this relationship already from the Fed Cup, winning two very tight matches in very stressful situations, and we have been able to handle it well. It has gone very smoothly, very naturally."
No player in the Open era has won her maiden Grand Slam title so late in her career. Bartoli has done so in her 47th major event, two more than Jana Novotna had played when she won Wimbledon in 1998.
"I just felt that somehow it was my time," Bartoli said. "As the first week passed I thought I was playing some great tennis and I felt maybe I would have a shot this year. But then I was trying at the same time to carry on just the same.
"My attitude was really to take one match at a time and not think too far ahead.
"But it's a Grand Slam, especially Wimbledon, which has always been my dream, and to achieve it this year is beyond amazing. I have no words to describe how I feel."
Bartoli had always believed she would reach another Grand Slam final, though after her 2007 experience she did not know whether she would be able to take that final step even if she did have the opportunity. When the chance came, she was determined not to let it slip away as it had six years ago.
"I remember telling myself this morning, 'You're really going to enjoy this one', because I didn't enjoy it in 2007. I was so overwhelmed by the whole situation. I felt so tight and so nervous and stressed.
"I really wanted to enjoy it this time, no matter what the result. I wanted to go out there and enjoy every second of it and leave it all on the court. Obviously, it worked out.
"It's been a perfect two weeks. I will remember these two weeks for ever."
Join our new commenting forum
Join thought-provoking conversations, follow other Independent readers and see their replies