Wimbledon 2013: Serena Williams' conqueror Sabine Lisicki books her place in the semi-finals
23-year-old German defeats Kaia Kanepi 6-3 6-3 to equal her previous best at the All England Tennis Club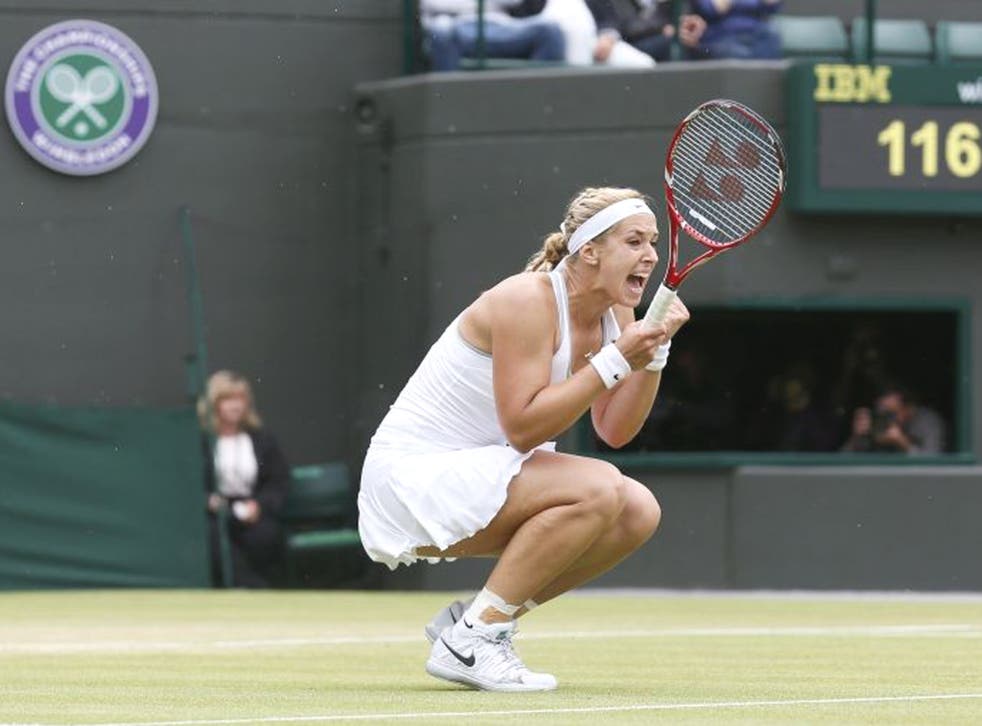 No face-first communion with the court today, just a double-handed salute and a kiss to the crowd from Sebine Lisicki, the first woman into the Wimbledon semi-finals.
Her 6-3, 6-3 victory over Laura Robson's conqueror, Kaia Kanepi, was another demonstration of the power hitting that rolled Serena Williams yesterday. And how Wimbledon is learning to love the 23 seed from Germany, who hammers home 118mph serves with a smile.
"I'm very happy. It was an amazing match yesterday and I had to make sure I came down quickly enough to be ready for today," Lisicki said. "Experience of last three quarter-finals helped me. I have had great challenges on way to the semis, so I think I'm ready."
Robson claimed that the fervour that had grown around her own Wimbledon challenge led her to go for the Hollywood shot when it might have been better to keep it simple against Kanepi. After her epic win over Williams the affection of those on Court No.1 has transferred to Lisicki, a development she welcomes, not fears.
"There is no pressure," she said. "This is a game I love so much. I want to keep it that way. I'm going out to win every game so we will see what happens. It is great to have the crowd behind you here. This is the best support you can get, and to see them smile too is a pleasure."
Kanepi admitted she didn't play as well against Lisicki as she had against Robson. "There is no plan B. If the ball is there I just have to hit it. That is the way it is on grass. She (Lisicki) played well."
Lisicki will play last year's losing finalist Agnieszka Radwanska, who beat Li Na 7-6, 4-6, 6-2 despite carrying an injury to her right thigh. With a fastest serve that barely crests 100mph, 20mph slower than Lisicki's detonations, Radwanska disturbs through intelligent variations coupled with baseline firefighting and a double-handed backhand sharp enough to slice ham.
Death by a thousand cuts is how Martina Navratilova described the slender Pole's approach. And that is how it turned out in a thrilling match that took almost three hours to complete, Radwanska letting four match points slip in her final service game before getting home. 
In the other semi-final Belgian Kirsten Flipkens will play Marion Bartoli of France. Flipkens, ranked 262 a year ago, beat 2011 champion Petra Kvitova, 4-6, 6-3, 6-4, while Bartoli accounted for Sloane Stephens in straight sets 6-4, 7-5.    
Join our new commenting forum
Join thought-provoking conversations, follow other Independent readers and see their replies