Wimbledon 2015: Caroline Wozniacki goes out to Garbine Muguruza - and takes a swipe at officialdom
Fifth seed claims All England Club favours the men when choosing which matches should be on show courts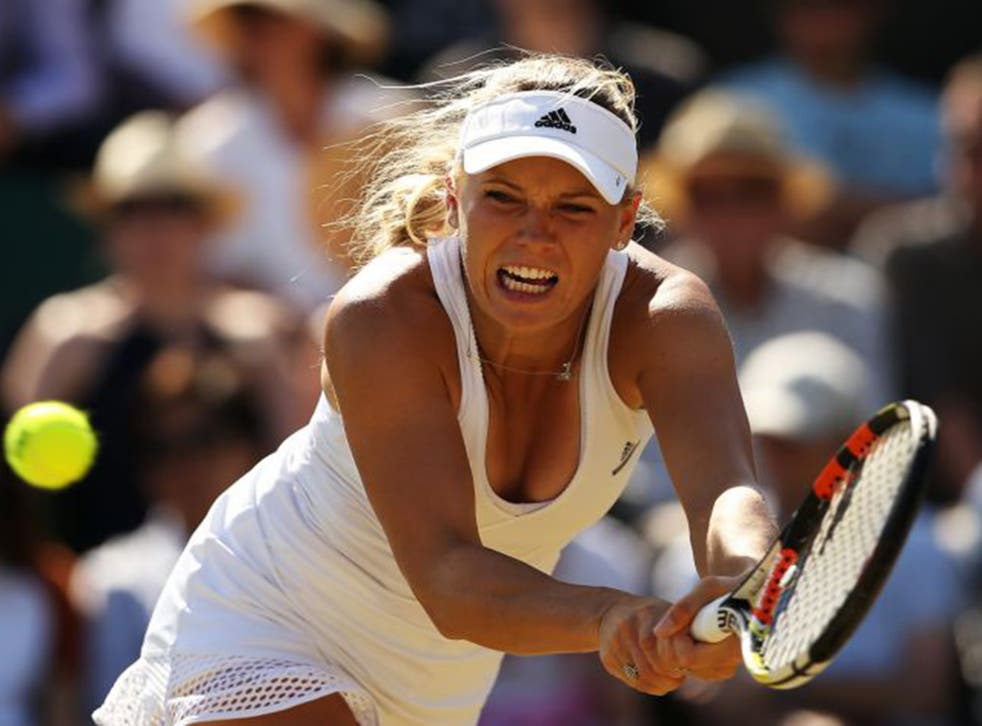 Caroline Wozniacki made her now-customary fourth-round departure from Wimbledon, an exit more painful than ever given the opportunities results elsewhere had presented, but she did not go quietly.
After losing 6-4, 6-4 to Garbine Muguruza, a Venezuelan-born Spaniard, Wozniacki protested that Wimbledon favoured the men when choosing which matches should be on show courts. She was out on Court Two, as were two men's singles matches. The same ratio applied on Centre Court and Court One, as it did most days in the opening week.
"I would love to play on a big court," said Wozniacki. "I think that's what it's all about; you work hard and practise to play on the big courts. The women really haven't gotten the opportunity here to play on the big courts.
"You only get one women's match on Court One and Centre Court. Most of last week it was only one women's match on Court Two as well. It's definitely different, that's all I can say. I think a lot of us women feel like we deserve to play on the big courts, in front of a big crowd, as well."
Court Two, while lacking the capacity of the main two courts, is a mini-stadium with 4,000 reserved seats. However, Centre has 15,000 and No.1 court more than 11,000.
In a statement, Wimbledon said "complex and often conflicting factors need to be considered when the referee and his team create the daily order of play," adding these included "the preference of TV, scheduling demands on players and the size of fan support for individual players."
After her fifth fourth-round defeat here, Wozniacki, who is yet to reach the last eight at Wimbledon, added: "I struggled with the timing. It felt like a different court to the others. The grass felt different, Court Two hasn't been nice to me over the years. Maybe next year I'll ask to be put on one of the small courts."
With leading female seeds mown down, Wozniacki was the only surviving player from the world's top dozen in her half of the draw. The route to her first final in SW19 since winning junior Wimbledon in 2006 looked clear. The 21-year-old Muguruza had already achieved her best result here by making the last 16. However, as she had reached the quarter-finals in Paris last month, she was still to be respected.
So it proved. Wozniacki lost the first set in less than 40 minutes, having trailed early. The second set was tighter but Muguruza broke in the ninth game. Needing to break back to stay in the match Wozniacki took the game to deuce, but then hit too deep after a long baseline rally to give Muguruza an advantage pressed home with a service ace.
She is the first Spaniard into the women's quarter-finals here since Conchita Martinez in 2001 and will face the Swiss Timea Bacsinszky, who beat Romania's Monica Niculescu 1-6, 7-5, 6-2.
Join our new commenting forum
Join thought-provoking conversations, follow other Independent readers and see their replies