Wimbledon 2016: Heather Watson left delirious as 'joke' with partner Henri Kontinen leaves her a champion
Watson and Kontinen set out in the mixed doubles to put the fun back into tennis, yet left champion Sunday as the toast of SW19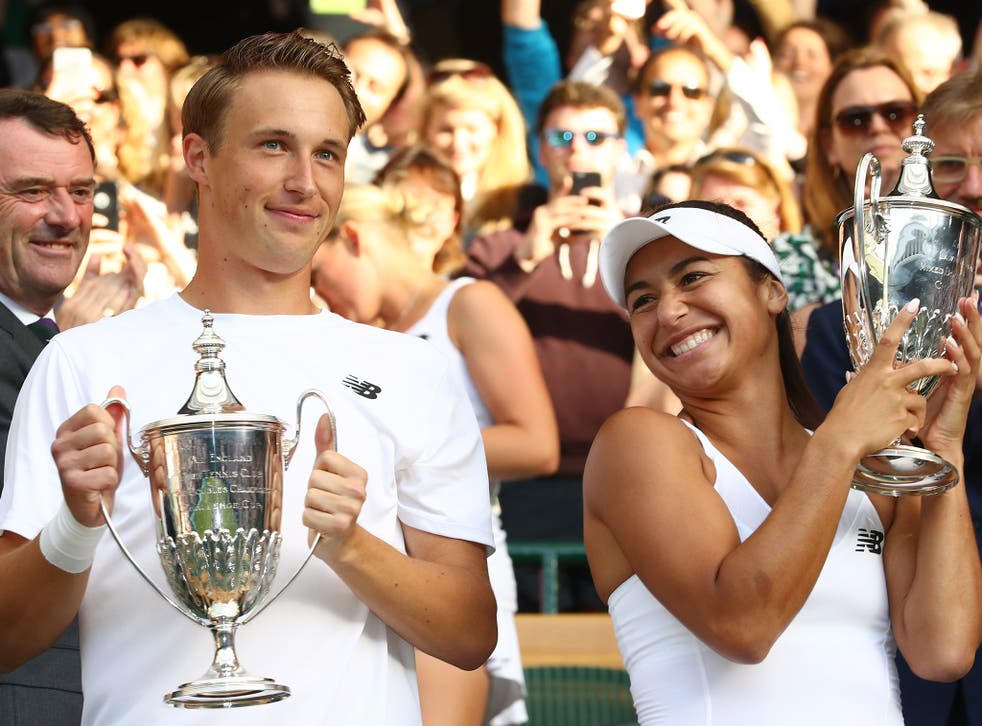 Heather Watson was still laughing an hour after becoming Britain's first Wimbledon mixed doubles champion since Jo Durie in 1987 and given the circumstances, you really couldn't blame her.
What started out as a "bit of a joke" at SW19 after she and the Finn Henri Kontinen has been denied entry to the French Open together - because the Briton's ranking was not high enough - ended up with the delirium for the 24-year-old of beating the 15th seeds Robert Farah and Anna-Lena Groenfeld 7-6, 6-4 on Centre Court. Wrapping up the Wimbledon fortnight in the golden early evening sunshine of Centre Court, in the presence of the Duke and Duchess of Cambridge, was beyond imagining when she suffered a horrible first round singles defeat to Annika Beck. She sacrificed three match points in the process.
The planets then aligned. She and Kontinen received walkovers in the first two rounds and had not even warmed up together by the time they faced Martina Hingis, a top class doubles player, and Leander Paes in the third round.
Andy Murray: Watch the moment he wins his second Wimbledon title
"Some people say, like, it's fun, but don't actually really have fun," Watson said on Sunday night after a win in which she actually looked the more secure player. "I think we did. We didn't think about winning. We just wanted to go out there and just enjoy our time and just try and play well and good. Who would have thought we're here as champions, for me, after such a horrible first‑round loss. I made it to the last day of Wimbledon, which has been always one of my goals to reach just the second week of a slam."
There will be soul searching about that singles in the weeks to come for Watson, the Britain Number 2. She was candid last week about being "obviously lacking in areas. I just need to go back to the drawing board."
But this performance revealed what can happen when you play unfettered and free. After a shaky start – she was at 0-30 in her opening service game – her game blossomed and the first set tiebreak seemed to be nailed on for her and Kontinen's until they threw away a 5-0 lead. To her frustration, Groenfeld netted a key volley at 5-5 and Watson served out. Groenfeld double faulted at a key moment with the second set poised at 3-3 and the subsequent break saw Watson and Kontinen home.
What ensued in the press conference room was 15 minutes of verbal sparring about whether this pair can embark on more mixed doubles success ("We've retired," joked Kontinen. "I'm bagsying Henri. Everybody stay away," said Watson) and her choice of dress for the winners' ball.
When it was put to Kontinen that Britain had been surprised to see Watson as such a good doubles' players, she interjected: "Are you? No faith." But the Finn acknowledged what he had seen in his partner. "Obviously, her returning was 10 times better than me returning," he said. "It made my job at the net very easy up there. Then obviously, again, serving well today. Even acing the guy, which is not easy for everyone. I thought she played great the whole week." It's actually still unclear whether Watson's ranking presents a problem for them competing in more Grand Slams.
Watson's travails as a British player under the public glare have included abuse on social media, which made what she had accomplished here seem all the better. "It's a great week. I'll remember this forever," she said. "It's been a dream of mine since I was a little girl to be a Grand Slam champion. I would take anything, singles, doubles, mixed doubles. Yeah, I've got one of those now. I mean, I'm just really happy."
Join our new commenting forum
Join thought-provoking conversations, follow other Independent readers and see their replies