Wimbledon 2017: Elina Svitolina looking to make the most of her British connection at this year's Championships
The world No 5, and girlfriend to Hamsphire fast bowler Reece Topley, talks to The Independent about life in Britain and trying to get her head around cricket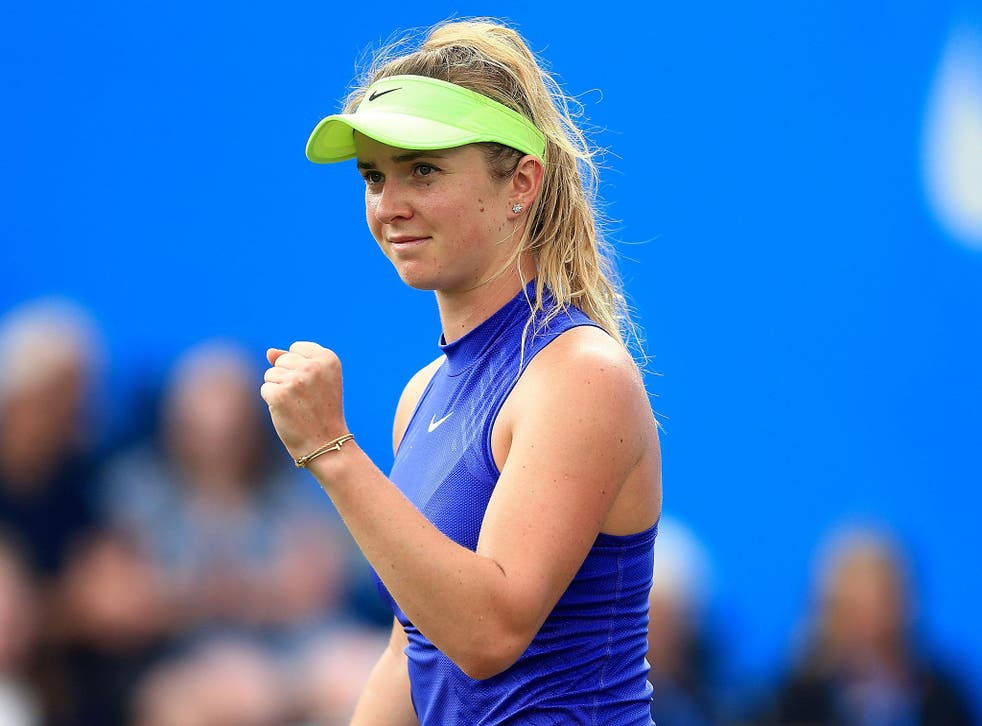 Johanna Konta will be the only British woman in the world's top 100 competing here in the women's singles, but if the home crowd want to look for another player to support they might turn to Ukraine's Elina Svitolina.
The world No 5, who has a tricky opening match on Monday against Australia's Ashleigh Barty, was born and bred in Ukraine and has a training base in Paris. However, she has a strong British influence in her entourage and spends a lot of time in this country with her boyfriend, Reece Topley, the Hampshire and England fast bowler.
Until the end of last year Svitolina was coached by Britain's Iain Hughes. She now shares a coach - the Frenchman Thierry Ascione - with Jo-Wilfried Tsonga, but works for much of the time with 23-year-old Andrew Bettles, who was a promising British junior. Her fitness coach, Oliver Fawls, is also British.
"I feel more comfortable in England now because before I was just coming for Wimbledon and that was it," Svitolina said. "Now, because I spend so much time in England and sometimes come here when my coach is with Jo, England feels more like home territory, for sure."
Topley and Svitolina met in a gym in London last summer. Topley, who made his England debut in a Twenty20 international two years ago, has suffered back and shoulder injuries in the last year which have halted his progress.
Svitolina, aged 22, admits that she knew nothing about cricket until she met 23-year-old Topley. "I even thought it was a different sport, with a brush," she laughed, having confused cricket with curling. "Then my friend told me it was not this."
She has since learned about the game both from Topley and his father, Don, who was a journeyman cricketer with Essex but enjoyed his 15 minutes of fame in 1984. Having come on as a substitute fielder for England against West Indies, Topley senior took a spectacular catch off a Malcolm Marshall hook shot, only to put one foot over the boundary rope.
"I've been to a couple of cricket matches, one in Australia, but I understood nothing," Svitolina admitted. "There were a couple of players that tried to explain it to me. I didn't understand it."
She added: "Now it's much better. Reece's dad explained it a little bit more. At their house they have a net, so I had a little hit in there, using my backhand. I'm not that good. I'm trying to learn more because it's his sport and when he has bad days I need to be aware and not ask stupid questions."
Svitolina has time to go back to Ukraine only three or four times a year. She said that people in her home country were starting to learn about cricket.
"No one knew about it before I dated him," she said. "When I had the media day in Brisbane I played cricket and everyone in media in Ukraine and newspapers were saying I was like the first Ukrainian cricketer."
In February Topley travelled with Svitolina to Dubai, where she won what until that point was her most significant title. Since then she has also won in Taipei, Istanbul and Rome.
"He will be here on Monday, but he will play his matches and train as well," Svitolina said. "He comes when he can but I respect his sport. For me it is very important that he is 100 per cent doing his thing.
"We are still very young and we still need to make our careers and do our best, because now is the time. When we are older, then we can enjoy life and all this, but since we met, tennis for me is number one and cricket for him, so we are very clear with this."
Svitolina said she got very nervous watching Topley play cricket. "I was at a match a couple of months ago and people were just drinking beer and enjoying it and I was very nervous," she said. "I'm a sportswoman, I know how the athletes feel when they are on the pitch in front of so many people."
Svitolina said her previous boyfriend had been in tennis. "It was like non-stop tennis and that's not my thing," she said. "It was too much for me. It was like my head was exploding.
"It's good when someone is on the same page of sports and has bad times and good times as well, the same as me in tennis. We have so many things in common and it is very interesting that in other sports there are so many things we can speak about. It's good that everything is very clear and you don't need to explain a million times."
So what is it about the British that Svitolina seems to like so much? "Well, they are very charming," she laughed. "I think they are very professional. They know the way they have to work, they know their place. If fitness is fitness, tennis is tennis. It is very important to have these people around me, very professional as well, and on the same page as me."
Svitolina equalled her best run at a Grand Slam tournament at last month's French Open, where she lost to Simona Halep in the quarter-finals.
"I was very positive about that tournament and about here," she said. "Of course there will be expectations as I'm seeded number four, but it's quite normal, it's part of tennis. I accept it and I will do my best to prepare."
Svitolina reached the final of the girls' tournament at Wimbledon five years ago, but grass is not her best surface and she has never gone beyond the second round in the senior event. In her only warm-up tournament she beat Britain's Heather Watson in the opening round of the Aegon Classic at Edgbaston before losing to Italy's Camila Giorgi.
The Ukrainian could hardly have been drawn against a more difficult first-round opponent here at Wimbledon. Barty, aged 21, plays well on grass and narrowly lost to Petra Kvitova in the final at Edgbaston. Ironically enough, Topley may know more than Svitolina about Barty given that the world No 56 spent a season playing cricket for Brisbane Heat in the Women's Big Bash League in Australia.
"I will take one match at a time," Svitolina said. "It is still a very tough draw for me. I am going to be ready and I will try to do my best."
Join our new commenting forum
Join thought-provoking conversations, follow other Independent readers and see their replies