Wimbledon: Novak Djokovic beats Briton James Ward after rapid start on Centre Court
World No 1 wins first nine games before world No 177 bounces back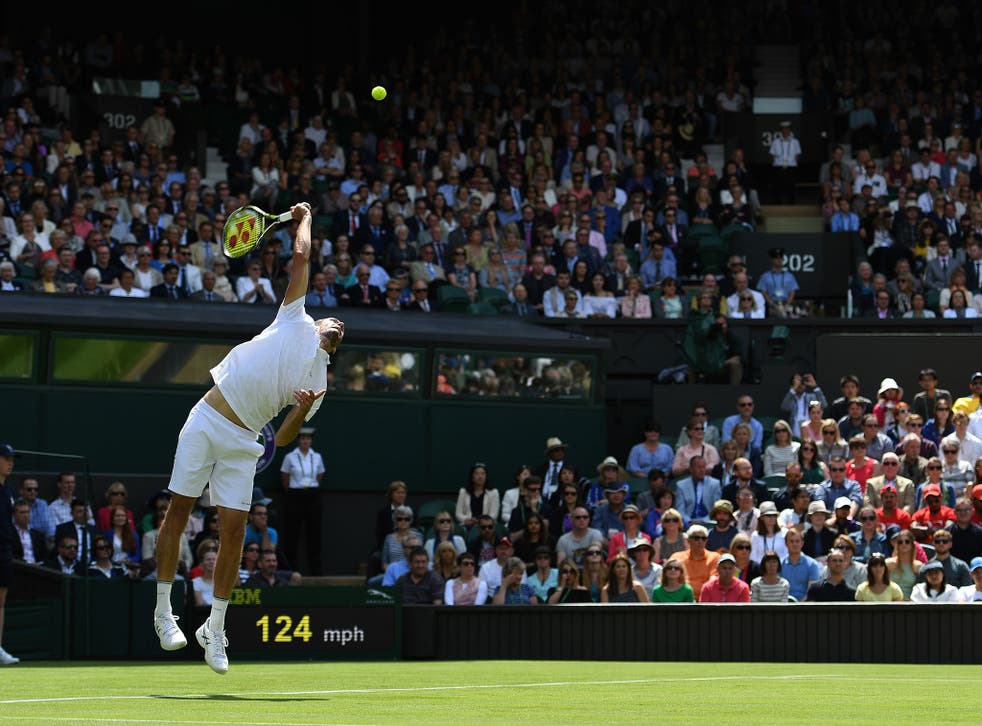 James Ward always knew he would be in for one of the toughest tests of life, but after nine games of the tournament's opening match here on Centre Court the 29-year-old Briton might have even started to wonder why he had bothered to turn up. With Novak Djokovic leading 6-0, 3-0 in their first-round encounter, statisticians and historians were no doubt starting to flick through their record books in search of the last time that any player had suffered a "triple bagel" at the All England Club.
To his credit, however, Ward went on to make a match of it. He won three games in a row to level the second set at 3-3 and eventually made Djokovic work for his 6-0, 7-6, 6-4 victory. In the second round the world No 1 will meet Adrian Mannarino after the Frenchman ended the hopes of another Briton when he beat Kyle Edmund 6-2, 7-5, 6-4.
Ward has had a difficult 12 months since enjoying his best run at Wimbledon last year, when he reached the third round. He has struggled to come to terms with the death of his previous coach, Darren Tandy, at the end of last year and he has been dealing with a recurring knee problem. He is down to No 177 in the world rankings and is likely to drop out of the top 200 at the end of this tournament.
Although grateful for the wild card that gave him a place in the main draw here, Ward cursed his luck when he was paired with Djokovic in the first round. Earlier this month the world No 1 became the first man for 47 years – and only the third in history – to hold all four Grand Slam titles at the same time. In winning this year's Australian and French Opens he is already halfway towards achieving the first pure calendar-year Grand Slam since 1969.
It was no surprise that Ward looked nervous at the beginning of his Centre Court debut. Djokovic, in contrast, was on his game from the start. The Serb took the opening set in just 27 minutes and was soon 3-0 up in the second.
The tennis equivalent of a first-round knock-out seemed on the cards, but Ward picked himself up from the floor, brushed away the blood and at last made a fight of it. The biggest cheer of the match came when he got on the scoreboard in the 10th game of the second set by holding serve for the first time at the fifth attempt. He followed that by breaking Djokovic for the only time in the match and was soon level at 3-3.
When Djokovic served at 5-5 Ward had three break points, which proved to be the Briton's last big chance. Djokovic, who is aiming to win the title here for third year in a row, saved them all and went on to win the tie-break 7-3.
Ward, who had been given some pre-match advice by Andy Murray, again kept up the pressure in the third set. The Briton stayed in the match by holding serve at 3-5, but it was only delaying the inevitable. In the following game Djokovic went to match point with a splendid drop shot winner and then completed the job with an ace.
"It was an ugly start, but I actually felt like I was in a few of those games," Ward said. "I had three break points. It could easily have been 2 2 because I had advantage and I was up as well. I didn't get too discouraged with that start.
"But the more the games go on, you start panicking, especially against a guy who is making so many balls. My first serve percentage wasn't great in the first set. Sometimes you think you have to do more than you have to in that situation. Then things start going really quick. You have to try and calm down a little bit. I'm proud of myself, the way I turned it around."
The Briton said it had been "an unbelievable day" and "a day you remember for the rest of your life". He added: "I just didn't want to get back home tonight and regret anything. I think I made the most of my chance."
Djokovic said: "After the first nine games there was not really much to say about my game. It was really flawless. I felt great. Nerves kicked in for James but he started to play better in the second part of the second set and it wasn't easy to break his serve after that."
Edmund is the best young player to have emerged from British men's tennis in recent years but is still searching for his first Wimbledon win. Much had been expected of the world No 68 after his run to the quarter-finals of the Aegon Championships at Queen's Club earlier this month, but he was soundly beaten by Mannarino.
Although Edmund had lost in the first round on all three of his previous appearances in the main draw here, this appeared to be a good opportunity to break his duck. Having broken into the world's top 100 last year, he has continued to make good progress in 2016. Mannarino, meanwhile, is a seasoned professional, but at No 54 in the world is ranked only 14 places higher than Edmund.
Edmund's serve is normally one of his biggest strengths, but on this occasion the 21-year-old Briton was never able to find any sort of rhythm. He made 10 double faults and had his serve broken seven times. Mannarino himself was broken three times, but the 27-year-old Frenchman always seemed to have something in reserve.
While Edmund often seemed to be hurried into his shots, Mannarino struck the ball with calm confidence. The Frenchman was soon making inroads into Edmund's service games and took the first set in just 26 minutes. Edmund retrieved early breaks of serve in both the second and third sets but on each occasion Mannarino responded with breaks which gave him the chance to serve out for the win.
Edmund said afterwards that he had not been particularly nervous but admitted: "With the way I was constructing points, I didn't put enough pressure on him. My serve was quite inconsistent. I served well in patches and in patches it went off. I thought I was always playing catch up a lot of the match. In the second and third sets I broke him back, but you want to be breaking to go ahead in the match."
Join our new commenting forum
Join thought-provoking conversations, follow other Independent readers and see their replies