How university life helped Wimbledon wildcard Cameron Norrie rediscover his love for tennis
Norrie, 21, will make his Wimbledon debut on Monday against Jo-Wilfried Tsonga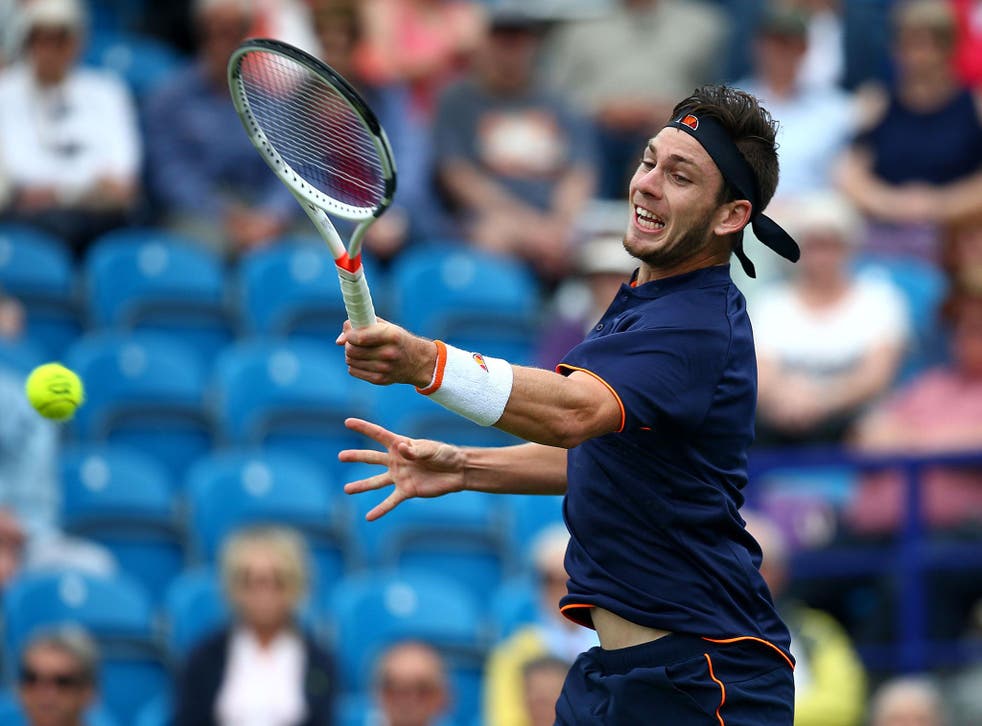 Cameron Norrie is a product of the modern mobile world but the 21-year-old globetrotter is adamant: he is British.
Norrie, who will make his Wimbledon debut on Monday against Jo-Wilfried Tsonga, was born in South Africa to parents from Scotland and Wales, spent most of his childhood in New Zealand, lived in London for three years as a teenager and is currently based in Texas.
"Both my parents are fully British," he said. "My dad is fully Scottish and has a filthy Scottish accent. My mum was born in Wales. All my mum's side and my dad's side are Welsh and Scottish. I still have family in Scotland. My roots feel British. I was born in South Africa, brought up in New Zealand, then I lived here for three years in London between 16 and 19."
His accent is hard to place. "In America they have no clue," Norrie said. "I think it's a mix between British and New Zealand."
Norrie, who was given a wild card to play here, has been the best player in college tennis in the United States for the last year. The world No 236 has completed three years of a sociology degree at Texas Christian University, though he admits he has been "more focused on the tennis side of things".
The current grass-court season has provided Norrie with his first taste of life on the main tour. He played at Nottingham, Queen's Club and Eastbourne, where he enjoyed his first tour-level victory, over Argentina's Horacio Zeballos.
"It's been great," Norrie said. "It's good for me to get some time on the grass and feel more comfortable on it. For me, to get the time and the support out there is great. It's nice for the crowd to shout your name and make you feel like they're backing you."
Norrie, whose only previous playing experience at Wimbledon was in the junior tournament, has been on the practice courts here with Andy Murray. "That was great and it would be nice to hit with him more in the future because he brings so much intensity," Norrie said. "He's such a great role model and at such a high level that it kind of rubs off on you."
At 16 Norrie came to Britain for three years, basing himself at the National Tennis Centre at Roehampton, but the time did not go entirely to plan.
"I wasn't used to playing so much tennis," he said. "It was good but I just wasn't used to it. The LTA gave me a lot of help and a lot of coaching, and it was just too much for me to take on board. Everything was about tennis and I wasn't used to that. That was one of my reasons why I went to college, to have a more balanced lifestyle and a normal life."
He added: "I was just burnt out from tennis a bit after the juniors and I felt like I wanted to do something else. College helped me learn to love the game again. I was lucky to have two great coaches – David Roditi and Devin Bowen – to guide me in the right direction. They got me on track."
Norrie needs to do another year at university to complete his degree but has put his studies on hold for the moment. "I can go back to finish for free whenever I want," he said. "I'm just going to play and do a couple of online classes when I can. Hopefully not but if I have an injury then I can go back and do a semester and help the team out."
Texas, nevertheless, will remain his tennis base. "I'm going to play a lot of tournaments [in the US] and if I need a week off or to practise, then I will go back to TCU," he said. "It's quite near Dallas and I know a lot of people based there now. I'm very comfortable there and I have an amazing couple of coaches there."
He feels ready now to embark on life as a fully-fledged professional. "I feel like I've matured a lot, from going to TCU," he said. "It prepared me for real life."
Although Norrie says he has no major long-term goals, he would like to be a consistent member of the world's top 50. "It would still be nice to graduate," he added. "You never know, one day you may be doing something else."
Norrie's parents are flying in from New Zealand to watch his Wimbledon debut. "I can't wait," he said. "I've put in so much hard work over the last couple of years at college and I didn't waste a practice session for the last two years. It's nice to know that some of the hard work is paying off. To be rewarded with a Wimbledon wildcard, I'm thankful and grateful for the opportunity."

Join our new commenting forum
Join thought-provoking conversations, follow other Independent readers and see their replies