Nick Bollettieri's Wimbledon 2014 files: The cool of Novak Djokovic v the heart and power of Jo-Wilfried Tsonga – I'm salivating at the thought of the main on today's tasty menu
Boy oh Boy! I can't wait for Holy Mackerel Monday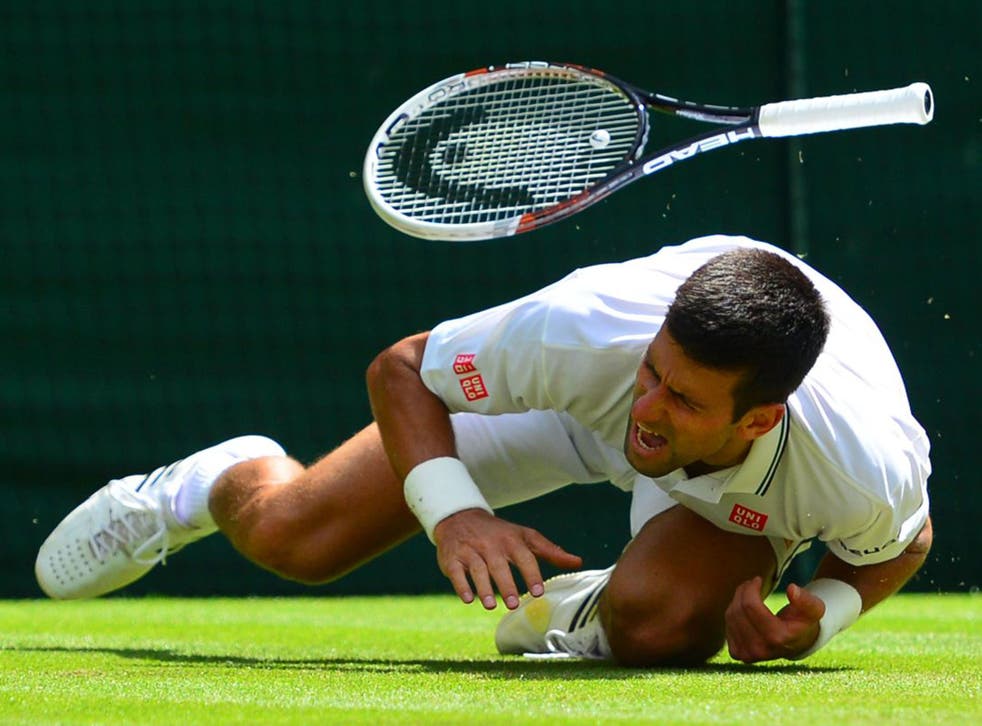 Manic Monday, Moving Monday, Holy Mackerel Monday, call it whatever you want, today is a feast of tennis and what a menu – your boy Andy Murray against the serving power of Kevin Anderson (keep moving, Andy, keep him moving), Eugenie Bouchard, the new kid on the block, against Alizé Cornet, Serena's conqueror, and the match I am really looking forward to – Novak Djokovic, ice-cool Novak, against the heart and ferocity of big Jo-Wilfried Tsonga.
These two guys have done their time to get through to the second week and the big Frenchie in particular had to fight his way through the first two rounds. They have clocked up the minutes on the grass, 508 for Tsonga, 417 for Djokovic. Tsonga has already slogged his way through 13 sets of tennis, five against Jurgen Melzer and another five against Sam Querrey before he had it easy against Jimmy Wang. The final set against Querrey alone stretched to 83 minutes – Tsonga is a big, heavy guy and it is impressive to come through that.
Both he and Djokovic have had the full weekend to recover, relax a bit, a bit of massage, bit of stretching and a few hits. It may be just one person out there on the court but this is a team game and it is during the down time that it is so important to get your guy in the garage, find the balance between R and R and keeping that championship focus.
Refuelling is important in a Slam and Djokovic is one fit guy. With Roger Federer and Rafa Nadal having to kick their heels today and then play tough back-to-back matches tomorrow and Wednesday that will suit Djokovic, as well as Murray, who is also looking pretty damn fit out there. Oh boy, do I love the way Murray is moving.
The best pictures from Wimbledon 2014

Show all 55
And that is what Tsonga is going to have to do. You do not beat Djokovic by getting involved in a baseline trade-off. Tsonga has got to look to move him around and mix up his game, surprise him. It has not been a great year for Tsonga, who is now 29. Is his all-action style of game running out of gas as he runs out of tennis years? Coming through a 226-minute five-setter against Querrey, three years his junior, says a pretty loud "no" to me.
Before Wimbledon, Tsonga was not playing well. He has not gone beyond four rounds on an outdoor court this year – including against Djokovic at the French Open. Tsonga managed to take six games off the Serb in three sets. Ouch, that's had to hit him hard where it hurts!
But this is a guy who has a history of playing well at Wimbledon. Take out last year, when he retired injured in round two, and he reached the last four in 2012 and 2011, knocking out Federer before going down to Djokovic. He will come at Djokovic with that big serve and booming forehand but he mustn't let Djokovic pin him down to a baseline battle.
When you get to the stage of a career that Djokovic is, 27, a pocket full of Slams, he is not going to change and no sensible coach would try to change him. It occasionally happens – Pete Sampras changed from a two-handed to one-handed backhand midway through his career and that paid dividends – but what Boris Becker is looking to do is to make a tweak here and there. That is what Boris used to like when I was coaching him – a few words of advice, keeping it simple and focused.
He has looked to try and add a little bit more diversity to Djokovic's game, as well as a serving of that Boris spirit – did you see that Djokovic dive against Gilles Simon? Jeez, straight out of Boris's locker, although as he hurt his shoulder that does mean there is one area of Djokovic's game that needs work. You gotta roll with it, Novak!
Join our new commenting forum
Join thought-provoking conversations, follow other Independent readers and see their replies