Wimbledon 2014: Serena Williams cannot even seek solace with sister Venus
The pair will play in the doubles on Monday, but Serena is not looking forward to it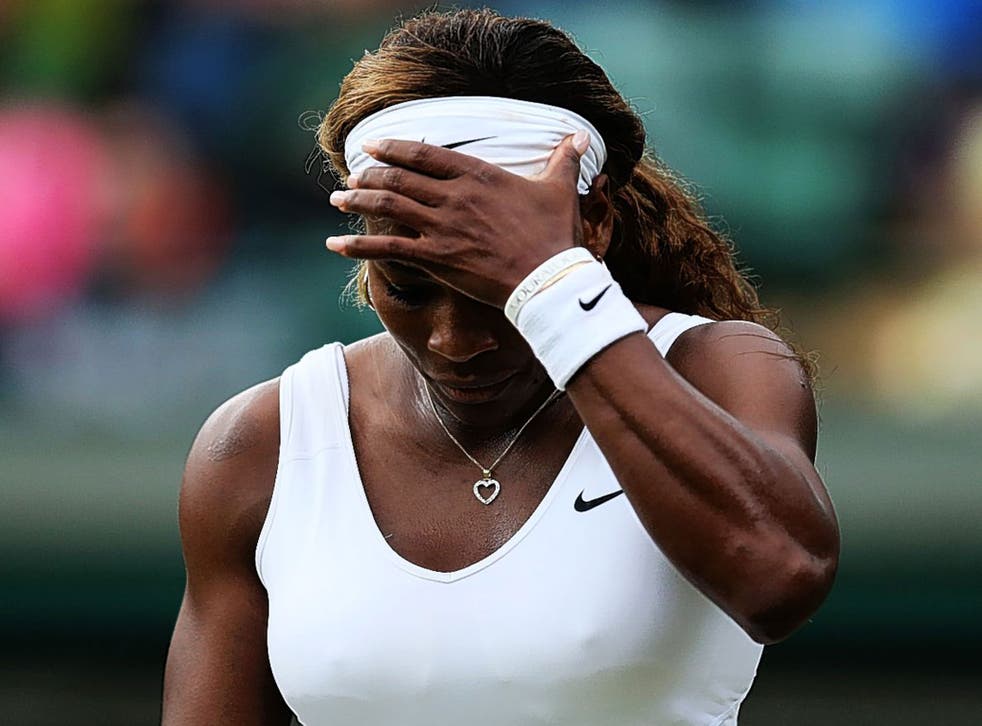 Playing doubles with her sister Venus is usually a highlight of any tournament for Serena Williams. They are due to play their second-round match against Kristina Barrois and Stefanie Voegele here on Monday evening, but Serena is not looking forward to it.
"I suck right now at doubles," Serena said here on Saturday night in the wake of her shocking defeat to Alizé Cornet in the singles tournament. "I told Venus the other day: 'I don't even want to play because I'm so bad right now.' She should get a new partner."
It might have been the disappointment of defeat talking, but as the five-times Wimbledon champion looks ahead you wonder whether her motivation will be the same as it has been in the past. Williams, who is already the oldest woman ever to hold the world No 1 ranking, will be 33 in September shortly after the US Open, which is the last Grand Slam title she holds.
Not so long ago the American looked certain to keep adding to her Grand Slam collection, but this year she has gone out in the fourth round of the Australian Open (to Ana Ivanovic), in the second round of the French Open (to Garbine Muguruza) and in the third round here, which was her earliest exit from the All England Club since 2005.
The best pictures from Wimbledon 2014

Show all 55
"In Australia, I just couldn't play," Williams said. "In Paris I played really badly. Here I actually thought I played better. I came into the tournament in better form. I thought I was doing pretty decent. I think I'm going to have to watch [a video of this match] and see what I can do better and what went wrong."
She added: "I think everyone in general plays the match of their lives against me. So I'm pretty sure that the next match, it won't be the same. Every time I step on the court I just always have to be a hundred times better. If I'm not, then I'm in trouble.
"I worked really, really hard coming into this event. I'm going to have to keep working hard. Just because you lose a match doesn't mean you stop. You've just got to keep going. Maybe it wasn't for today. Maybe it's for tomorrow. So I'll just keep fighting. That's all I can do really."
Williams did not think her defeat in the French Open last month had any effect on her form here. "I actually feel like that loss helped me work on some things and see things that I needed to see," she said. "I think that loss really helped me and motivated me to go home and put a lot of effort on the court and work out really hard."
Margaret Court (24 titles), Steffi Graf (22), Helen Wills Moody (19), Chris Evert (18) and Martina Navratilova (18) are the only women ahead of Williams on the all-time list of Grand Slam champions. Asked how important the quest for an 18th Grand Slam title was, Williams insisted: "It's something I'm obviously going to keep going for. It's definitely something in my mind, pretty important."
Williams has always geared her season towards the Grand Slam events, often at the cost of success elsewhere, but what might concern her now is the fact that she was unable to raise her game. She had lost to Cornet in Dubai earlier this year but had clearly expected a very different outcome here.
"I felt in much better form than I did in Dubai," Williams said. "I felt that I was just in better shape. All around I was a different player than when I played her in Dubai."
As for the future, Williams insisted that she was thinking positively. "I know that I can do better," she said. "I know that I have potential to continue to be on top. Hopefully, that's what keeps me motivated."
Join our new commenting forum
Join thought-provoking conversations, follow other Independent readers and see their replies