Domestic violence in the NFL: Four players are currently suspended but 11 more with previous charges will be able to play this weekend
Jonathan Dwyer and Greg Hardy joined Ray Rice and Adrian Peterson as players who are currently suspended because of domestic abuse charges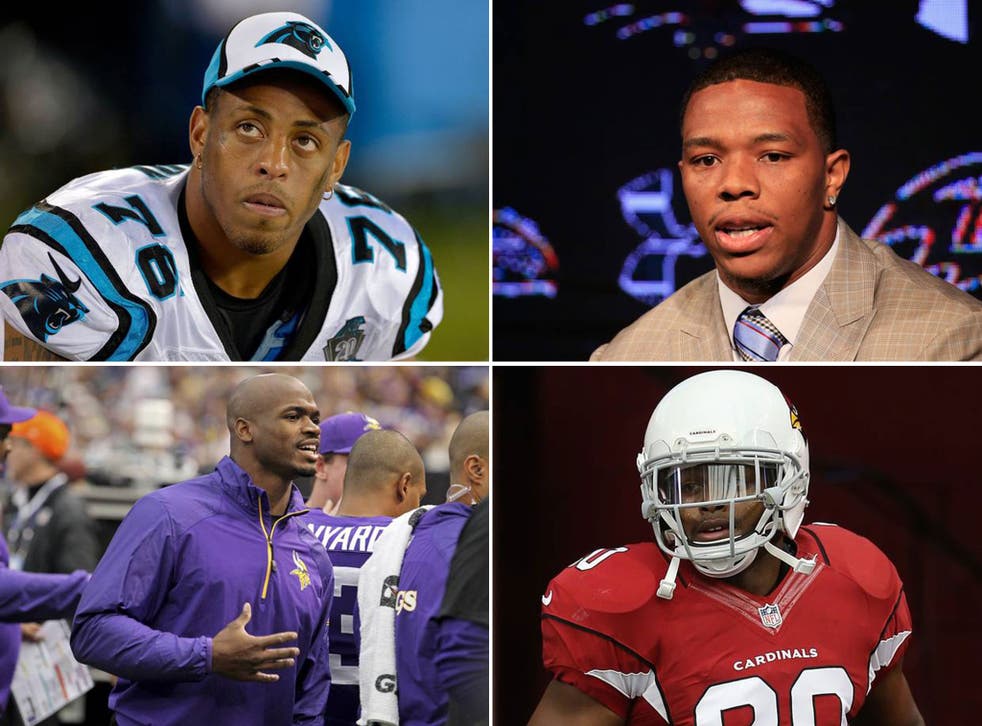 The National Football League's whirlwind week continues, with two players this morning indefinitely suspended because of alleged domestic abuse.
Jonathan Dwyer and Greg Hardy joined Ray Rice and Adrian Peterson as the players that will be unavailable for selection to their teams, or former teams, this week because of outstanding and resolved charges.
However, 11 more players who have been arrested on domestic violence charges since 2005 could still play in the NFL this week, according to a USA Today database that tracks NFL players' arrests in the NFL since 2000.
Some of those have fought the charges and won, others accepted blame, served suspensions and were punished but many of the charges remain unresolved.
Since 2000, 80 players have been arrested 87 times for domestic violence, second behind DUI arrests, though according to analysis by FiveThirtyEight, the rate is lower than the average for American men of a similar age.
Suspended and unable to play:
Ray Rice
Former Baltimore Ravens running back Ray Rice was eventually sacked from his team and banned indefinitely from the NFL after video footage emerged of him punching his then-fiancee Janay Palmer – they are now married – in the face in a hotel lift; seemingly leaving her unconscious. The incident took place back in February and the League initially handed Rice, 27, a two-game suspension before the footage emerged, forcing the indefinite ban. Ms Rice has since defended her husband, stating she wants him reinstated to the league, while the NFL Players' Union will seek to appeal the suspension.
Adrian Peterson
Minnesota running back Adrian Peterson was indicted on charges of child abuse after disciplining his four-year-old son with a tree branch in May. With legal proceedings still ongoing, the Vikings stopped Peterson from playing last Sunday, before reinstating him and stating he "deserves to play while the legal process plays out". The decision led to widespread criticism of the organisation and Peterson is now suspended indefinitely until the case is resolved.
Jonathan Dwyer
Jonathan Dwyer of the Arizona Cardinals was arrested this week after two alleged incidents of aggravated assault in July. The Cardinals moved immediately to suspend him, and say they are fully cooperating with Phoenix police. The running back is charged with one count of aggravated assault causing a fracture, one count of aggravated assault involving a minor, two counts of criminal damage and one count of preventing the use of a phone in an emergency, and assault.
Greg Hardy
Carolina Panthers defensive end Greg Hardy was convicted on charges of assault on a female and communicating threats in July; Hardy has requested a jury trial for his appeal which is set to begin on 17 November. Hardy was allowed to play in the first game of the season before head coach Ron Rivera changed his mind and suspended the player after the Ray Rice video emerged, leaving him out of the second game. Hardy has taken voluntary leave and been suspended indefinitely by the team until the case is resolved.
Arrested for domestic violence since 2005 but likely to play this weekend:
Ray McDonald (San Francisco 49ers)
Arrested on 31 August, the defensive end was arrested for allegedly assaulting his pregnant fiancée at his 30 birthday party – continues to play but the NFL is being criticised for withholding judgement while the case develops.
Brandon Marshall (Chicago Bears)
The Chicago Bears receiver has been arrested three times for domestic violence-related charges but never been convincted. He served a three-game suspension in 2008, before seeking treatment; he is now an outspoken voice on the issue.
Dez Bryant (Dallas Cowboys)
The Dallas Cowboys receiver was accused of hitting his mother and agreed to have counselling in exchange for having the charge dismissed.
Erik Walden (Indianapolis Colts)
Jailed in 2011 for an alleged assault on his girlfriend, he submitted to a deferred judgment that allowed him to avoid pleading guilty while receiving counselling.
Chris Cook (San Francisco 49ers)
Charged with assaulting his girlfriend in October 2011, he was later acquitted of all charges.
Tony McDaniel (Seattle Seahawks)
Pleaded no contest to shoving his girlfriend who hit her head on the pavement – he was put on probation and served a one game suspension in 2010.
Donte Whitner (Cleveland Browns)
Accused of harassing his girlfriend in 2006, the charges were later dropped.
Randy Starks (Miami Dolphins)
Charged with domestic assault in 2006, he was ordered to receive counselling and suspended one pre-season game.
Frostee Rucker (Arizona Cardinals)
Arrested for a fight at a party in 2006, he pleaded no contest and was suspended for a game, but then appealed the punishment as he had been in college at the time.
Santonio Holmes (Chicago Bears)
Mother of his children accused him of choking her and being slammed into a door in 2006 – however she was later reluctant to testify.
Kevin Williams (Seattle Seahawks)
Accused after a fight with his wife at his hme, he pleaded guilty to disorderly conduct and was put on probation, but the NFL did not suspend him.
Note:
A number of other players have been arrested on domestic violence charges since 2005 but are either no longer in the league or ineligible to play this weekend. There are 37 players attached to NFL teams currently suspended, with at least 170 games set to be missed.
Charges mostly relate to substance abuse, the use of performance-enhancing drugs - three players are currently set to miss the entire season because of drug use, but the NFL is set to change its policy to reduce bans.
Join our new commenting forum
Join thought-provoking conversations, follow other Independent readers and see their replies