Donald Trump attacks 'disrespectful' NFL decision to allow players to continue protests against racial inequality
The president is fighting a losing battle with the league, who held a meeting with players on Tuesday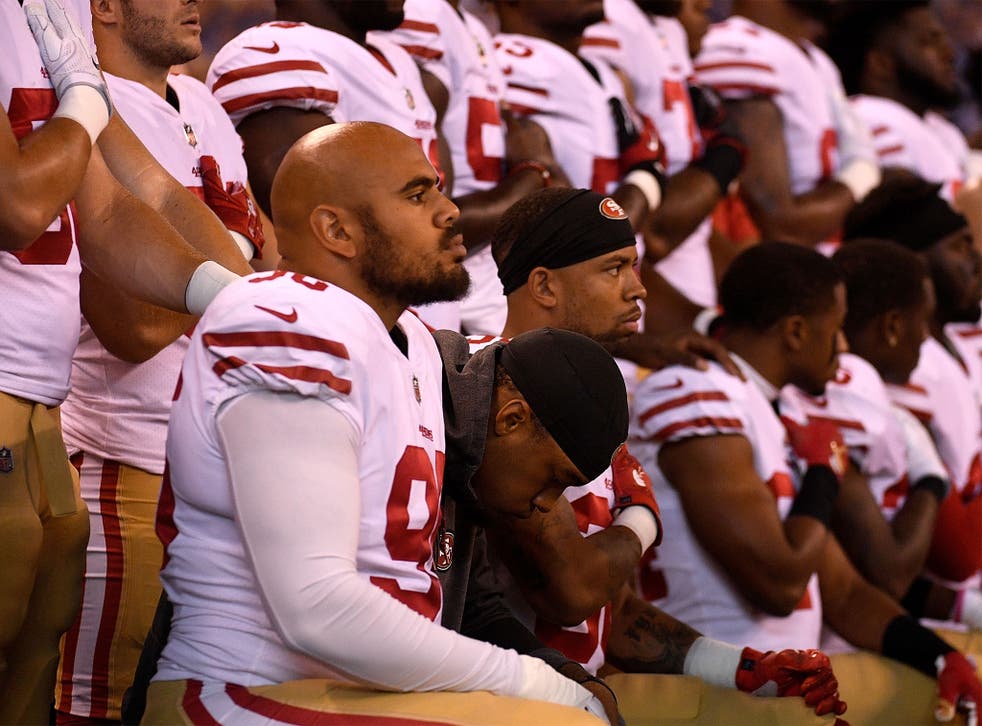 Donald Trump has reacted angrily to the NFL allowing players to continue their ongoing protest against inequality in America.
The president has made the protests, mainly acted out by kneeling during the pre-game national anthem, a central part of his nationalist rhetoric in recent weeks as he attempts to reframe the quest for equality as an anti-patriotic gesture.
He even ordered vice-president Mike Pence to leave the game between the Indianapolis Colts and the San Francisco 49ers early after players knelt for the anthem, a move later exposed as a calculated publicity stunt by Pence.
Meetings between the league owners and players on Tuesday were described as extremely productive, and while Colin Kaepernick was among the players invited to the meeting in Manhattan, he did not attend as he did not want to provide a distraction and is currently pursuing legal action against the league.
Trump: NFL owners are scared of their players
Eleven team owners and 13 players were in attendance, and a joint statement from the NFL and the players' association (NFLPA) ensured the focus was on facilitating change in society.
"Today owners and players had a productive meeting focused on how we can work together to promote positive social change and address inequality in our communities. NFL executives and owners joined NFLPA executives and player leaders to review and discuss plans to utilize our platform to promote equality and effectuate positive change.
"We agreed that these are common issues and pledged to meet again to continue this work together.
"As we said last week, everyone who is part of our NFL community has a tremendous respect for our country, our flag, our anthem and our military. In the best American tradition, we are coming together to find common ground and commit to the hard work required for positive change."
But on Wednesday morning Trump hit back, tweeting: "The NFL has decided that it will not force players to stand for the playing of our National Anthem. Total disrespect for our great country!"
This is not the first time that Trump has tried to paint the push for equality and positive change as an insult to the flag, with the NFL forced into releasing a statement last week clarifying that it would not enforce standing during the anthem after Trump had erroneously claimed victory.
Dallas Cowboys owner Jerry Jones has told his players that they will be benched if they do not stand for the national anthem, but Jones, a Trump campaign donor, is the only one of the league's 32 owners to take such a stand.
Jed York, the owner of the San Francisco 49ers, and Atlanta Falcons owner Arthur Blank both said that they don't fear Trump's reaction and will continue to go about their business.
"We need to be above it," York told Sports Illustrated's Peter King. "We need to be above petty attacks from anybody, because racial and socioeconomic inequality have existed in this country for too long. You've got to block out the noise and do your job."
"You know what I have learned in 75 years?" Blank said. "Control what you can control. Be responsible for what you say and do. In the NFL, our values have to respect the shield. We always have had a partnership with our players and now we have to stand with them on these important issues.
"This is not doing three media events and we're finished. This is a long-term commitment that we have to make. These issues have to pass from one generation to the next. It's hard work and it will take time."
Register for free to continue reading
Registration is a free and easy way to support our truly independent journalism
By registering, you will also enjoy limited access to Premium articles, exclusive newsletters, commenting, and virtual events with our leading journalists
Already have an account? sign in
Join our new commenting forum
Join thought-provoking conversations, follow other Independent readers and see their replies