Green Bay Packers and Chicago Bears stand, link arms and refuse to kneel in protest amid Donald Trump criticism
Trump called for players to be sacked for kneeling during the anthem in protest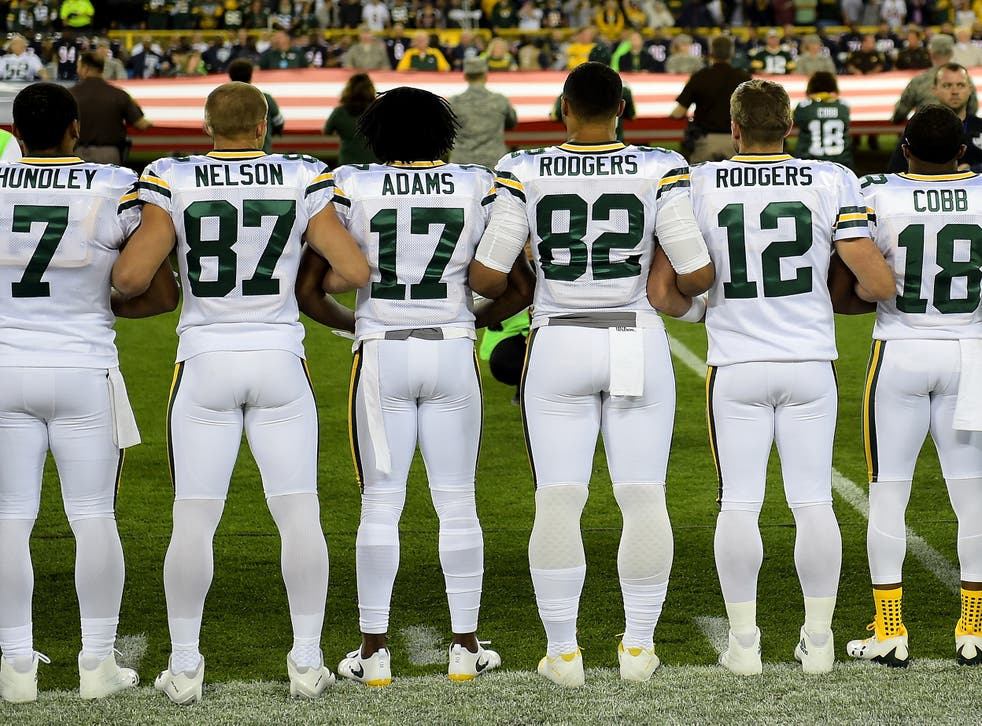 Both the Green Bay Packers and the Chicago Bears linked arms and stood during the American national anthem before their NFL game on Thursday night after a weekend where a number of teams opted to kneel.
The teams' fans also put aside their rivalries after quarterback Aaron Rodgers' request and linked arms too in an effort to show unity at Lambeau Field in the wake of several protests by players around the NFL in response to Donald Trump's criticisms.
Trump had criticised players who chose to protest during The Star-Spangled Banner and called for NFL owners to sack any "son of a b****" who "disrespects our flag".
American sportspeople kneel in protest

Show all 14
The protests were begun by Colin Kaepernick, who started refusing to stand as a protest against police brutality and racism when he played for the San Francisco 49ers. Many of the players who have taken part in the protest are black.
The Packers were keen not to pick a side on whether to kneel or not and Rodgers insisted before the game that this was a show of unity and not a protest.
"This is not a protest," he said. "This is a unified demonstration of love and solidarity.
"This is about unity and love and growing together as a society and starting a conversation around something that may be a little bit uncomfortable for people."
A number of fans also linked arms while there were chants of "protest on your own time, not on my dime" and "USA! USA! USA!"
The game was interrupted by heavy rain at lightning which saw the whole stadium evacuated before play resumed 45 minutes later as the Packers finished 35-14 winners.
Register for free to continue reading
Registration is a free and easy way to support our truly independent journalism
By registering, you will also enjoy limited access to Premium articles, exclusive newsletters, commenting, and virtual events with our leading journalists
Already have an account? sign in
Register for free to continue reading
Registration is a free and easy way to support our truly independent journalism
By registering, you will also enjoy limited access to Premium articles, exclusive newsletters, commenting, and virtual events with our leading journalists
Already have an account? sign in
Join our new commenting forum
Join thought-provoking conversations, follow other Independent readers and see their replies