ESPN says it will not air national anthem ahead of Monday night NFL games in response to kneeling controversy
Players in preseason games have already started taking a knee in protest of police violence 
Mythili Sampathkumar
New York
Saturday 18 August 2018 21:54 Comments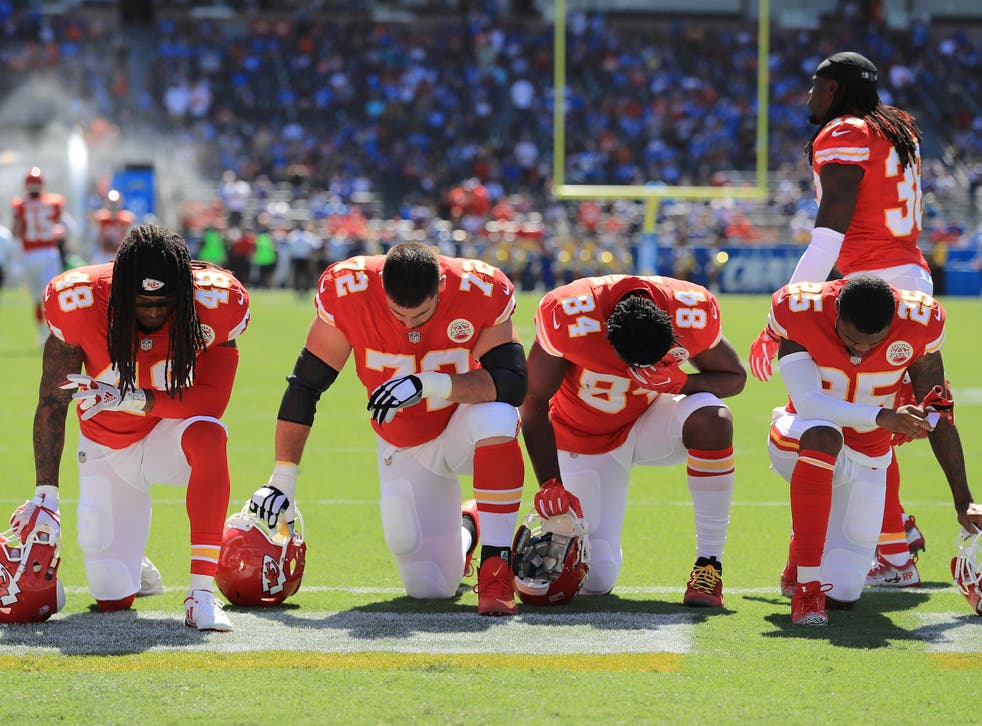 Sports broadcaster ESPN will not air the playing of national anthem ahead of Monday night NFL games.
The national anthem was also not aired during the 16-week plus preseason schedule of last season's Monday Night Football television programme and the network said there would no change in its policy this year after being asked how it would handle the recent controversy over players taking a knee during the anthem in peaceful protest to police violence.
The company's president Jimmy Pitaro told journalists: "We generally have not broadcasted the anthem and I don't think there's going to be any change this year. Our plan going into this year is to not broadcast the anthem".
He added the network had communicated with the league about its decision and said: "Again, there could be changes. It's somewhat unpredictable what's going to happen in the world but as of now our plan now is to not broadcast the anthem….[The NFL has] not asked but we proactively just as a courtesy and as good partners let them know what our plans are".
It did air three performances of "Star Spangled Banner" over the entirety of the network's coverage, according to ESPN senior vice president of event and studio production Stephanie Druley.
In the aftermath of Hurricane Harvey, after the mass shooting in Las Vegas which resulted in 58 dead, and after Donald Trump's comments on players kneeling during the national anthem.
Miami Dolphins players protest during National Anthem at first NFL game of the season
"We've seen the data from our fans that they like the game and that's what they want. So that's where we will keep our focus," Ms Druley said.
Mr Pitaro also noted while ESPN is not inherently a "political organisation...We are a sports media company. We are always going to cover the intersection between sports and politics".
The kneeling movement was begun by former San Francisco 49ers player Colin Kaepernick as a way to peacefully protest police violence and the rash of police-involved shooting deaths of young black men and boys across the country.
Donald Trump suggest protesting NFL players 'should be out of the country'
He said: "I am not going to stand up to show pride in a flag for a country that oppresses black people and people of colour."
Mr Trump has routinely criticised NFL players who kneeled during the playing of national anthems ahead of games, even calling them "sons of b******" during a September 2017 rally in Huntsville, Alabama.
He rescinded his invitation to the Philadelphia Eagles after hearing that the team would only send about 10 players rather than the whole team to the White House to honour their 2018 Super Bowl win, which is customary for national champions.
In October 2017, Mr Trump tweeted that because the NFL would "not force" players to stand it was "total disrespect for our great country!"
American sportspeople kneel in protest

Show all 14
It was one in a number of tweets and public comments about the matter.
The NFL had issued a statement in response to Mr Trump's initial comments that said: "divisive comments...demonstrate an unfortunate lack of respect for the NFL, our great game and all of our players, and a failure to understand the overwhelming force for good our clubs and players represent in our communities."
Even NFL owners who are vocal supporters of the President like the New England Patriots' Bob Kraft disapproved of the President's comments. Mr Kraft said he was "deeply disappointed."
However, by March 2018, league Commissioner Roger Goodell said the league thinks "everyone should stand for the national anthem. That's an important part of our policy."
"Our players will state to you publicly they are not doing this in any way to be disrespectful to the flag," he said during a news conference.
The NFL appeared to cater to political pressure in issuing the ruling which requires players to stand, and only stand, during the national anthem ahead of games or face fines.
However, it did give players the option to remain in the locker room during that time.
Register for free to continue reading
Registration is a free and easy way to support our truly independent journalism
By registering, you will also enjoy limited access to Premium articles, exclusive newsletters, commenting, and virtual events with our leading journalists
Already have an account? sign in
Join our new commenting forum
Join thought-provoking conversations, follow other Independent readers and see their replies