The Independent's journalism is supported by our readers. When you purchase through links on our site, we may earn commission.
Jason Bell on the game of the season, the under-the-radar LA Chargers and why the NFL Show is so much fun
Interview: The record-breaking epic between the Rams and the Kansas City Chiefs has former cornerback Bell relishing a potential reunion in Atlanta on 3 February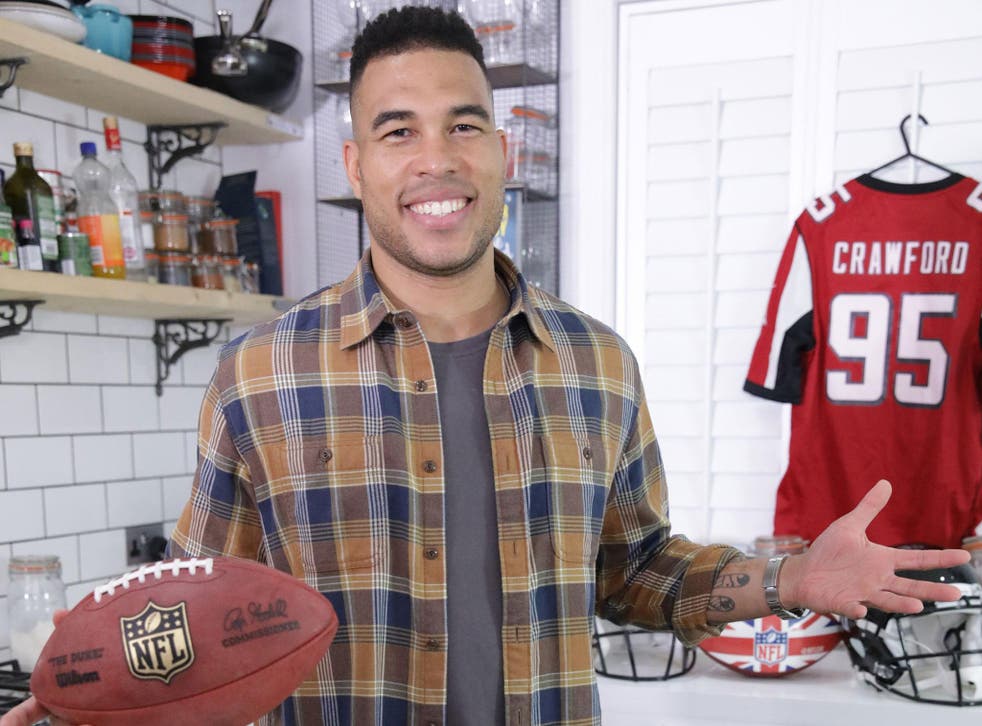 Ahead of last Monday's record-breaking game between the Los Angeles Rams and the Kansas City Chiefs, it appeared that Jason Bell glimpsed into the future.
Asked what his favourite game of the season was, the former NFL cornerback remarked on the BBC's NFL Show: "It's the one coming up, the Rams against the Chiefs – that's the one I want to see!"
His uncontainable excitement was justified. The Rams' 54-51 victory was a spectacle of sparkling offensive play spearheaded by two exuberant quarterbacks in Jared Goff and Patrick Mahomes. It was the match of the year, and a clash which could be repeated come 3 February at Super Bowl 53 in Atlanta.
But despite his forward-thinking, Bell is a tad surprised at the fortunes of Andy Reid's side so far this season.
"The Chiefs have surprised me because I knew Patrick Mahomes was going to be an elite quarterback, but I didn't know he was going to be this dominant. You need young stars coming in and being explosive and just think what he'll be in ten years … it's so great for football. It's unreal and a great product."
The term 'product' is one the 40-year-old emphasises continuously about the NFL, throughout this conversation in a quaint pub just off Trafalgar Square in London.
Talk of a potential London NFL franchise bringing the sport to this side of the Atlantic permanently hinges on whether the complete upheaval of one of 32 franchises would prove a long-term success, but Bell, who went to college at UCLA before turning pro in 2001, is unequivocally confident it can be a success due to the sell-out crowds for the International Series games.
"I think the NFL has spent so much time developing the product out here and gathering the fan base that they understand it would work. There's one thing I understand about this fan base: they're knowledgeable and loyal, and those are exactly the two things you want.
"But also I walk these streets, I'm on the tube, I'm on the bus, I'm walking around and you hear people engage with you about the sport and from year to year I've seen that increase. I hope it's sooner rather than later."
Bell, who played for the Dallas Cowboys, Houston Texans and New York Giants during his seven-year career, is on our screens every week as part of BBC's NFL Show, alongside Osi Umenyiora and Mark Chapman.
The show has proved extremely popular among both knowledgeable fans and 'rookies' of the game, with the programme's mix of light-heartedness and in-depth analysis striking exactly the right tone for the UK audience.
"Osi is my friend, so that natural chemistry you see is absolutely for real. We got really lucky with Mark – he's super professional and knows exactly what he's doing. But we're just boys and it's fun!"
The sheer enthusiasm with which Bell talks about anything NFL-related is immediately obvious.
His passion when talking about the locker-room is genuine, in response to a question originally posed about the effect Colin Kaepernick's stand against racial injustice in America is having on the league.
"The beauty of the NFL is that you have a locker room full of people from all walks of life, and we have discussions about any political topic," Bell explains. "That's what the locker room is, and it's a safe place for that. You're able to have a discussion on anything and you might not see eye to eye, but you hear each other out."
"I'm not sure what Colin wants to do. He has the skillset at quarterback, and we know you can play for a long time [in that position]. But I certainly don't want to speak on his behalf."
Bell, who retired in 2008 after career-ending back surgery, also speaks openly about the constant reformation the league goes through every season with regards to rules and player safety.
"So much has changed since I retired. The NFL competition committee does a great job, even though as a former defensive back I don't agree with a lot of them, especially when it comes to being able to hold receivers. But they see what makes the game great to consume, and there is so much more awareness towards player health and safety now."
Quizzed further about the limitations the new 'roughing the passer' rule has for defensive players, he is dismissive. "The reason professional athletes are good is that they can adjust. Football is a game that if you can't adjust to the rules, you just don't play, as other players will and that's the beauty about being a professional."
There are just over ten weeks to go until the Super Bowl, the phase of the season where every single match, available in the UK online via the NFL Game Pass, contributes towards deciding the play-off spots are decided and marquee players step up to the plate. So who is going under the radar in Bell's opinion?
"The San Diego … look at that I almost said San Diego Chargers!" he says, such is their ability this season to do the unheralded work. "The Los Angeles Chargers, because they're playing at a stadium that isn't their new stadium so every game feels like an away game for them. If they get into the play-offs, that might make them dangerous.
"But who's impressed me the most is Andrew Luck. If they [the Indianapolis Colts] had a better record, he's a third-tier MVP candidate! Coming off that shoulder surgery … he's playing phenomenal and doing a lot of things with that team I didn't think could happen."
The Colts – who have a 5-5 record and are second in the AFC South – host the Miami Dolphins on Sunday.
Sign up with NFL Game Pass to watch Thanksgiving Week action at a special price of £2.99 at www.nflgamepass.com or tune in to The NFL Show on Saturday night at 11:45pm on BBC One.
Join our new commenting forum
Join thought-provoking conversations, follow other Independent readers and see their replies