New England Patriots apologise after posting tweet with racial slur on the back of a shirt to celebrate 1 million Twitter followers
The Patriots used '#1millionPatriots' to celebrate their Twitter feat but were quickly criticised after creating a digital shirt for a racially offensive Twitter handle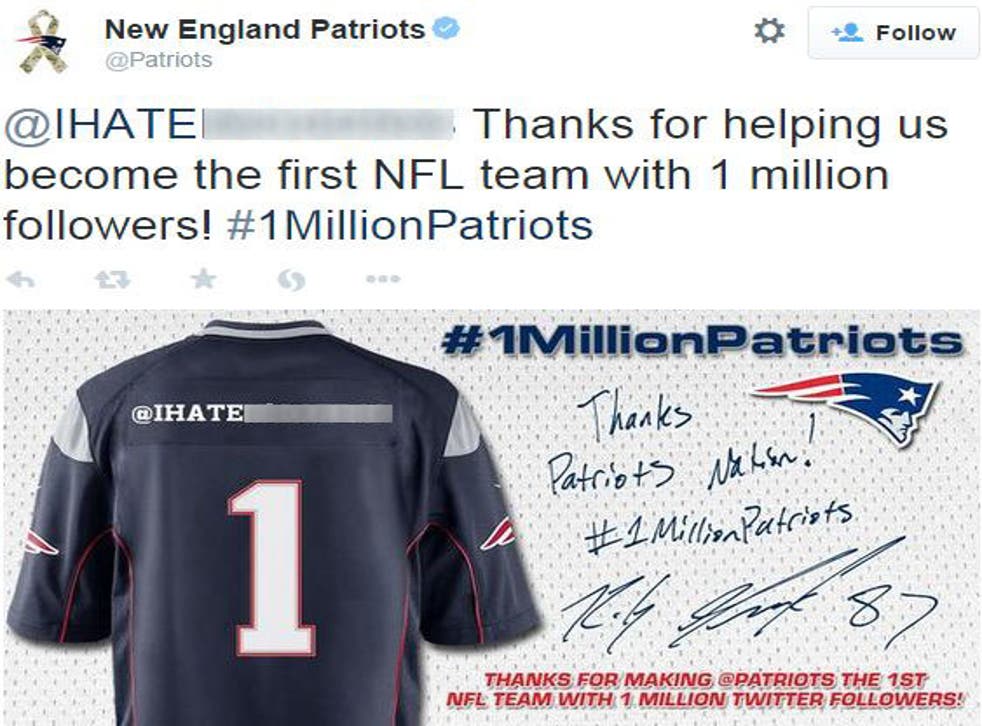 The New England Patriots have apologised after a gesture on Twitter to celebrate their 1,000,000th follower saw the NFL franchise create a shirt for a user with the Twitter handle '@IHATEN****RSS'.
The Patriots announced earlier in the day that they would create a custom digital shirt for whoever helped them to pass the 1 million followers barrier, and asked fans to retweet the post in order to have their name printed on the back of a digital jersey.
They included the message: "Thanks Patriots Nation! #1millionPatriots. Thanks for making the @Patriots the 1st NFL team with 1 million Twitter followers."
However, the joy soon turned into disaster when the account posted one shirt that caught the attention of Twitter users worldwide, as the Twitter handle was made up of an obvious racial slur.
The account tweeted: @IHATEN****RSS Thanks for helping us become the first NFL team with 1 million followers #1millionPatriots."
NFL - The best pictures from the 2014 season

Show all 130
The Patriots soon deleted the post and issued an immediate apology, which read: "We apologize [sic] for the regrettable tweet that went out from our account. Our filtering system failed & we will be more vigilant in the future."
Join our new commenting forum
Join thought-provoking conversations, follow other Independent readers and see their replies