NFC North preview: Injury curse hits pre-season favourites in Green Bay
PREVIEW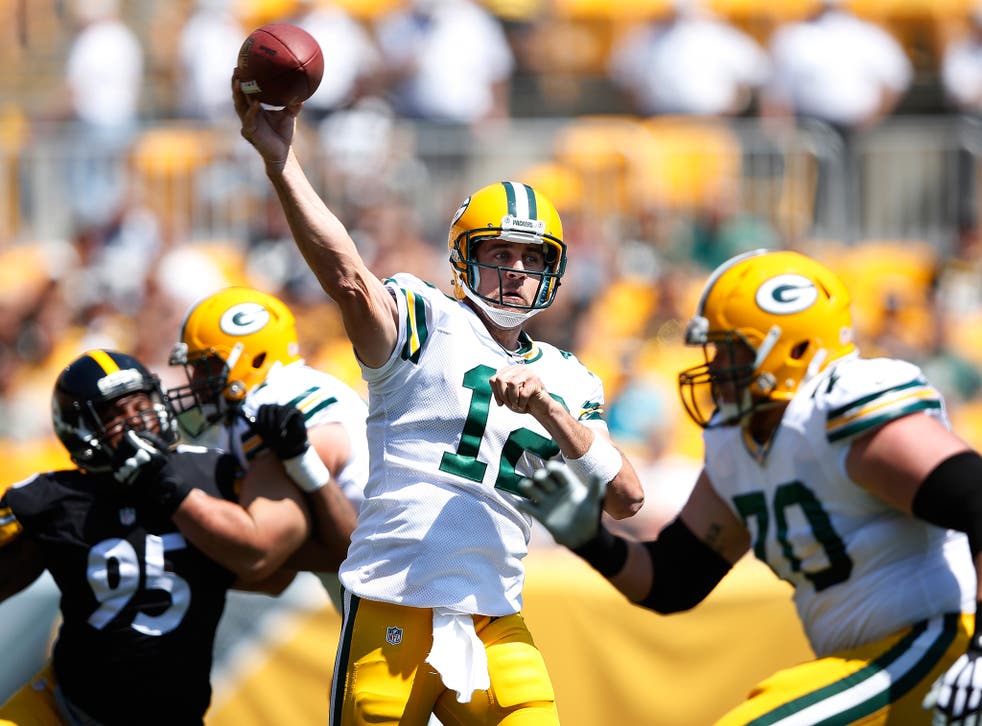 The NFL season is upon us! The Independent takes a look at all 32 teams, how they have spent their summer and what fans can expect this season. Aaron Rodgers is the most valuable player in the league, but have the Packers been slowed by injury...
CHICAGO BEARS
The Bears will be hoping that new head coach in John Fox, formerly of the Broncos, will help quarterback Jay Cutler. Fox helped Peyton Manning produce one of the best three-year stretches ever at Mile High, and while Cutler is not close to having Manning's talent, he can be an above-average weapon.
Cutler is lacking weapons, however, with receiver Brandon Marshall gone and Kevin White likely to miss a big part of the campaign, although Alshon Jeffrey is a formidable option.
Matt Forte is one of the best receiving backs in the NFL and a dynamic runner, but Cutler is also playing behind a poor offensive line.
The Bears have had one of the worst defences in each of the last two seasons and have holes all along their roster. In an unforgiving division the Bears look likely to struggle again.
DETROIT LIONS
Detroit had the second best defence in the NFL last season, but two of their biggest playmakers are gone. Ndamukong Suh, the best interior lineman in the league, and partner in crime Nick Fairley are both gone, as is CJ Mosley. Haloti Ngata is about as good a replacement for Suh (who the Dolphins probably overpaid, despite his dominance) as was available this summer, but he is now 31.
The loss of those two players serves to impact on the rest of an excellent defence. Linebacker DeAndre Levy and safety Glover Quin are regarded as two of the best at their position but it remains to be seen how much of that was thanks to Suh and Fairley. The return of Stephen Tulloch from injury should help some.
On offence the Lions remain as ferocious as ever. Star receiver Calvin 'Megatron' Johnson is back to full fitness after an ankle problem, Golden Tate is back and tight end Eric Ebron has a year under his belt. They also spent a second round draft pick on the explosive running back Ameer Abdullah, who looks to be a welcome change of pace from the bruising Joique Bell.
Quarterback Matt Stafford still has a lot to prove despite helping the team to the play-offs for the first time in years.
GREEN BAY PACKERS
Jordy Nelson, one of the best receivers in the NFL, will cruelly miss the whole season because of an ACL injury. Aaron Rodgers, the league's premier talent, will cope (he still has Randall Cobb) just fine, but the loss of such a player brings the Packers back from clear Super Bowl favourites to one of a number of teams in the hunt - especially if/when further injuries hit.
Green Bay kept all the rest of their key pieces that includes the best offensive line in the league and the ever-improving Eddie Lacy at running back. In fact, the biggest change offensively was for head coach Mike McCarthy to hand over play-calling duties to Tom Clements.
The defence didn't lose anyone of note and as long as Rodgers leads this group they will make the play-offs. Just how far they go will be up to the supporting cast.
MINNESOTA VIKINGS
Former league MVP Adrian Peterson returns from his year long suspension for child abuse. When the running back last completed a full season he was just yards shy of breaking the rushing record - and that came following a season in which he suffered serious ligament injuries.
Now 30, Peterson is one of the best in the game on paper, but a bit older and with a year out of action it remains to be seen how good he still is.
In his rookie season quarterback Teddy Bridgewater improved greatly as he went on, finishing with good marks for accuracy, although there are plenty of questions over his ability to make game-breaking throws. Top target Greg Jennings is gone, replaced by the dynamic, troublesome Mike Wallace.
The defence is a very capable group, despite lacking star names, and the first two draft picks of the summer were used to add a cornerback and a linebacker.
It would seem that the Vikings chances ultimately rest on Peterson, but he returns to a much improved side.
Join our new commenting forum
Join thought-provoking conversations, follow other Independent readers and see their replies