Alternative NFL season preview: Top 3 rookies to watch, players to root for and more - including our Super Bowl pick
The season is here, so what do you need to know?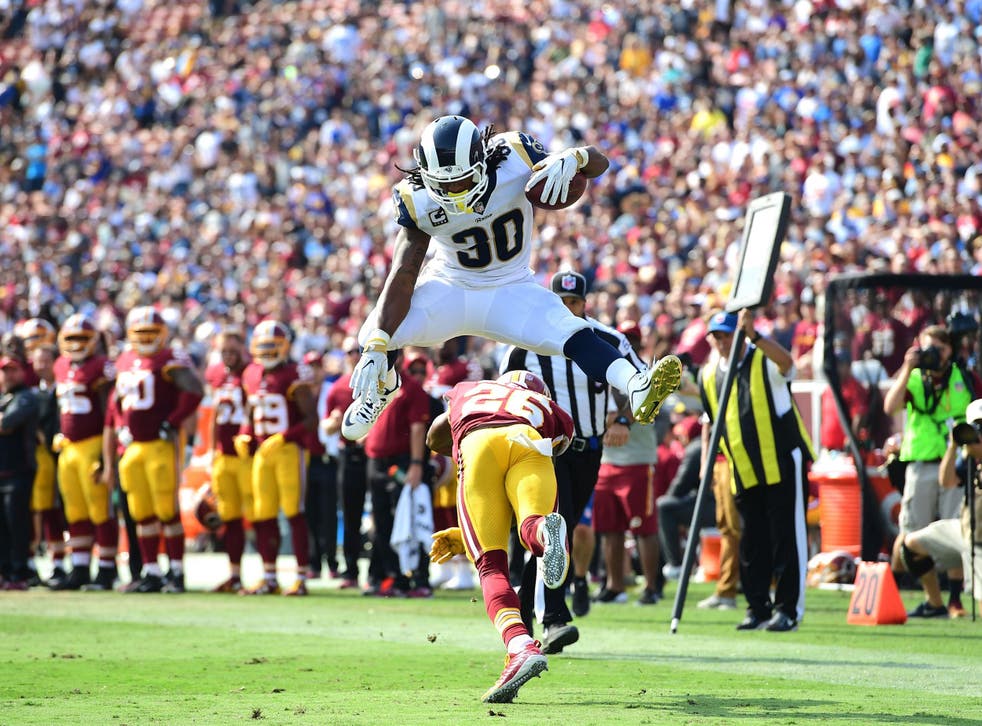 The NFL season is upon us. With 32 rosters of 53 players as well as coaches, GMs and coordinators, there is almost too much to write about.
So we devised a sort of... different preview for the NFL season that tries to take in a lot of the things that others might not. Bits and bobs that keep you attuned to the rumblings.
If you want a more traditional look at the league through the lens of its quarterbacks.
If not, keep on reading:
Top 3 most boom-or-bust teams
1. Houston Texans
With Deshaun Watson last year, Houston became one of the most electric teams in the league. As soon as the rookie quarterback went down with a knee injury, however, things fell apart pretty quickly and with J.J. Watt also struggling to stay fully healthy and a terrible-looking offensive line, it's hard to make concrete predictions about the Texans.
Should the defensive side of the ball avoid injuries, with Watson able to use his athleticism to negate how bad the O-line is, then this team is a potential division winner and bound for the playoffs. If Watson goes down behind a sieve of an offensive line and Watt's health continues to be a problem then we're looking at another top five pick in the draft.
2. Los Angeles Chargers
Given the immense talent on their roster and the weak AFC, the Chargers have to consider themselves candidates to win the whole conference and head to the Super Bowl.
A seemingly cursed franchise, the Chargers always struggle to get out of their own way and somehow lose an inordinate amount of games through unlucky circumstance. Hunter Henry's season-ending injury last month is already a considerable blow but with a heavy-duty defensive unit and Phillip Rivers throwing to some interesting offensive weapons, their ceiling is sky-high. The floor, as ever with the Chargers, is embarrassing.
3. Chicago Bears
General manager Ryan Pace used this off-season to make some huge moves, most notably one of the biggest trades in NFL history to acquire Khalil Mack. His presence on an already stellar defence that added first-round field general Roquan Smith and that benefits from the leadership of one of the league's best defensive coordinators makes this a scary team. Matt Nagy's hire to fix the offence, allied with the acquisitions of Trey Burton, Allen Robinson, Anthony Miller and Taylor Gabriel makes this a new-look team on that side of the ball.
The potential is huge.
But they also find themselves in a division with the Minnesota Vikings, one of the league's strongest rosters and a Super Bowl contender, as well as Aaron Rodgers' Green Bay Packers. The Detroit Lions should also be better too, meaning the NFC North is one of the toughest divisions in football while the NFC, as a conference, looks stacked with talented teams ready to win now.
Pace has carried out major surgery on the Bears but it's hard to work out what success would be for them now and especially so after the Mack trade. If they only win eight games it will feel like a disappointment after all the big moves of the summer. If they win fewer the natives will be restless.
Top 3 teams likely to be targeting a QB in the 2019 draft
1. Miami Dolphins
Ryan Tannehill is 30 and still gets treated like he's a young project QB. Adam Gase is on the hot seat after a dreadful year last season and they've lost more talent than they've gained in the off-season.
The Dolphins have been a pretty wretched franchise in recent years and we could see them about to blow the whole thing up and start again - again!
Should they go in that direction then expect Miami's scouts to spend much of the fall watching Drew Lock and the other highly-touted college passers.
2. Cincinnati Bengals
The Bengals are one of the dreariest franchises in the league, and are paying decent money to Andy Dalton for fairly average quarterback play.
In a season where so many exciting, young, cheap quarterbacks are set to enter the league, their performances may be the catalyst for teams like the Bengals and the Raiders - who appear stuck with middle-of-the-road guys - to re-think their plan at the position.
Dalton must know he's on borrowed time.
3. Jacksonville Jaguars
The Jaguars should have drafted a quarterback last year. They should have drafted one the year before. But their commitment to Blake Bortles is, in some ways, admirable while also being utterly, utterly insane.
A turnover machine, Bortles has proven himself to be a distinctly sub-par NFL quarterback and he is the main thing holding the Jags back from being a Super Bowl team.
They got close in spite of him last year, and their ceaseless loyalty to Bortles continues to baffle.
Top 3 coaches on the hot seat
1. Dirk Koetter
Had Koetter been sacked last January few would have been surprised, and things are hardly lining up for a successful bounce back for the Tampa Bay Buccaneers.
Boneheaded quarterback Jameis Winston's suspension and a painfully-tough schedule to start the season mean Koetter is going to be under it from week one this year and considering the strength not just of the NFC South - which may boast three Super Bowl contenders - but the conference as a whole it is really hard to see how the Bucs don't have one of the worst records in the league in spite of boasting tons of talent.
Koetter is very unlikely to be as lucky next January as he was last time.
2. Todd Bowles
Bowles has been put in a dreadful position for much of his time in New York, and even though the Jets finally appear to have found their quarterback in Sam Darnold, it's hard to see where many wins are going to come from with such a scraggly roster and it may be the next coach (and GM) who truly get the best of Darnold.
We have seen enough from Bowles to suggest he will get a job elsewhere though.
3. Adam Gase
Ultimately, Gase paid the price for overachieving in his first season when his team regressed to the mean in his second. Unlike Ben McAdoo with the Giants, it wasn't enough to see him sacked but presiding over a weaker roster than last year it remains difficult to see too much upside to a Miami team that lost its best offensive and defensive players in the off-season.
Top 3 teams whose records will be better than last year
1. New York Giants (3-13 last year)
Eli Manning is back, and even if he is quite obviously in decline he is surrounded by so many talented offensive weapons that it's hard to see him struggling like he did last year.
Odell Beckham's return is the most obvious boon but Sterling Shephard and Evan Engram are good players and second-overall pick Saquon Barkley will add a new element to an offense that still has questions along the O-line.
Defensively it's hard to know exactly where they'll be but they have a decent linebacker at last in Alec Ogletree and can't possibly do worse than last year's 3-13 record.
2. Cleveland Browns (0-16 last year)
The Browns should probably be top of this list given they have won just a single game of their last 32 - two seasons of abject woe.
They will win games this year and possibly up to seven or eight of them, but their improved defensive unit remains handicapped by the hapless direction of coordinator Gregg Williams and there are still some questions of their offensive skill position players, not least 'will Josh Gordon ever play again?'
3. Houston Texans (4-12 last year)
Deshaun Watson is the key. Based on last year's performances he could win any game against any opponent and while it remains to be seen whether defensive coordinators around the league will have worked out how to contain him, the Texans with Watson can't fail to win far more games than when he's nursing a ruptured ACL.
Top 3 teams whose records will be worse than last year
1. Carolina Panthers (11-5 last year)
The Panthers are a good team but last year the bounce of the ball went with them and this year it might not.
In a particularly tough division in a terrifyingly tough conference, the scope for taking a big step backwards in terms of record without taking a big step backwards in terms of performance is very real.
Questions over the offensive line, secondary and wide receivers remain.
2. Buffalo Bills (9-7 last year)
That the Bills reached the playoffs last year is a stain on the AFC. A bad team will get worse this year, and while effectively sacrificing Nathan Peterman on the altar of mediocrity at the start of the season seems wise, it only delays the up-and-down fireworks to come from Josh Allen. He might win them some games but, as a team, they won't win many in 2018. Even though they are well-run on the defensive side of the ball.
3. Arizona Cardinals (8-8 last year)
It sounds weird given their dominance in the last ten years or so but the Seattle Seahawks might be the worst team the Cardinals play this season.
Their schedule looks nasty, they've lost top-class defensive players in consecutive seasons and the 49ers and Rams might beat them twice.
Top 3 teams who need to win this season or it's over
1. Jacksonville Jaguars
The salary cap situation in Jacksonville is going to get pretty grim, pretty quickly so they need to win and win now.
Shame they've committed themselves to a dreadful quarterback, you'd have to say.
2. Denver Broncos
John Elway thinks the Broncos can be a playoff team but it feels far more likely that come next spring they're picking in the first 10 picks than the last 10 picks of the first round.
Vance Joseph was lucky not to be fired after last season and if Case Keenum fails to fire it could be time to clear house; binning veteran receivers Demaryius Thomas and Emmanuel Sanders, drafting a quarterback who isn't atrocious and re-doing the entire coaching staff.
3. New England Patriots
Tom Brady is 41. He's beaten every team in the NFL and won five Super Bowls but Father Time remains undefeated. Who knows if Brady has already won his final Lombardi.
Top 3 most intriguing rookies
1. Lamar Jackson
The comparison you hear most often when people describe the Heisman-winning Jackson is Michael Vick. If the Baltimore Ravens have uncovered a Vick 2.0 then that is only going to be fun for fans of the league - though hopefully without the torturing and burning of dogs.
2. Josh Allen
Sorry for another quarterback. This kid could be absolutely anything, he might be a Stafford-meets-Roethlisberger hybrid or he might be JaMarcus Russell. Either way, the pre-season tape shows mistakes but an ability to fire lasers so who knows how it will turn out?
3. Marcus Davenport
The New Orleans Saints effectively paid two first-round picks for the UTSA pass-rusher, which is a massive price for someone who was only seen as a borderline first-round prospect!
Davenport is seen as a bit of a boom-or-bust prospect and if the Saints have hit on him then they will be one of the Super Bowl favourites.
Should he flame out then they've made the job of finding a successor for Drew Brees next year much harder and there will be lots of questions over part-time Pelican Micky Loomis.
Top 3 red-shirt sophomore players to watch out for
1. Patrick Mahomes
The Kansas City Chiefs were so enamoured by Mahomes' week 17 performance against a full-strength Denver Broncos team that they traded away Alex Smith and strapped in for the wild ride with the former Texas Tech QB.
Mahomes is a gunslinger who is going to change how this offence looks. Given that defensively the Chiefs looks set to take a step back, Andy Reid's men may have gone from one of the least watchable offensive teams to one of the most. The 22-year-old's lively arm and athleticism are huge parts of that.
2. Mike Williams
The Los Angeles Chargers barely need help offensively but they took Williams to add an extra dimension of height and strength to an already impressive-looking unit.
Hunter Henry's injury is obviously a savage blow but Williams could replace him as a big red zone threat and the Clemson star promises much.
3. Dalvin Cook
Not strictly a red-shirt season for Cook as he was their starter until he went down early last year with a season-ending injury, but the Florida State product looked exciting as a running-back prospect in the brief sample we saw from him and with an improvement at QB and great receivers, the Vikings are going to be tough to beat.
Top 3 players to cheer for
The aftermath of Hurricane Harvey

Show all 19
1. J.J. Watt
The man raised over $50m for those affected by Hurricane Harvey. He is a legend in the Houston area even if he never plays another snap in the NFL.
2. Shaquem Griffin
Griffin had his left hand amputated aged four but fought his way to college stardom, the NFL draft and now a starting spot in the Seattle defence. It's an incredible story and it's impossible to not want this guy to have all the success in the world.
3. Josh Gordon
Formerly the league's best receiver, Gordon's struggles with drugs have knocked him out of the league for the past few seasons. Everyone in Cleveland is rooting for the deep threat to return and help them surge back into relevance.
Top 3 teams most likely to win the Super Bowl (according to me)
1. Los Angeles Rams
They look like the complete package. That they dared to enter the conversation with regards to trading for Khalil Mack shows just how all-in Les Snead and Sean McVay are on winning the Super Bowl.
Marcus Peters, Aaqib Talib and Ndamukong Suh are just brilliant additions to an already superb team.
2. New England Patriots
Tom Brady. Bill Belichick. If you need this explaining then you haven't watched this sport for long enough.
3. Minnesota Vikings
Strength and depth all over this roster means they edge out the exciting Saints and reigning champion Eagles into third spot. Kirk Cousins, Dalvin Cook, Adam Thielen and Stefon Diggs form a great offensive core. The defensive side of the ball is scary and mobile, while this is the last year they'll have the unit together before salaries become a problem so they need to make it happen right now.
Register for free to continue reading
Registration is a free and easy way to support our truly independent journalism
By registering, you will also enjoy limited access to Premium articles, exclusive newsletters, commenting, and virtual events with our leading journalists
Already have an account? sign in
Join our new commenting forum
Join thought-provoking conversations, follow other Independent readers and see their replies