NFL contradicts Donald Trump in latest statement, calling his claims over anthem protests 'not accurate'
'Commentary this morning about the commissioner's position on the anthem is not accurate,' said a statement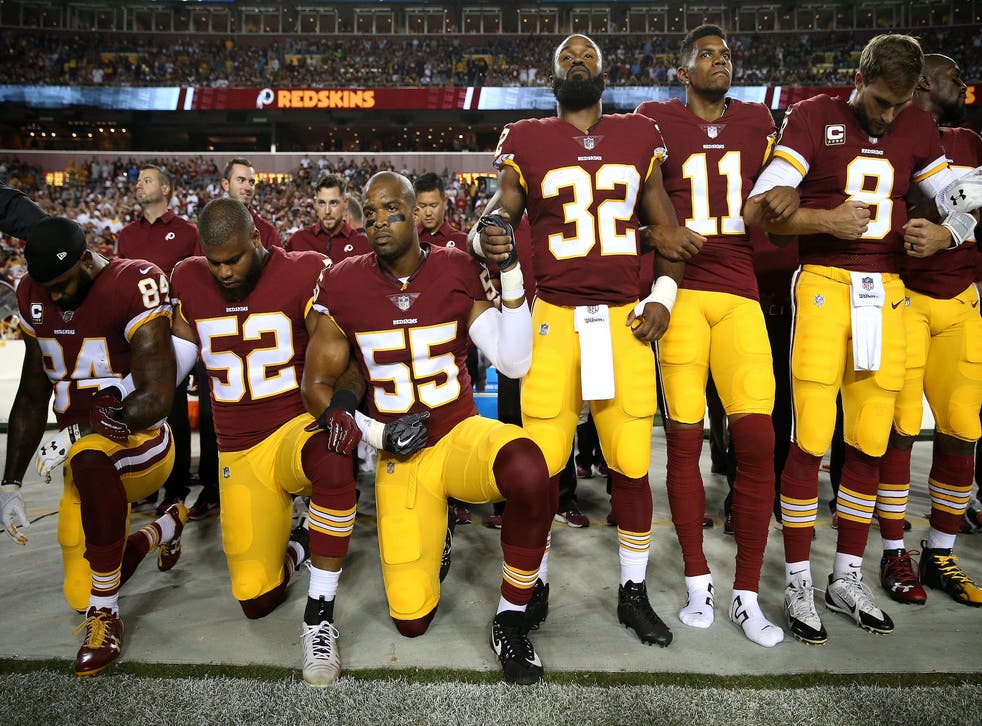 The NFL directly contradicted Donald Trump in a statement issued on Wednesday, dismissing the president's claim that the league's commissioner had demanded that players stand for the national anthem as "not accurate."
Trump, in response to an NFL statement released on Tuesday that stated owners would look for a solution to the issue at their upcoming league meeting, had tweeted on Wednesday morning:
"It is about time that Roger Goodell of the NFL is finally demanding that all players STAND for our great National Anthem-RESPECT OUR COUNTRY."
But Goodell made no such demand in a statement that was so on-the-fence that it could have given the commissioner splinters.
The NFL's latest statement - a clarification they wish they'd never had to issue in a never-ending PR war that they are desperate to end - read:
"Commentary this morning about the commissioner's position on the anthem is not accurate.
"As we said yesterday, there will be a discussion of these issues at the owners meeting next week. The NFL is doing the hard work of trying to move from protest to progress, working to bring people together.
"Commissioner Goodell spent yesterday with Miami Dolphins players, law enforcement and community leaders witnessing first-hand the outstanding work our players and clubs are doing to strengthen their communities. Players from around the league will be in New York next week to meet with owners to continue our work together."
Dallas Cowboys display own message of defiance to Donald Trump after NFL anthem protests
Trump continues to pander to his hard-right base by shifting the debate from what the anthem protests were actually about – racial inequality and police brutality – to a straw man debate over respect for the flag.
After vice-president Mike Pence's Trump-ordered publicity stunt in Indianapolis on Sunday, the San Francisco 49ers' Eric Reid described the White House's onslaught against their protest as "systemic oppression."
"I've spoken to you all previously about controlling the narrative. And that is what we'll do," he told reporters in an impassioned speech.
"If I need to say it every time y'all ask me, this is not about the military, this is not about the flag, this is not about the anthem. My mother served in the armed forces. Three of my uncles served in the armed forces. In fact, my mum would have went to the Persian Gulf War if she hadn't been pregnant with me. I have the utmost respect for the military, for the anthem, for the flag.
"This is about systemic oppression that has been rampant in this country for decades on top of decades. And I will continue to say and encourage people to educate themselves of how we got to where we are today, because it didn't happen overnight. And it's not going to happen overnight to fix these issues, so we're going to keep talking about it.
"I know that I will keep doing what I feel is necessary to use the platform that I have to make those changes. It's really disheartening when everything that you were raised on, everything that I was raised on, was to be the best person I can be, to help people that need help, and the Vice President of the United States is trying to confuse the message that we're trying to put out there."
Trump's reframing of the debate has put the focus on NFL owners to act, many of whom donated to his campaign. Dallas Cowboys owner Jerry Jones has already mandated that any player who kneels will be benched, leading the players to call a meeting over their next move.
Join our new commenting forum
Join thought-provoking conversations, follow other Independent readers and see their replies