NFL Draft 2016: LA Rams expected to pick Jared Goff with Philadelphia Eagles eyeing Carson Wentz
The Rams traded up after agreeing a deal with the Tennessee Titans in order to go after University of California graduate Goff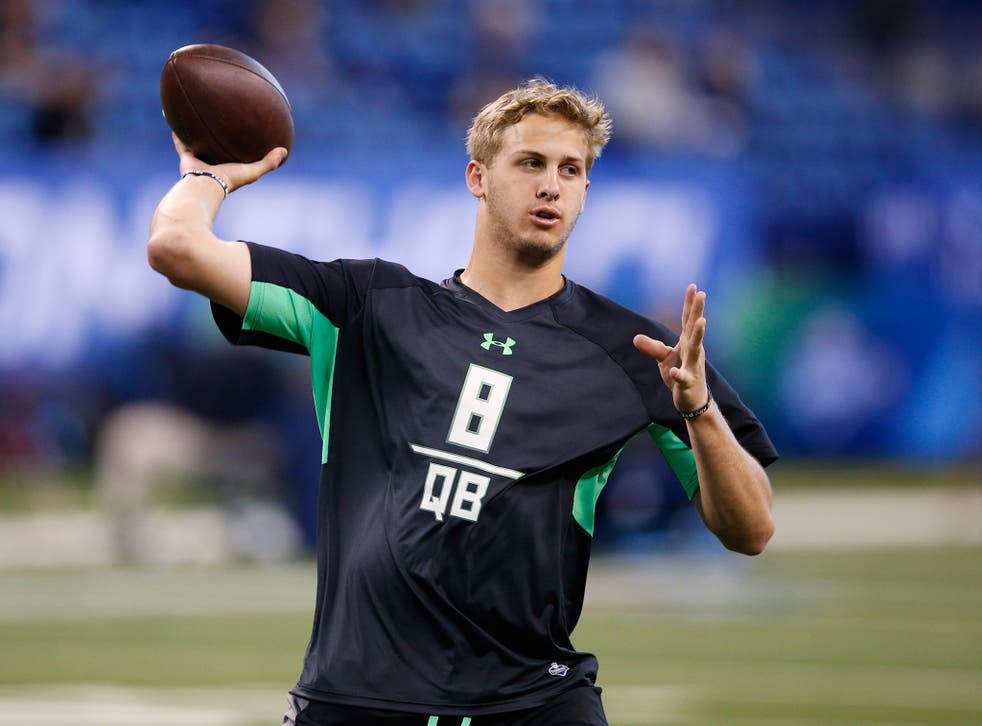 Quarterbacks are expected to once again command the spotlight at the National Football League Draft in Chicago on Thursday.
Given the pass-happy state of the most popular U.S. professional sports league, the pressure to find a frontline thrower moved the Los Angeles Rams and Philadelphia Eagles to trade up to the number one and two slots, respectively, for the presumed purpose of snaring a quarterback.
In exchange for sending a passel of extra picks to the Tennessee Titans and Cleveland Browns, the Rams and Eagles are expected to take quarterbacks Jared Goff of the University of California and Carson Wentz of North Dakota State off the board.
After that, the guessing game is on as far as the pecking order, with players that can defend against the pass, rush the passer or block for the quarterback the most likely leading men.
The San Diego Chargers hold the third pick, followed by the Dallas Cowboys, Jacksonville Jaguars and Baltimore Ravens - barring further swaps.
Jalen Ramsey of Florida State is rated the top defensive back, with Joey Bosa of Ohio State and DeForest Buckner of Oregon among the leading defensive ends.
The top offensive line behemoths figure to be Laremy Tunsil of Mississippi and Ronnie Stanley of Notre Dame, while explosive running back Ezekiel Elliott of Ohio State is considered a wild card option for teams needing an offensive jolt.
Rounding out the top 10 selectors are the San Francisco 49ers at number seven, followed by the Cleveland Browns, Tampa Bay Buccaneers and New York Giants.
The stakes are high as the draft of US college talent is the lifeblood of NFL rosters and a first-round choice that proves to be a bust can set a team back for years.
Intrigue often surrounds the draft, as talented linebacker Myles Jack from UCLA can attest.
Jack, who was projected as a possible top-five pick despite missing last season with a knee injury, saw his stock plummet by some 10 slots in some mock drafts after reports citing unnamed sources said his knee was worse off than thought.
Some NFL clubs said they still had Jack rated near the top.
Jack said he suspected disinformation was circulated by a team that hoped he would drop down the draft list, enabling them to select him.
"My knee is fine, it no longer swells, I can do anything I want to do on it," Jack told Reuters in a telephone interview as part of his promotion for Mennen speed stick deodorant. "It was kind of one of those reports where I look at it as if it may be a smokescreen.
"Teams want what they want. If that means they got to do what they got to do for me to fall to them, I understand. This is people's jobs on the line. People will do whatever they have to do to get what they need. I understand."
One team that is missing from the first-round list is the New England Patriots, whose 29th pick of the opening round was forfeited as part of the Deflategate punishment from the league.
Reuters
Join our new commenting forum
Join thought-provoking conversations, follow other Independent readers and see their replies