Mock Draft 3.0: Christian McCaffrey goes top 10, Mitch Trubisky the first QB off the board plus every opening pick
With just a matter of hours to go the big boards are set in Philadelphia, but exactly where everyone ends up remains anyone's guess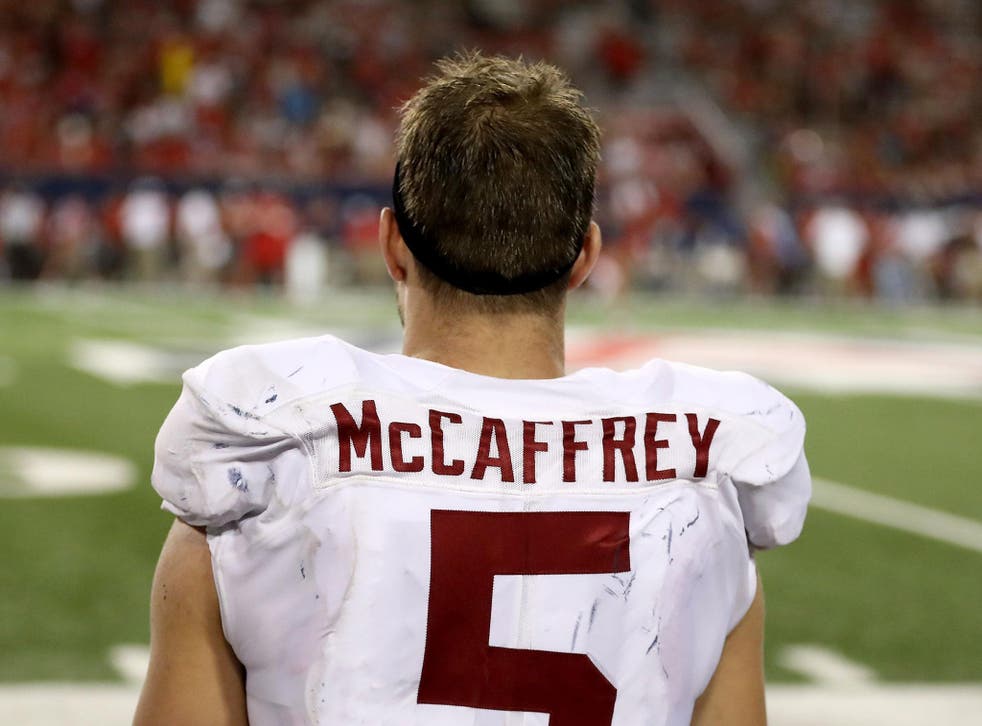 It's draft day, ladies and gentlemen. No, Kevin Costner and Jennifer Garner aren't going attempt to try - and fail - to act their way out of a paper bag, it's the real thing. The 2017 NFL Draft is finally upon us.
After what seems like months of buzz, whispers, rumours and counter-rumours, this evening 32 names will be called and 32 lives changed forever. For a select few a life in professional football awaits and that journey begins tonight in Philadelphia.
As with every year we know some pieces of the puzzle already, like that defensive phenomenon Myles Garrett of Texas A&M will go first overall, but others, like when the first quarterback will be selected and who he will be, remain much less clear.
But we don't have much longer to wait to find out with the fun and games set to begin in only a matter of hours.
So after predicting not once, but twice, already here is Independent Sport's final look at how the first round will play out.
Without further ado, with the first overall pick of the 2017 NFL Draft the Cleveland Browns select...
Pick 1: Cleveland Browns – Myles Garrett DL (Texas A&M)
The Browns shouldn't overthink it – Garrett is the best player in the class. End of.
Pick 2: San Francisco 49ers – Solomon Thomas DL (Stanford)
The draft really begins here. The Niners would love to get out but it's hard to see anyone trading up this far at this point. Thomas has tremendous upside and can operate inside or outside. If the buzz is to be believed don't sleep on Leonard Fournette here either.
Pick 3: Chicago Bears – Jamal Adams S (LSU)
Adams is a locker room leader with outstanding intangibles. The Bears need a playmaker on the back end and he provides it. The LSU star is possibly the safest pick of the whole draft.
Pick 4: Jacksonville Jaguars – Leonard Fournette RB (LSU)
The best way to help a struggling quarterback? A running back. Fournette is a rare talent and would be an instant upgrade to help take some pressure off Blake Bortles under centre.
Pick 5: Cleveland Browns [projected trade with the Tennessee Titans] – Mitch Trubisky QB (North Carolina)
The Browns need a quarterback in the worst way and in this scenario use their bounty of picks to go up and get the one they want. They are said to be in love with Trubisky's ceiling and cannot risk the Jets or Bills scooping him up before they pick again.
Pick 6: New York Jets – Marshon Lattimore CB (Ohio State)
The Jets have regrets from picking corners high in the past but Lattimore is the best in the class and would fill a huge hole.
Pick 7: San Diego Chargers – Malik Hooker S (Ohio State)
The Chargers missed Eric Weddle last season. Hooker is his heir apparent and a no brainer here.
Pick 8: Carolina Panthers – Christian McCaffrey RB (Stanford)
The Panthers could move around the board from here but if McCaffrey is there you feel he may be too much fun to pass up. The Stanford star has rare gifts and would give Cam Newton a lethal weapon to play with.
Pick 9: Cincinnati Bengals – Jonathan Allen DL (Alabama)
The Bengals have a couple of different ways they could go here but Alabama's Allen represents a near-can't miss pick and would slot in alongside Geno Atkins in a dangerous front.
Pick 10: Buffalo Bills – Deshaun Watson QB (Clemson)
They shouldn't do it, but there's just too much noise about Buffalo pulling the trigger on another QB high in the first round. Watson is a winner and has as high a floor as any of this year's passers. Don't rule out Houston coming all the way up here to get him either though.
Pick 11: New Orleans Saints – Haason Reddick LB (Temple)
The Saints are desperate for defensive help and Reddick, a supreme athlete and one of the draft's biggest risers, would add it both inside and outside.
Pick 12: Tennessee Titans [projected trade with the Cleveland Browns] – Mike Williams WR (Clemson)
Here the Titans move back, pick up a second round pick, and still get the guy they would have taken at five. Williams is the big bodied #1 receiver Marcus Mariota is longing for and would be a match-up nightmare in the red zone.
Pick 13: Tampa Bay Buccaneers [projected trade with the Arizona Cardinals] – OJ Howard TE (Alabama)
Arizona could stay and take a QB – more on that later – but instead trade back with the Bucs all too willing to come up and give Jameis Winston another weapon in the passing game. Howard is an A+ prospect and represents a home run pick here.
Pick 14: Philadelphia Eagles – Tre'Davious White CB (LSU)
The Eagles are desperate for help in the secondary and go to DBU to get it. White may not have the highest upside but brings with him the safest floor of any corner in the class.
Pick 15: Indianapolis Colts – Dalvin Cook RB (Florida State)
Andrew Luck needs help and after new GM Chris Ballard addressed the defence in Free Agency he gets a new puzzle piece to play with on offense. Cook has his detractors but there's enough on tape to suggest he's good enough for this level of draft capital.
Pick 16: Baltimore Ravens – Reuben Foster LB (Alabama)
With Steve Smith gone Baltimore need a new #1 receiver but Ozzie Newsome loves his Alabama defenders and stops Foster's fall here, pairing the super-talented linebacker with fellow Crimson Tide alum CJ Mosley.
Pick 17: Washington Redskins – Derek Barnett DL (Tennessee)
The Redskins have a big need on defence and address it with Barnett, the Tennessee standout, who would immediately upgrade what can be at times a vanilla pass rush.
Pick 18: Tennessee Titans – Marlon Humphrey CB (Alabama)
The Titans addressed offense at 12 so here they go defence and replace the outgoing Jason McCourty with the tall rangy corner from Alabama.
Pick 19: Arizona Cardinals [projected trade with the Tampa Bay Buccaneers] – Patrick Mahomes QB (Texas Tech)
Carson Palmer isn't getting any younger and Arizona must begin to look to their QB of the future. Mahomes polarizes opinion but, with the right coaching, could be a real difference maker at the next level.
Pick 20: Denver Broncos – Forrest Lamp OL (Western Kentucky)
Denver need O-line help in a big way and Lamp, a tackle in college, would be a shrewd addition inside at guard.
Pick 21: Detroit Lions – Taco Charlton DL (Michigan)
Ziggy Ansah needs a running mate and the Michigan alum doesn't leave the state to help add some much-needed size and speed off the edge.
Pick 22: Miami Dolphins – Jarrad Davis LB (Florida)
Despite inking Kiko Alonso to a new deal the Dolphins need to improve at linebacker and the uber-athletic Davis would do that.
Pick 23: New York Giants – David Njoku TE (Miami)
There are a number of ways the Giants could go here but they may plump for the workout warrior Njoku to join their plethora of pass-catching talent already in place.
Pick 24: Oakland Raiders – Takkarist McKinley DL (UCLA)
McKinley deserves to be a much higher pick and the Raiders would be delighted to scoop him up in this scenario. The UCLA edge defender would join reigning DPOY Khalil Mack in one of the best one-two punches around.
Pick 25: Houston Texans – Deshone Kizer QB (Notre Dame)
The Texans QB board is wiped out but after watching Tony Romo ride off into the sunset they have no other way to go if they want to avoid the Tom Savage experience for another year. Rick Smith is forced to take the plunge on Kizer who could be the answer behind centre but feels like a reach here.
Pick 26: Seattle Seahawks – Kevin King CB (Washington)
One day Seattle will help Russell Wilson's O-line and stop their star man getting smacked around. That day will have to wait for another year here though with the Hawks going secondary with Richard Sherman's future firmly up in the air. Don't be surprised to see them trade out either.
Pick 27: Kansas City Chiefs – Charles Harris DL (Missouri)
KC could go QB here but with the impressive Harris on the board look instead to set up their pass rushing future behind Justin Houston and Tamba Hali, neither of whom are in their first youth.
Pick 28: Dallas Cowboys – Chidobe Awuzie CB (Colorado)
The Cowboys need a cornerback and while Gareon Conley's off-field allegations aren't likely to bother the Cowboys as much as others we'll go elsewhere here. Awuzie from Colorado is a much safer choice.
Pick 29: Green Bay Packers – TJ Watt (Wisconsin)
The Packers could go secondary here too but adding Wisconsin's Watt to the pass-rushing mix is too good a fit to pass up. He already feels like a Packer.
Pick 30: Pittsburgh Steelers – Evan Engram TE (Ole Miss)
The Steelers have a number of options here but with Big Ben apparently lobbying for tight end help they go for Engram to hopefully do what Ladarius Green couldn't last year.
Pick 31: Atlanta Falcons – Cam Robinson OL (Alabama)
The Falcons could go offense, defense or not pick at all here but some more help up front protecting Matt Ryan wouldn't go amiss. Robinson could go much higher and would be great value this late in the first.
Pick 32: New Orleans Saints – John Ross WR (Washington)
New Orleans should probably go defence again with their second pick of the first round but this is the Saints we're talking about and they won't be able to help themselves. Adding Ross to Michael Thomas, Willie Snead and Ted Ginn would give them one of the best receiving corps in the league.
Register for free to continue reading
Registration is a free and easy way to support our truly independent journalism
By registering, you will also enjoy limited access to Premium articles, exclusive newsletters, commenting, and virtual events with our leading journalists
Already have an account? sign in
Register for free to continue reading
Registration is a free and easy way to support our truly independent journalism
By registering, you will also enjoy limited access to Premium articles, exclusive newsletters, commenting, and virtual events with our leading journalists
Already have an account? sign in
Join our new commenting forum
Join thought-provoking conversations, follow other Independent readers and see their replies