NFL London - Jacksonville Jaguars vs Buffalo Bills match report: Allen Hurns late touchdown sees Jags win Wembley thriller
Jacksonville Jaguars 34 Buffalo Bills 31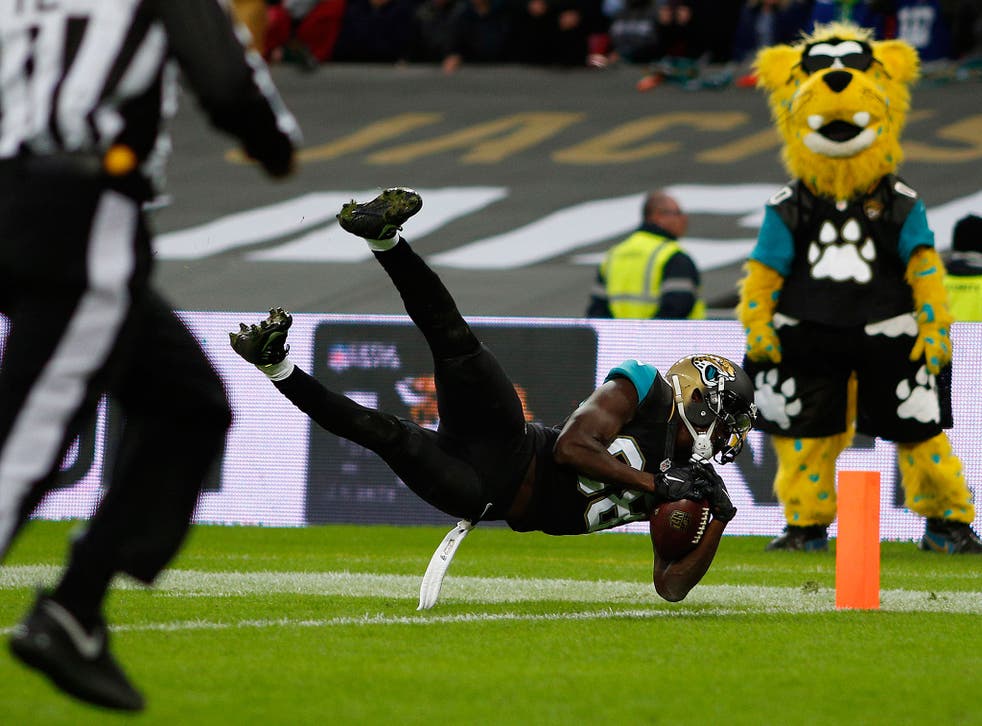 Wembley Stadium witnessed a thrilling NFL game as the Jacksonville Jaguars earned an invaluable win against the Buffalo Bills thanks to a flurry of explosive plays by the defence at the start of the second quarter.
Trailing 3-0 after 15 minutes, the Jaguars scored 27 unanswered points in the first seven minutes of the second quarter. Allen Robinson caught a 10-yard touchdown pass before Chris Clemons returned the ball to the end zone after Bills quarterback EJ Manuel was strip-sacked.
On the ensuing Bills drive Manuel was intercepted by linebacker Telvin Smith, who returned the ball 26 yards for the touchdown. That wasn't the end of the Bills' torment, though. Manuel was picked off again minutes later, this time by Paul Posluzny, allowing T.J. Yeldon the chance to score a 28-yard rushing touchdown.
The Jaguars wouldn't score any more points until just over two minutes remained in the fourth quarter. Buffalo slowly edged their way back into the game thanks to a 16-yard touchdown by Robert Woods and a Dan Carpenter field goal before half-time.
Trailing 27-13, Rex Ryan's words inspired his team to continue their comeback after the restart. A 58-yard touchdown from Manuel to Marcus Easley, following by a successful two-point attempt, made the score 27-24 before Bortles seemed to have thrown the game away when his aimless pass was intercepted and returned to the end zone by Bills safety Corey Graham.
But, down 31-27, Bortles led his team on a game-winning drive that culminated in a beautiful 31-yard pass to Allen Hurns that gave the Jaguars a lead they would hold on to.
On Thursday the Jaguars announced a deal to continue playing at Wembley through to 2020, and they celebrated that extension by winning their first game at Wembley in three attempts.
Join our new commenting forum
Join thought-provoking conversations, follow other Independent readers and see their replies