Odell Beckham Jr, Amari Cooper, Deandre Hopkins and building the 'unstoppable' wide receiver
Exclusive: DJ Chark scored his first touchdown for the Jaguars on Sunday and hopes to take pieces from the NFL's biggest star receivers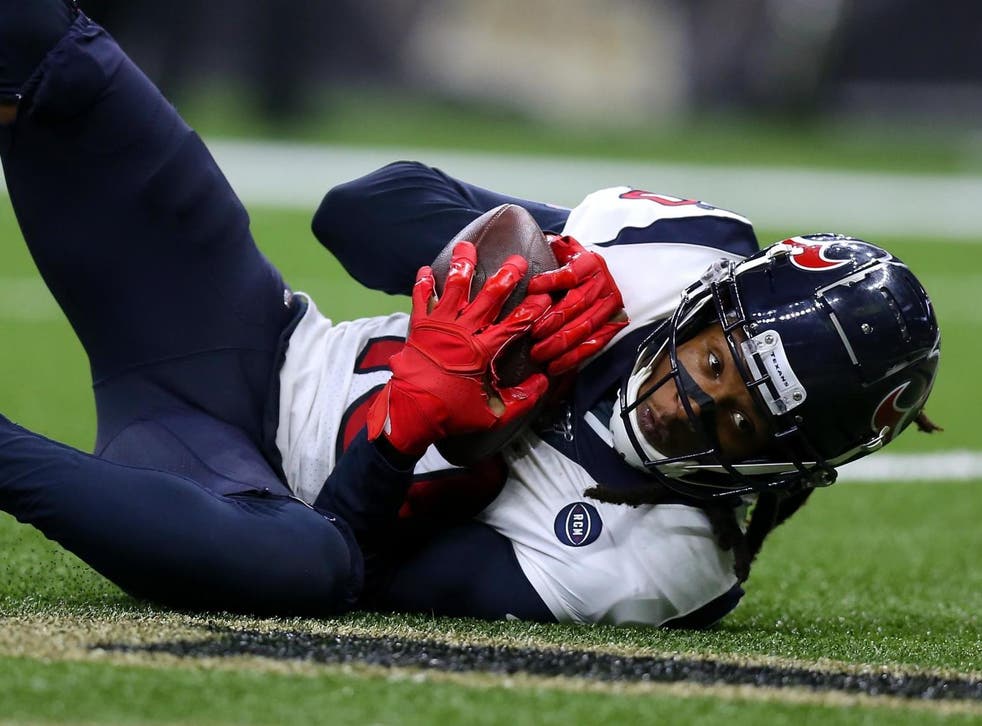 DJ Chark tilted his head back transfixed on the flight of the ball as it plunged down like a missile, hauling in the catch despite Kendall Fuller clambering all over his back for his maiden touchdown in the NFL.
For the Jaguars wide receiver it was the culmination of an arduous few months following an inconspicuous rookie season that ended in disappointed with the team missing the play-offs.
The thrilling play on Sunday at a sweltering TIAA Bank Field showcased exactly what Chark has been striving for over the summer as he bids to establish himself both in the league and with a Jags team that was mostly devoid of obvious weapons for newly-signed quarterback Nick Foles.
"I like Amari Cooper, Odell (Beckham Jr), Deandre Hopkins, a lot of them, Stefon Diggs, I try to take a little something from each of them," Chark told The Independent when dreaming up the perfect wide receiver.
"I like how Stefon and Odell, how quick they are; twitchy, selling their routes.
NFL Draft 2019: First Round

Show all 33
"I love how Deandre is always open, even if he's covered, he'll find a way to make the catch.
"I love how Amari Cooper comes off the line, how he gets separation."
The Foles-Chark connection caught Jags fans in a dangerous spot though, briefly daring to dream of the possibilities ahead after the onerous Blake Bortles era. Those dreams were quickly shattered moments later though when Foles was stretchered off with a broken clavicle, seemingly ending their season before it had even begun and restricting the immediate potential of Chark and what could have been a breakout season.
But then came the emergence of the fearless backup Gardner Minshew, who resembled a quarterback conjured up for a comic book with his bandana and thick moustache. Minshew combined with the flimsy Kansas City defence suggests all is not lost for the Jags and Chark himself, who collected just four catches, but gashed the Chiefs for 146 yards in the 40-26 loss.
If the focus in his touchdown route was most impressive, then it was his perseverance when collecting a pass from Minshew in the second quarter that jumped out: twisting and gyrating his way past Charvarius Ward for a 69-yard completion.
Chark is unlike the vast majority in the league who are desperately honing their craft to ensure they remain treading water against the relentless competition that can see you discarded to the streets in an instance. At just 22 years of age the former LSU star looks to have a promising future.
Continue in this vein and Chark may become the player others look to scrutinise in the endless pursuit of becoming the "unstoppable" weapon every quarterback craves.
"I'm always looking to take something small out of each one," Chark reiterates. "If I could be a combination of all of them, that's what I'm trying to do, make it my own, I'd be an unstoppable player with that swag."
Join our new commenting forum
Join thought-provoking conversations, follow other Independent readers and see their replies