NFL playoffs 2018: A team-by-team guide to all your Super Bowl candidates
Will the Patriots three-peat? Well, probably, but here are the 11 teams trying to stop them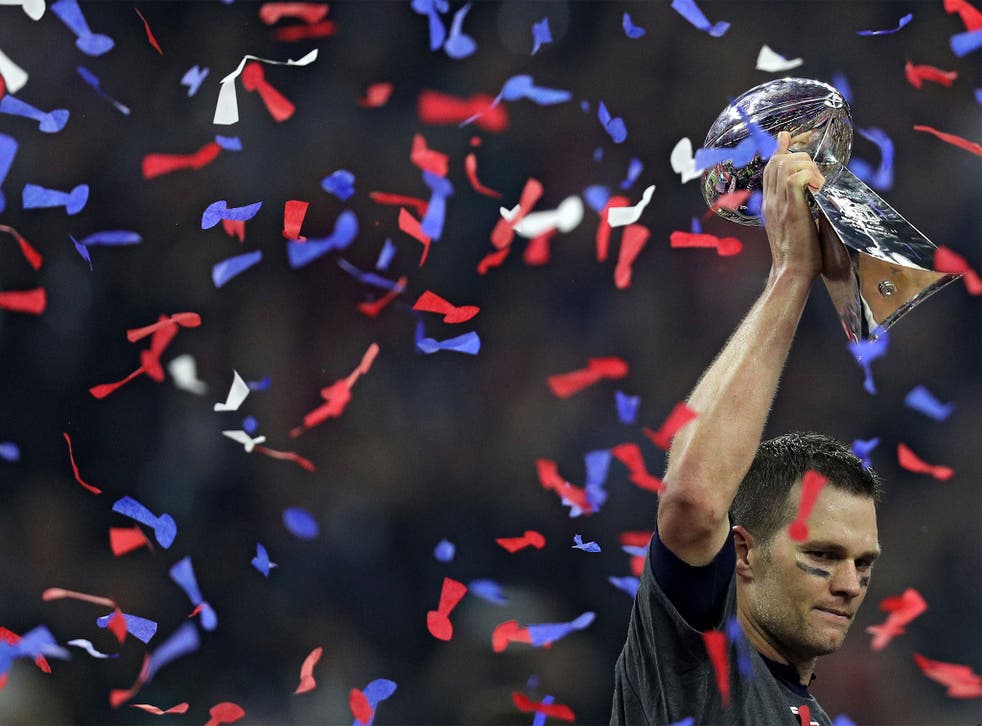 In a month's time we will have our Super Bowl champion.
First, there is the small matter of the NFL playoffs and whittling twelve teams down to the two that will face off in Minnesota on February 4th.
The Vikings could be the first team to play for a Vince Lombardi trophy at their home stadium if they can make it out of a crowded NFC.
And, of course, the New England Patriots are the favourites to meet them there because Tom Brady is still upright and the heart in Bill Belichick's chest continues to beat soundly.
But what do we make of the playoff picture? Well, here's a team-by-team guide in order of seeding.
NFC
1. Philadelphia Eagles
Man, you really *want* to believe in Nick Foles.
But the fun team that looked like a rising force and Super Bowl contender had its ambitions abruptly scythed down by Carson Wentz's injury, and while the remaining team is a talented all-round roster that is coached well and boasts strong defense, it would require Foles to play three games at his absolute best to not screw things up for the Eagles.
That seems unlikely but, if he does it, then the team around him is good enough to win the whole thing. It feels harsh to put it all on Foles but one of his meltdowns would end what had been a brilliant Eagles season until Wentz got hurt.
With the ginger ninja under center they probably win the Lombardi. As it is, they probably won't even make the NFC Championship game.
2. Minnesota Vikings
If you had told an American 12 months ago that Case Keenum would led a team to the playoffs (with a first-round bye!) and probably get the franchise tag then they'd have thought you were certifiably insane and - given this is what Americans are doing with madmen recently - probably elected you as president.
But here we are.
Minnesota is a team with good rush and pass defense, excellent receivers who are fun to watch and always get open, and some good coaches on the staff. The weakness should be the running game but Pat Shurmur's offensive scheme has elevated some average talent at QB and RB since Dalvin Cook's season-ending injury early in the autumn.
With Cook they'd be a real dark horse to win the Lombardi. Even without him, the fact that they'd be playing the Super Bowl in their own stadium acts both as a huge incentive to the players and a boon to their chances of actually winning the thing.
They'll go deep regardless.
3. Los Angeles Rams
The story of the season, going from one of the worst teams in the league - with the first overall pick looking a bust at QB - to a division-winning NFC candidate with a talented young passer.
What Sean McVay has done in a year at the Rams is incredible and that's why you can't put anything beyond them.
Their destruction of Seattle a few weeks ago was not just a statement game but a sign that the power in the NFC West has shifted to Los Angeles. If they play how they did against the Seahawks then they can beat anyone in the NFL and that is why they're such an intriguing playoff team.
4. New Orleans Saints
The best quarterback in the NFC playoffs is probably Drew Brees, and he's supported by excellent receivers, the best running-back tandem in the league and a much-improved defense.
Having hit on a number of draft picks, this young team has come together for Brees and Shaun Payton almost so quickly as to be a surprise, but they are another team who - on their day - could topple anybody.
A home game in the wildcard round will help, and smarter football people than me think they might be the best team in the NFC.
5. Carolina Panthers
This is a mature team under Ron Rivera's guidance and they have put early-season offensive struggles, ownership distractions, and trading away their first-round receiver behind them with barely a bump in their step.
The Panthers have gathered steam towards the end of their season, but the amount of injuries is now looking like their biggest weakness.
Always a spicy contender, they can't be ruled out but a first-round meeting with the Saints is a tough break.
6. Atlanta Falcons
The Atlanta Falcons suffered the most brutally heartbreaking Super Bowl defeat in February, and while they did manage to avoid the talk of a hangover from that by getting off to a good start, they are clearly nowhere near as good as last year's team.
Kyle Shanahan and Matt LaFleur's departures have been notable, and are proof of the importance of scheme and coaching in creating good offense in the NFL.
This year's team is less explosive and has struggled to make the same plays on defense, despite boasting emerging talents like Vic Beasley and Grady Jarrett.
The Falcons are helped by the relative parity of the top teams in their conference and, having played in such a strong division this season, it is hard to rule them out.
But the overwhelming sensation is that they aren't as good as last year and won't go deep, even if it wouldn't surprise us to see them get through the wildcard round.
AFC
1. New England Patriots
There was a feeling heading into the week 15 clash at Heinz Field that the Pittsburgh Steelers could knock off the Pats and make the playoff picture far more interesting by becoming the No. 1 seed.
And then Jesse James' catch at the death was ruled not to be a catch and the AFC is headed through Foxborough once more.
Starting the season with observers talking of a possible 16-0 season, it was a bumpy start to the year for Bill Belichick as his defence gave out.
But they have been over those issues for some time now and are chugging alone in that winning machine mode that they, and only they, seem to have.
Every year they get over key injuries and departures to go deep. Dont'a Hightower and Julian Edelman are done for the year and yet the Patriots are still favourites for the Super Bowl because we've seen them produce every season.
They win when it matters. That one play at Heinz Field was huge for the playoff picture but a Pats win then has reinforced that seeming inevitability about what is going to happen.
2. Pittsburgh Steelers
Much of what could be written here was written above. The Steelers went into that week 15 game ready to take over the AFC and instead they came out of it without Antonio Brown - until that point having an MVP-level season - and knowing that if they get to the AFC Championship game they'll likely have to go to Foxborough, where Mike Tomlin is 0-4 against the Tom Brady-led Pats.
Add into that the loss of key defensive piece Ryan Shazier to a potentially career-ending injury, and the Pats really have pulled ahead of the only team who looked ready to be a legitimate rival to them in the AFC.
3. Jacksonville Jaguars
They have built a defense so dominant that their offense in Jacksonville only needs to be average for them to win playoff games.
The problem is that nobody has any faith in Blake Bortles to do that. The quarterback should have been provided with some competition last off-season and the Jags, who have been lucky on the injury front, could well have blown their best-ever chance of a Super Bowl by not going all-out for a QB.
Had the Pats been willing to trade Jimmy Garoppolo within the conference then you'd have to say the Jags would almost be Super Bowl favourites with the quarterback phenom under center.
Instead they head into their first post-season in years relying on being able to hide Bortles enough to win important games.
If they can keep this young defensive core on the books and healthy they should compete for a Lombardi in the coming seasons though.
4. Kansas City Chiefs
One of the best-coached teams in the NFL, the Chiefs had a mid-season blip that shattered confidence but have played either side of that blip like a potential AFC winner.
When they play well it is because they're creating explosive yard-after-catch plays with Kareem Hunt and Tyreek Hill, while keeping things tight on defense. Their secondary is less reliable without Eric Berry, but if they play to their absolute best and Andy Reid and his staff can cook up some scheming magic then they are a potential AFC Champion or Super Bowl winner.
5. Tennessee Titans
That Mike Mularkey would probably have been sacked had the Titans not snuck into the playoffs last Sunday speaks volumes about how expectations have changed in Tennessee.
In recent years they have been consistently a bottom-three team in the league but the drafting of quarterback Marcus Mariota has given them something to build around and with better coaching they could have won this division.
Mularkey mightn't be safe if the Titans fall off the wagon in wildcard week and their playcalling is so lacking in adventure and creativity that it seems unlikely they will surprise anyone in the post-season.
But the fact that they got here, after so many years in the basement, feels like a stepping stone. How they progress from this point will likely define much of Mariota's career.
6. Buffalo Bills
The Baltimore Ravens contrived to miss out on the playoffs with a stunning capitulation against the woeful Cincinatti Bengals, in the process possibly helping their playoff chase for next season by saving Marvin Lewis' job.
Benefitting from the Ravens' incompetence are the Buffalo Bills, a team whose season has seemingly been spent doing everything possible to avoid reaching the post-season.
In reaching the wildcard round for the first time since 1999, the Bills snapped the longest streak of any sports team in any of the major American leagues.
But we must remember that this isn't a good team, and with LeSean McCoy looking injured they are almost certain to be one-and-done.
Join our new commenting forum
Join thought-provoking conversations, follow other Independent readers and see their replies