NFL week nine analysis: Five things we learnt as Blaine Gabbert impresses on return
Week nine of the 2015 NFL season is in the books and a number of surprises came from this week's slate of games. Zander Swinburne looks at which quarterback has sparked a revival from his time as a backup, which three AFC teams are gunning for a play-off spot, as well as which team is unexpectedly competing for the NFC North title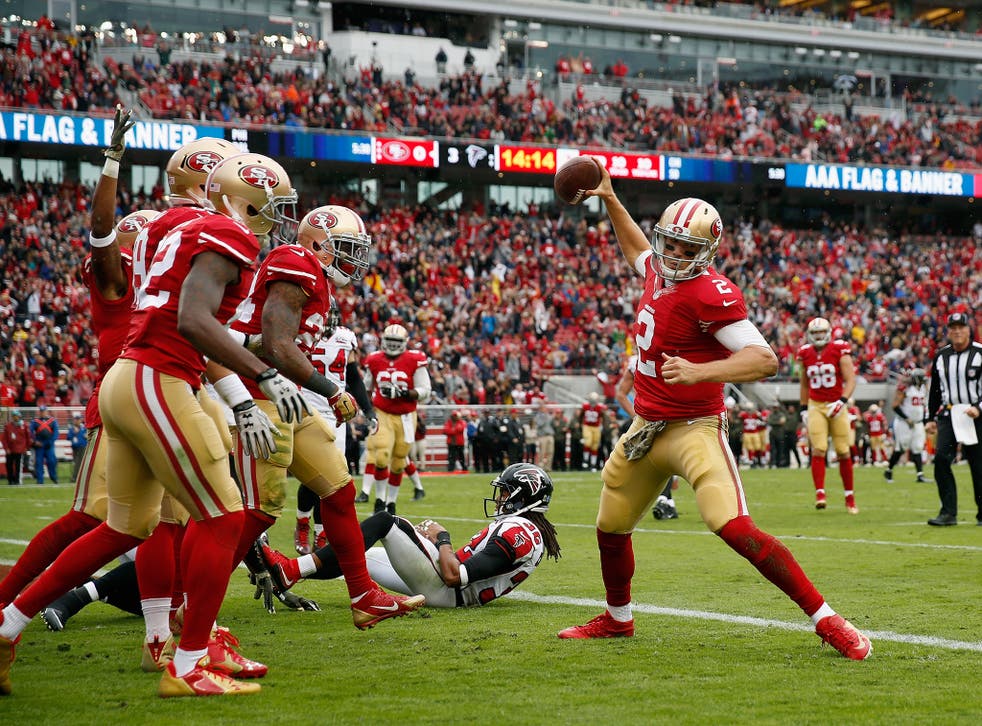 Sam Bradford looks to have turned a corner
Although it took quite some time, Sam Bradford looks to have settled down and established himself as a legitimate passing threat for the Philadelphia Eagles. Bradford was widely hyped up by commentators following his trade from the Rams to the Eagles during the off-season, but his play at the start of the season failed to live up to the expectation.
Despite this, as the weeks have rolled by, Bradford has slowly establishing himself as the talent he was expected to be when he was picked No 1 overall by the Rams in 2010. In what was one of his best games of the year, Bradford led the Eagles to a 33-27 overtime win over the Dallas Cowboys; the victory not only condemned Dallas to the bottom of the NFC East but it also brought Philadelphia to within half a game of the division lead.
Bradford threw for nearly 300 yards with a completion percentage of 69.4, drastically better than six of his previous seven games. Importantly though, it was his lack of interceptions that was the difference maker in this game. With no picks for the first time since week four, Bradford showed that if he controls the ball well, minimising mistakes, then he is capable of playing at a standard that helps his team win games.
The issue for the Eagles has been consistency as they've been unable to develop much of a winning streak. Bradford has been much the same, failing to have two or three good games in a row. Maybe this victory over Dallas signifies the start of a run to the play-offs for Philadelphia.
Are the Packers in trouble?
Two straight losses in the NFL rarely brings about panic for a franchise and its fan base, especially when the team in question is a talented 6-2 Green Bay Packers side. However, over the last two weeks, Green Bay have seemingly exposed to the league that they can be completely subdued and thus beaten by an opposition.
In Sunday's 37-29 loss to the Carolina Panthers, Green Bay almost looked like two different teams. Aaron Rodgers and his offence were totally inept through the first two quarters, down 27-7 at half time. Similarly, Rodgers was contained the week before against the Broncos, recording his worst ever statistics for a game he started and finished. One can argue there is a pattern emerging in Green Bay and teams are starting to figure out how best to limit the impact of Rodgers.
Admittedly, both their losses have come against teams that were undefeated when they played them, and one can even argue that statistically Green Bay had a great game due to their second half resurgence. Rodgers finished the game with four touchdowns and 369 yards thrown, an individual performance that would have won most games in the NFL.
However, this does little to hide the fact that that the Packers will now have to start looking over their shoulder in the division. Almost out of nowhere the Vikings have caught up with Green Bay and are tied for the division lead at 6-2. If the Packers aren't careful, they could soon find themselves competing for a wildcard spot rather than a bye week and home field advantage.
The bench has done Blaine Gabbert a favour
With a win-now philosophy present in nearly every team in the NFL nowadays, rarely do first round draft picks get a chance to sit on the bench during their rookie year. Blaine Gabbert was a classic example of a quarterback propelled into the starting line up by Jacksonville during his rookie season, a move which resulted in three awful seasons before being sent to the 49ers in 2014. Despite the move appearing to end Gabbert's chances of starting at quarterback again, spending time on the bench seems to have done him some good.
The self inflicted downfall of Colin Kaepernick this season gave Gabbert the chance to start at quarterback again this week, and surprisingly, he was remarkably improved. Whilst his performance was nothing to write home about, Gabbert most importantly got his team the win, beating Atlanta 17-16. Gabbert finished the game with a 60 per cent completion rating, as well as two touchdowns and two interceptions. Considering Gabbert's average completion percentage was just over 50 per cent in his rookie season, he has evidently improved.
It is important not to overinflate Gabbert's return as only time will tell whether he has improved enough to keep his current job. Yet it is encouraging to see that time on the bench can allow a once disregarded player to claw his way back into relevancy.
The AFC Wild Card looks set to be between three teams
Now just past the season's midway point, the NFL play-off bracket is starting to take shape, with clear favourites to win their divisions emerging. The AFC playoff race has become increasingly competitive over the last few weeks, in particular for the two Wild Card spots.
Most of the AFC's divisions have seemingly crowned their champions. The Patriots and Bengals remain undefeated in the East and North, whilst the Broncos at 7-1 control the West with relative ease. The AFC South could go to anyone, but the division has been so poor that likely only one team will make it to the post-season. That leaves just two wild card spots left and three teams have emerged as the most likely to claim them.
The New York Jets, with a record of 5-3 started the season strongly with wins over teams such as Indianapolis and Miami, but they have since petered out, only just beating Jacksonville 28-23 on Sunday. The Pittsburgh Steelers are just half a game behind New York with a 5-4 record. Injuries have plagued this team, and will continue to do so, but their gutsy win over Oakland on Sunday proved that they continue to fight for a play-off spot. The Raiders' loss to Pittsburgh may prove costly as they look to make the play-offs for the first time since 2002. At 4-4, Oakland have looked strong in parts throughout the season and a win over New York over a week ago may give them upper hand should the play-offs be decided by tiebreakers.
One could argue that the Houston Texans and Kansas City Chiefs still have a chance with their 3-5 records, yet in reality they have done little to show they are play-off calibre teams. As the season continues, only time will tell just which one of these mid-season contenders can stay strong and make it into the post-season.
Minnesota have emerged as contenders
Despite having one of the best records in the league, the Minnesota Vikings have seemingly become the most underrated team in the league. At 6-2, Minnesota are tied for first place in the NFC North with the Green Bay Packers, a team widely considered the favourites to take the division.
Teddy Bridgewater has been a consistent force under centre this season, not producing mind blowing numbers but doing enough to secure his team wins. Running bavk Adrian Peterson has returned from suspension as a substantial force in the backfield. The former MVP has been the top running back on the field in six of the eight games the Vikings have played. With an average of 4.5 yards per carry, Peterson has returned to the league this year on fantastic form.
One could argue that Minnesota's schedule has been easier than most, playing teams such as Detroit twice, as well as Chicago, San Diego, and Kansas City. Their most significant test came against the Denver Broncos to whom they lost 23-20, and thus if they are to be considered a top team, they need to be beating the best.
Nevertheless, Minnesota command a talented roster, one that includes a former MVP who is playing at close to his best. If the Vikings continue to edge out the wins over the next few weeks, it would not be too farfetched to see them sitting on top of the NFC North come January.
Join our new commenting forum
Join thought-provoking conversations, follow other Independent readers and see their replies