NFL week six analysis: Five things we learnt as Cam Newton continues to grow and unknown Landry Jones leads Steelers to surprise win
Week six of the NFL season is over, and the football stateside didn't disappoint. Zander Swinburne examines which team is fighting for its playoff survival, which quarterback may have lost his job, and why London is hosting another poor matchup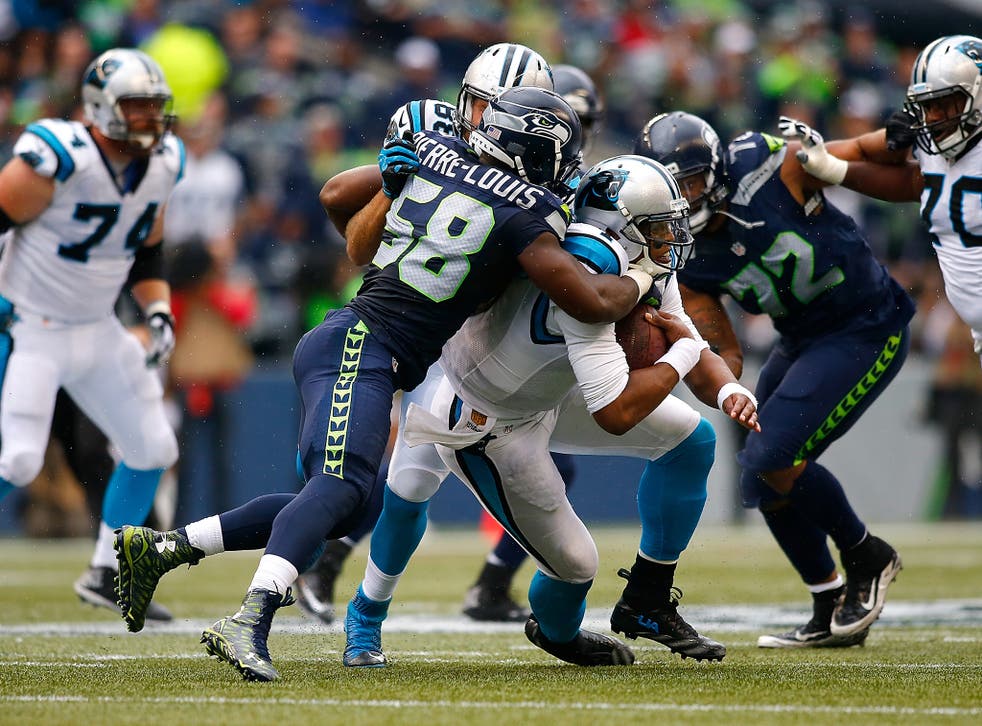 Seattle's comeback continues to be delayed
Seattle have dug themselves a hole and it appears they can't stop digging. Once deemed the emerging dynasty in the NFL following back to back Super Bowl appearances, the Seattle Seahawks find themselves fighting for a chance to simply return to the play-offs.
Following their 27-23 loss at home to the Carolina Panthers, no longer can Seattle be seen as a top NFL side. Seattle's 2-4 record speaks for itself, and it could have even been worse at 1-5 had Detroit managed to claw out a win two weeks ago.
With Arizona still leading the way in the NFC West, Seattle will be hard pushed to win their division. A wild card spot is also looking increasingly slim as the NFC South will likely take one of those berths, realistically leaving just one spot up for grabs.
The season is far from over for Seattle, but as the weeks go on they appear to look less like their 2013-14 selves. Some may argue that their 12-4 record following a 3-3 start last year showed that Seattle are capable of recovering from a poor start. Whilst this is true, their schedule this year raises doubts as to whether they can pull off the same fight back. The opposition they face in the NFC West is far stronger than in previous years and they have already found themselves two games behind the leaders.
Seattle have the roster to muster a recover, but it appears to be far from clicking. The fight back will need to start immediately if they are to stand any chance of making their third consecutive Super Bowl appearance.
Cam Newton is emerging as a consistent talent
Despite being largely written off during the off-season, the Carolina Panthers have raced to the top of the NFC South, and they have done so in style. Still unbeaten, the Panthers have all of sudden gained the attention of the rest of NFL after a stunning 27-23 comeback win over the Seattle Seahawks.
To beat the Seahawks on any occasion is difficult enough, but to do so in Seattle has become a famously difficult task. Despite being down 23-14 in the fourth quarter, Carolina gallantly fought back, and the credit for their miraculous comeback should go to Cam Newton.
Whilst Newton has often had his critics, sometime being regarded as untrustworthy quarterback to bring a team back from the brink, Sunday's performance in the fourth quarter was nothing short of stellar. Newton stepped up when he was needed most, establishing two back to back touchdown drives to ruin Seattle's day.
Whilst Newton does not have the same throwing ability as Aaron Rodgers or Tom Brady, he is developing the consistency to carry his team to victory, and this has been made evident by Carolina's unbeaten record. Having led his team to five consecutive wins, the Panthers could find themselves with a first round bye should Newton continue to play at his best.
Miami suddenly have a defence that works
In what looks like a monumental turnaround for the Miami Dolphins, the new Dan Campbell regime is off to a flying start. In their 38-10 win over the Tennessee Titans, the post Joe Philbin era couldn't have started much better, and this is mainly down to the Miami defence.
Having been virtually nonexistent through the first four games of the season, Miami's front four turned heads in Tennessee, finally getting to the opposition QB in a way they were expected to do before the season started.
Cameron Wake was the difference maker in this game. With Wake accounting for four of Miami's six sacks on Sunday, the Defensive End revitalised a defence that had been completely useless at pass rushing, even with Ndamukong Suh on the roster.
Only time will tell whether Dan Campbell is capable of leading this Dolphins side back from the brink of despair and into a playoff spot. Whatever the outcome, Campbell has at least for now, restored a bit of hope back in the organisation.
Injury didn't cost Michael Vick his job
Injuries can be a cruel twist of fate in the NFL, and often as one door closes for an injured player, another one opens for their respective backup.
On Sunday, during Pittsburgh's 25-13 win over the Arizona Cardinals, Michael Vick was forced out of the game with a hamstring injury. Whilst injury forced Vick to the sidelines, the quarterback had essentially given his job away to someone who went onto take advantage of the opportunity.
Third string quarterback Landry Jones had a stunning game as Vick's replacement as he brought the Steelers back from jaws of defeat. Jones finished the game 8 for 12 and 168 yards, more than acceptable for someone who had previously been battling for a roster spot.
Whilst Jones would ordinarily be seen as someone to fill in temporarily, Vick had essentially given Jones his job for next week before he even left the field injured. Pittsburgh produced nothing in the first half with Vick at the helm, with the quarterback completing just three passes for six yards in his two quarters. After such a performance, Vick would have likely been pulled regardless of his hamstring.
Whilst Landry Jones played well enough to take Vick's job on Sunday, only time will tell whether he is able to keep it.
London forced this week to host the bottom of the NFL barrel
As London gears up for its 13th NFL fixture, the second of the season, Wembley will be forced to host two of the league's more disappointing teams, the Buffalo Bills and the Jacksonville Jaguars.
The Bills, coached by Rex Ryan, are slowly slipping away in the AFC East. The New York state team have at least come into the London game with a .500 record, but even then their wins have come against the Colts, Dolphins, and Titans; not exactly the NFL's most feared opponents. Buffalo also enter Wembley following a disastrous loss to the Cincinnati Bengals, a defeat that showed inherent weaknesses in Rex Ryan's defence. With an offence that is stuttering, and a defence that has been torn apart by the league's better teams, Buffalo are slowly disappearing into the NFL's middle stream.
Despite the pessimism surrounding Buffalo, they are comparatively far better off than Jacksonville. With only one win this season, the Jaguars are once again failing to inspire their fan base, at home and abroad. Blake Bortles has shown improvement, and one can even argue that Jacksonville are only 12 points off a 3-3 record. Yet none of this helps cover up the fact that Gus Bradley is coaching his third season in Jacksonville, and he has only eight wins to show for it.
As NFL fans make their way to Wembley this weekend, there will no doubt be an overhanging feeling that this week's game will not feature the best of what the NFL has to offer.
Join our new commenting forum
Join thought-provoking conversations, follow other Independent readers and see their replies