NFL Wildcard Weekend results: Green Bay Packers and Seattle Seahawks win as missed field-goal costs Vikings
Blair Walsh's missed 27-yard field goal with seconds remaining cost the Minnesota Vikings a place in the NFC Divisional final while Aaron Rodgers found his form to see Green Bay past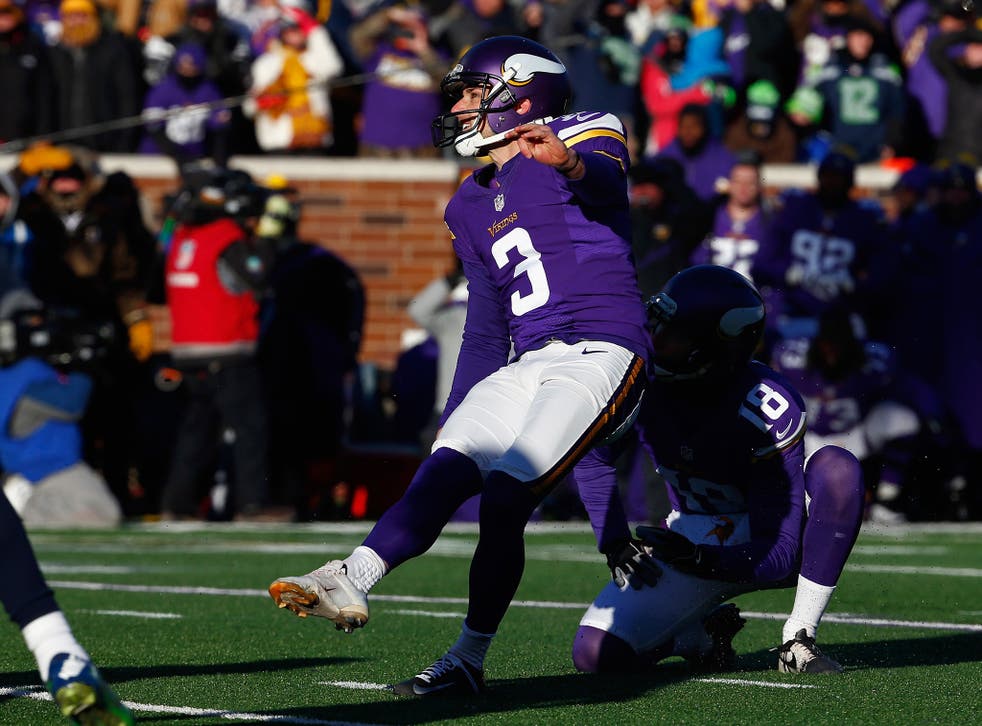 Blair Walsh's missed 27-yard field goal in the final half minute cost Minnesota Vikings a place in the NFC Divisional final as they suffered a 10-9 wild card play-off defeat to the Seattle Seahawks.
The Vikings had secured home field advantage with a final day regular season win over great rivals Green Bay Packers but Walsh missed their chance to set up a meeting with the NFC South champions Carolina Panthers in the next round.
All the talk before the game had been about the cold in Minneapolis and with a temperature of minus six, taken to -23 by the wind chill factor, it was the coldest game in Vikings history and the third coldest NFL fixture of all time.
In a game largely dominated by strong defence the Vikings edged ahead through the boot of Walsh.
He gave the home side a 3-0 lead with a 22-yard field goal in the first quarter for a lead which they held to half-time.
Walsh added further field goals from 43 and 47 yards in the third quarter to give the Vikings a 9-0 lead, meaning the Seahawks needed to score twice to win the game.
But the Seahawks fought back in the final quarter and they had to do it the hard way, quarterback Russell Wilson collecting his own missed snap to connect with a 35-yard pass to wide open wide receiver Tyler Lockett.
That play set up a three-yard touchdown pass to Doug Baldwin who made it 12 touchdown catches in his last seven games with 10 minutes remaining in the game.
Steven Hauschka kicked the extra point and then a 46-yard field goal with eight minutes to go to put Seattle ahead for the first time in the game.
Minnesota worked field position on the final drive of the game but Walsh kicked his field goal wide left from the comparatively easy distance of 27 yards with just 26 seconds remaining on the clock.
Green Bay Packers shrugged off a slow start to beat Washington Redskins 35-18 to book their place in the divisional play-offs.
Packers were trailing 11-0 early in the second quarter, as Jordan Reed touched down for Redskins, but Aaron Rodgers came to the party to haul his side through.
He ended up throwing 210 yards, with two touchdowns, while Eddie Lacy and James Starks each rushed for a score as Packers registered their highest points tally since week three of the regular season.
The Packers now take in Arizona Cardinals next week.
PA
Join our new commenting forum
Join thought-provoking conversations, follow other Independent readers and see their replies